Welcome to
PEZ5150
Please enjoy a stroll thru our PEZ ROOM, look at all of our collection, visit our family album page, and then if you see anything you would like to buy on my for sale pages just write me an email and tell me what you want .
ENJOY !!
So sad to say that I have lost my precious SKITZ
Skitz was with me for 15 years and loved to lay atop my monitor and watch me work
May 3, 1997 - August 21, 2012
Skitz now rests under the purple plum tree where he can watch the humming birds feeding all day long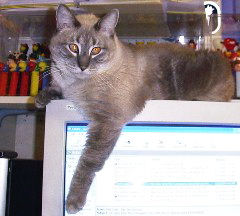 I miss him so much
PEZ, a short history...............
Edward Haas first invented peppermint breath mints in 1927. He called them "PEZ" , an abbreviation of the word "Pfefferminz". It was a small sugar tablet with peppermint oil added. PEZ was sold in pocket-size tins marketed as a breath mint for smokers. Mr. Haas was himself a non-smoker.
Twenty years after the candy was invented (1948), a gentleman by the name of Oscar Uxa invented and patented a little mechanical box for the dispensing of the candy. This little mechanical box resembled a cigarette lighter which was marketed as a product for adults.
In 1952, Haas decided to see how his product would go in the US market. He soon decided that it was not going to work here without some embellishment. He added fruit flavors to the little compressed sugar block and then put a 3 dimensional cartoon head on top of the box thus combining two of the favorite things for children, candy with a toy .
Over the years there have been several updates to the box itself. These updates are shown in the different patent numbers found on the side of each dispenser.
The first patent number issued in the United States was 2,620,061 issued in 1952
The second patent number was 3,410,455, issued in 1968
The third patent number was 3,845,882, issued in 1974
The fourth patent number was 3,942,683, issued in 1976
The fifth patent number was/is 4,966,305 issued in 1990
When referring to patent numbers, generally only the first 2 numbers are used, ie 2.6 etc.
Dispensers changed from *footless* to *footed* in 1987. There are a few exceptions to this rule however, the valentine hearts, trucks and re-release of the regulars and the psychedelic eyes.
Click on any of the red links below to look at our collection.
Click on any of the blue links below to look at our for sale pages.
PEZ and the PEZ name are registered trademarks of PEZ Candy, Inc.
This page is not endorsed or affiliated in any way, shape or form to
PEZ Candy, Inc.
May 10, 2005