You may order any item on this page simply by sending an email to me at:
tina@snowcrest.net
All prices are BEFORE added postage. Buyer pays postage.
Be sure to check the Holiday/Seasonal page for the NEW 2017 Easter lamb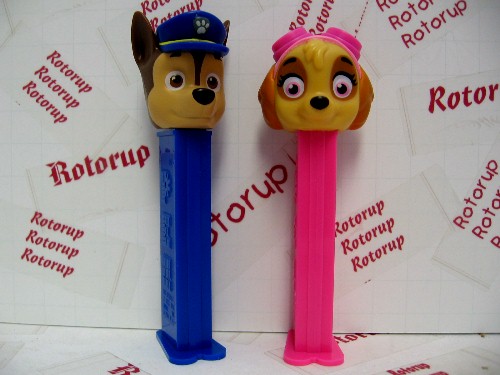 Paw Patrol Chase and Skye / $6.00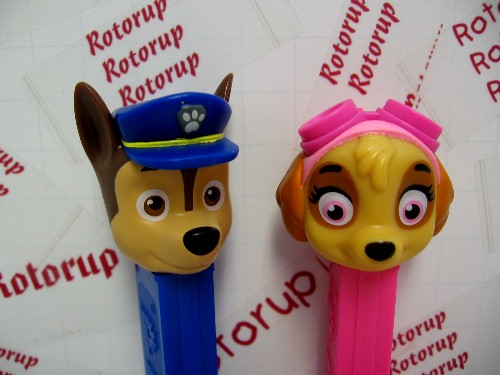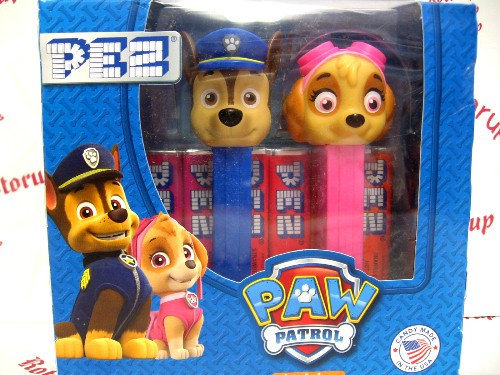 Paw Patrol twin boxed set witih Chase and Skye / $7.00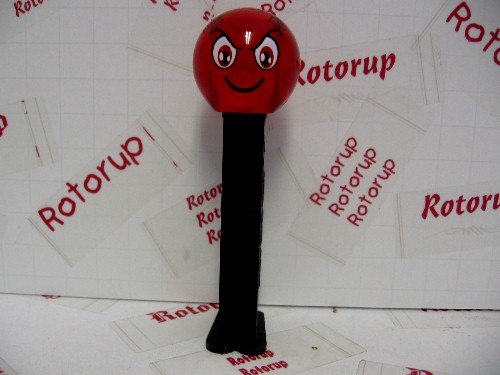 Red Crystal Emoji just beautiful / $3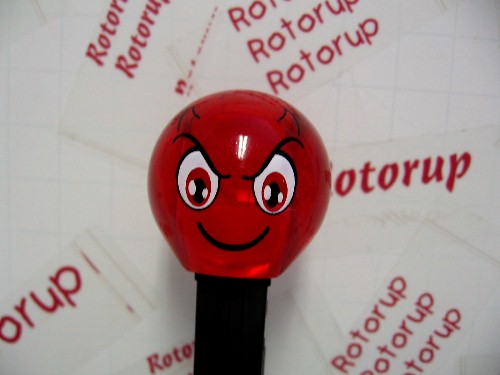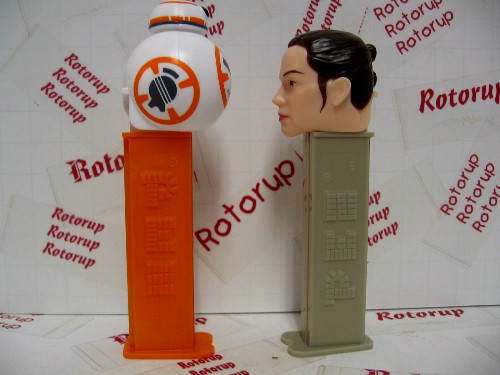 New Star Wars BB8 and Rey / $8 for the set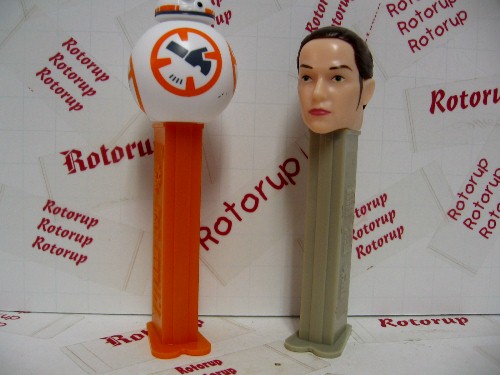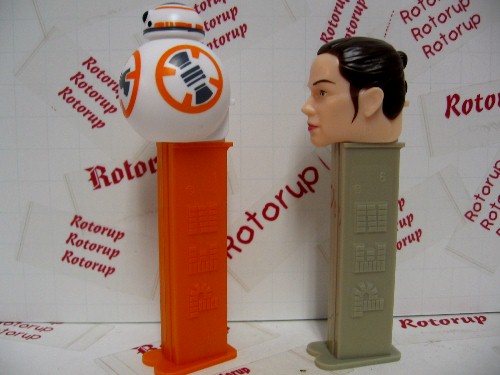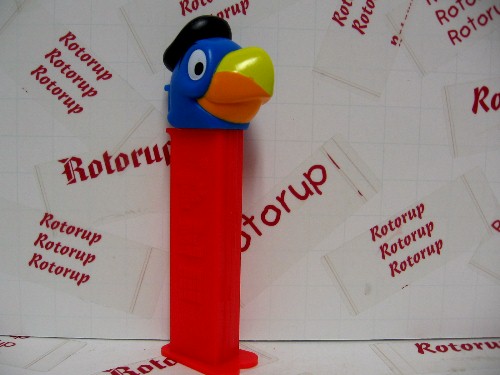 Globi is here from Switzerland. / $12.00
Globi is from the Lolipop Candy Shop
only in Switzerland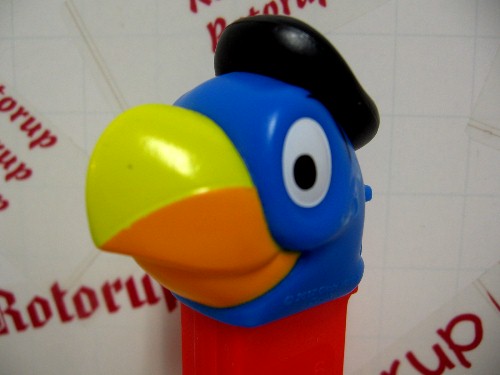 interesting tidbit about GLOBI
Globi is a Swiss cartoon character often referred to as Switzerland's Mickey Mouse. He is pictured as an anthropomorphic blue parrot with a yellow beak wearing a black beret and a pair of red and black checkered trousers. He was created by the Swiss cartoonist Robert Lips, as an advertising character for the Swiss department store Globus in 1932 for the company's 25th anniversary. He was originally planned to be called "Kimbukku", but later renamed Globi after the local Basel German (Baseldytsch) dialect word for the department store that created him.[
He initially appeared in a cartoon strip called "Der Globi", and later appeared in a cartoon picture-book form called "Globi's World Voyage" in 1935. By 1944, the character gained so much popularity that Globus created a separate company for it, and in 1948 Globi had sold over one million picture books. He was introduced in other markets such as the Netherlands, Belgium and Brazil, but did not do as well. In the 1970s, he was accused of being sexist, racist, and promoting violence, which was based on the attitudes of the 1940s and 1950s, but these accusations did not hold.
He is one of the most popular characters in Switzerland, with sales of over 9 million books, and in October 2003, a full-length film, "Globi and the Stolen Shadows" was made which was based on him. It was directed by Robi Engler in Anime-style. Beside the books, there is a lot of Globi merchandise, including cuddly toys, crockery, cutlery, clocks, school equipment, card games, food. From December 2008, the Swiss town of Engelberg hosts a Globi theme park.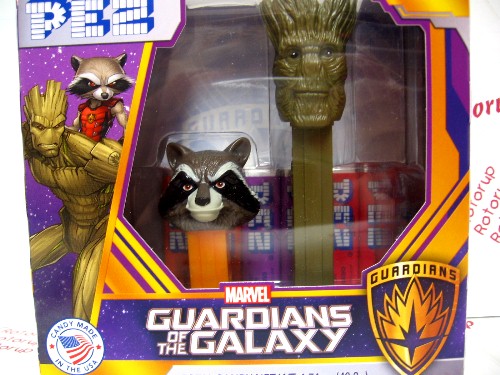 Rocket and Groot boxed set. Rocket is on mini stem
$9.00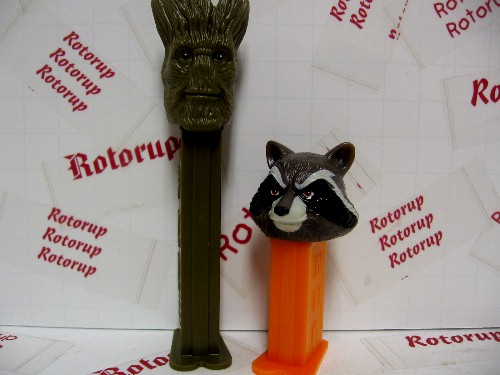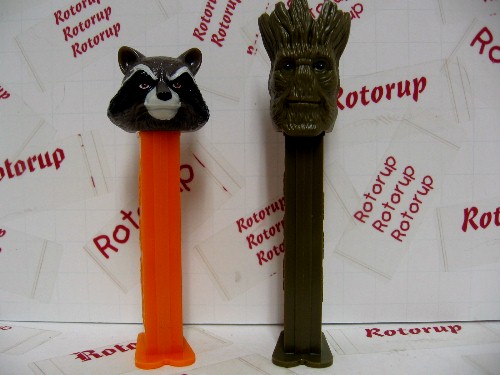 $7.00 / set of Rocket and Groot
Rocket Raccoon is a fictional superhero appearing in American comic books published by Marvel Comics.
Groot is a Flora colossus from Planet X, the capital of the branch worlds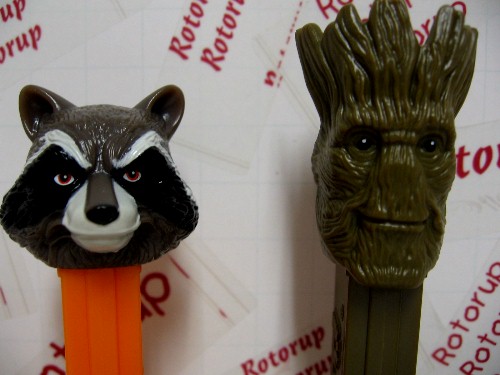 Rocky and Groot star in the new movie to be released May 4.
Guardians Of The Galaxy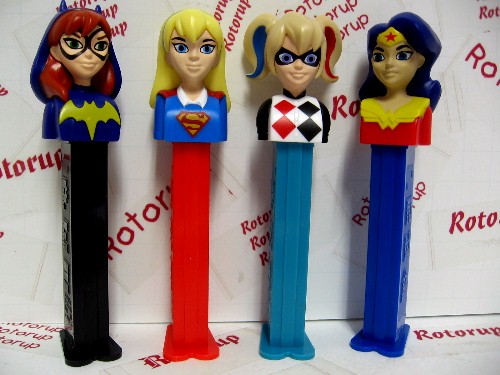 DC Super Hero Girls: Batgirl, Supergirl, Harley Quinn and Wonder Woman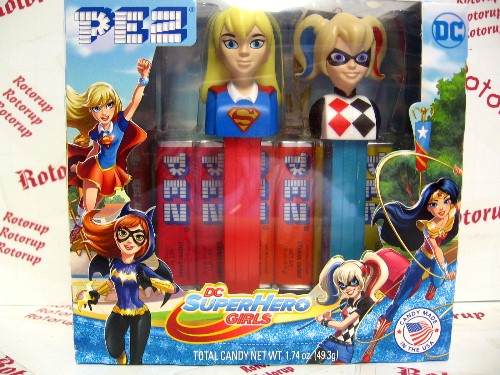 The NEW DC girls twin boxed sets have arrived / $7.00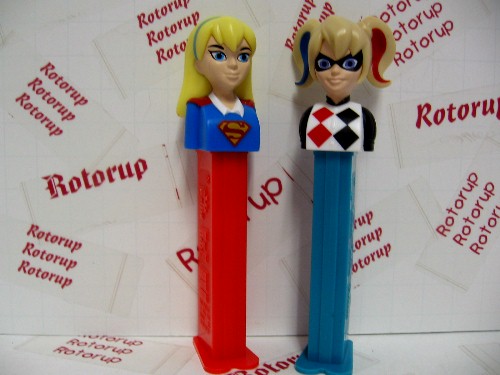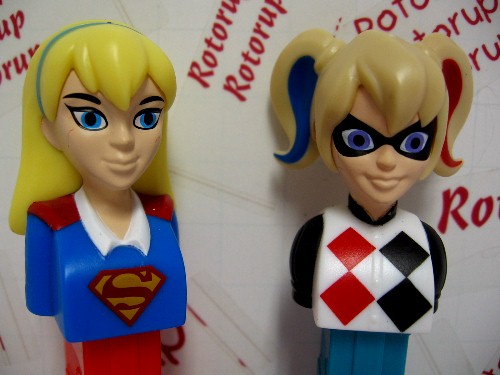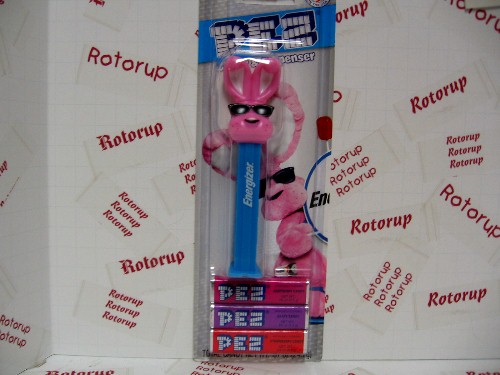 New Energizer Bunny limited edition / $6.00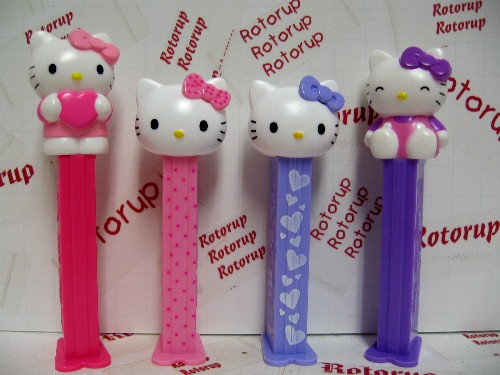 New Hello Kitty Pastel set for 2017
18.00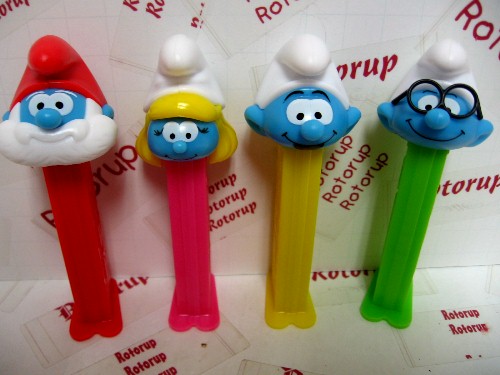 NEW January 2017 SMURFS set of 4. / $10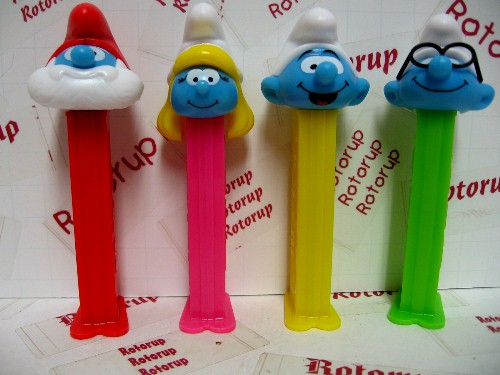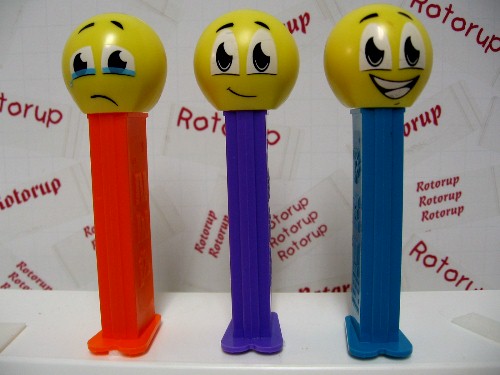 European issue Emojis 2016 / 18.00 / SOLD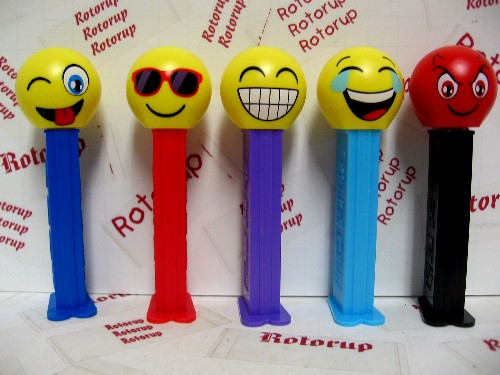 USA release for 2016 Emojis set of 5 / $12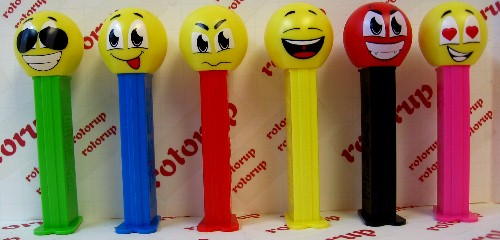 Australian release 2015 set of 6 / $32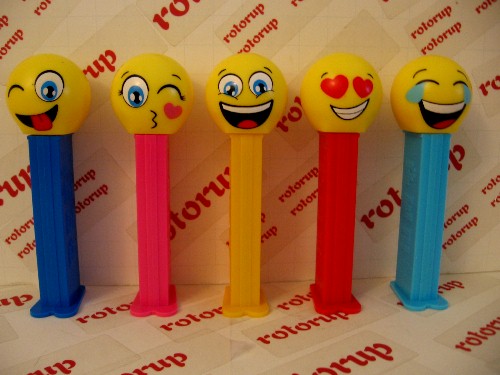 USA Emojis set of 5 / 2015 / 12.00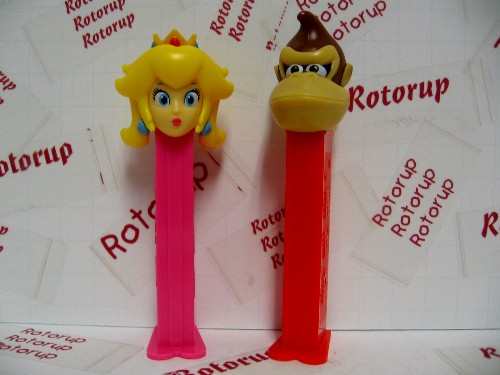 Princess Peach and Donkey Kong Jr.
just released from Europe. $12.00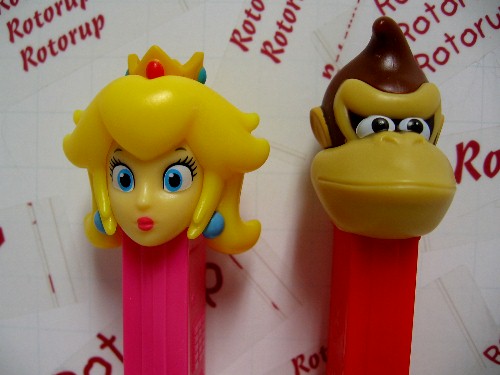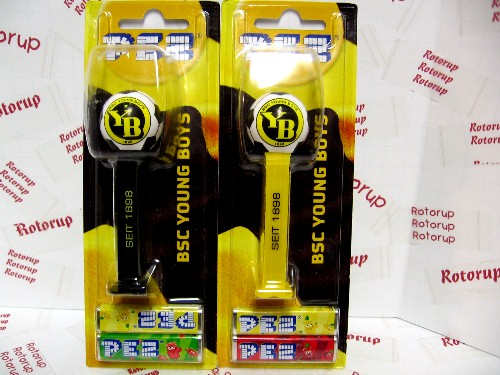 Young Boys European Soccer set of two. $20
The Young Boys of Bern is a Swiss sports club based in the capital city Bern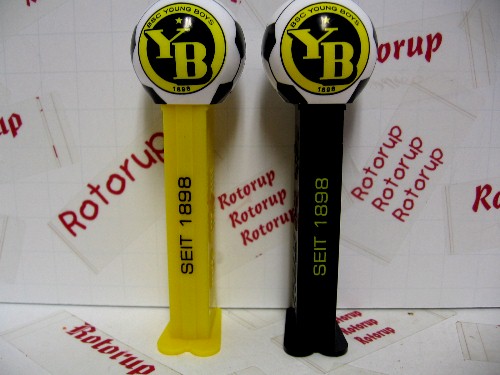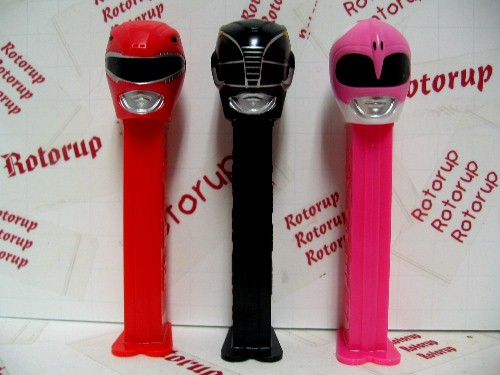 Power Rangers $7.50
Jason, the red ranger, Zack, the black ranger and Kimberly the pink ranger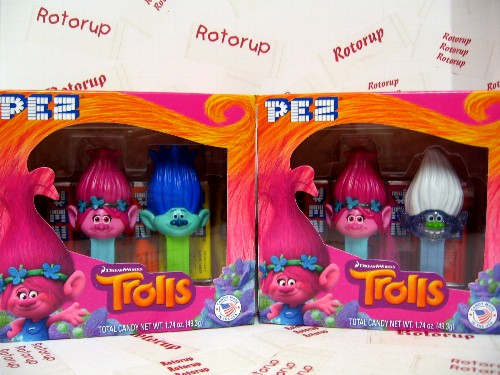 Trolls Minis are HERE !!!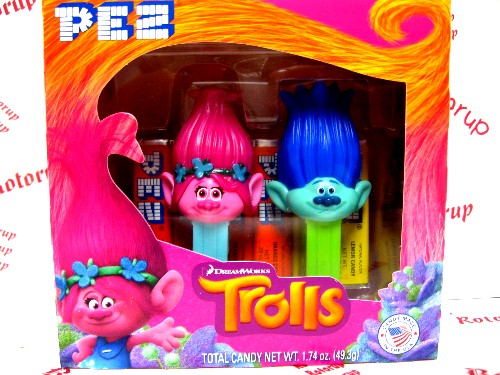 Trolls on MINI stems. Poppy and Branch / 6.00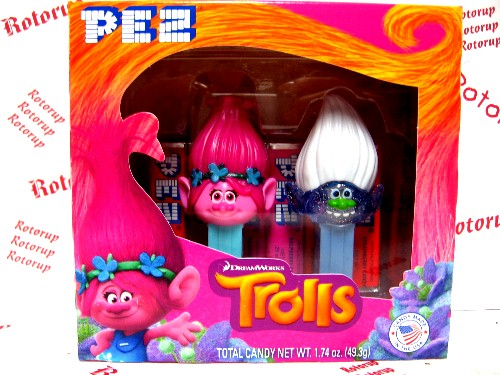 Trolls Mini stems. Poppy and Guy Branch / 6.00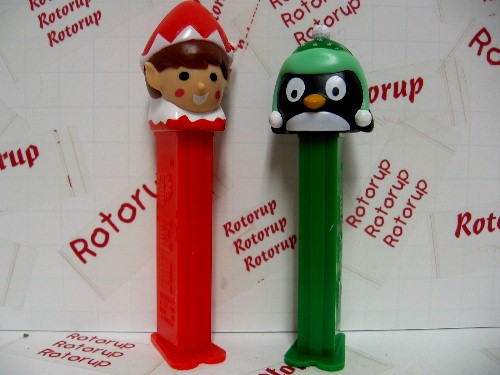 New colors for Christmas 2016 Elf on red and penguin on green / $6 for the pair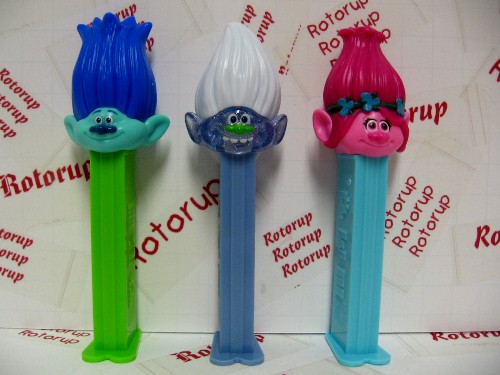 The Trolls are here / 8.00
Branch,. Guy Diamond and Poppy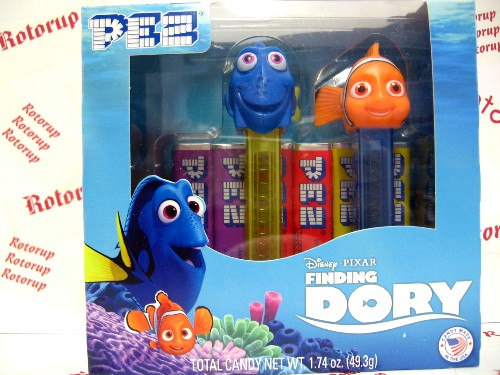 Finding Dory Twin Pack / $9.00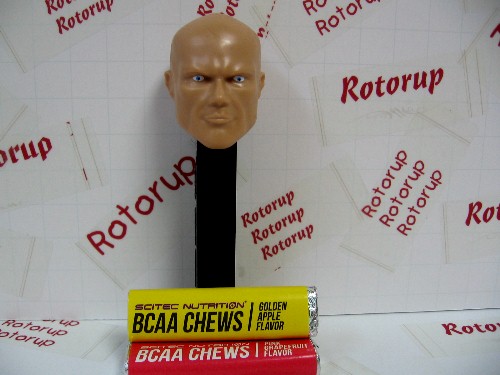 Benjamin "Ben" Pakulski nicknamed the Pak-Man, is an IFBB professional bodybuilder
Ben loose with 2 packs of candy / $25.00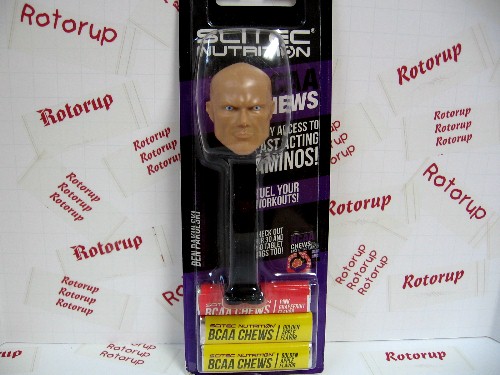 Ben Pakulski on card with 3 packs of candy / $28.00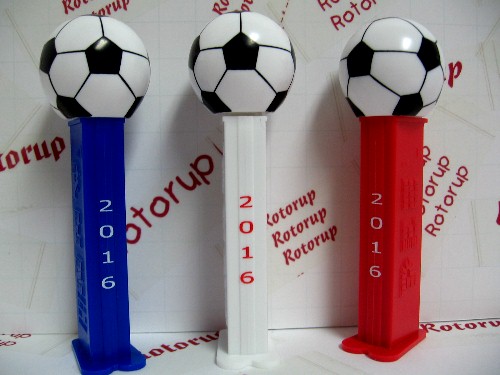 New for 2016 European Soccer set of 3 / $30
If you would like to purchase just ONE pc / $12.00 each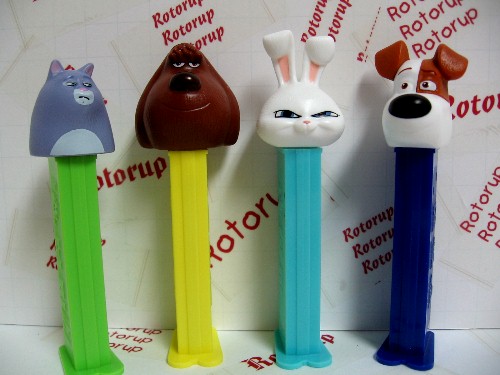 The Secret Life Of Pets set of 4 / $9.00
Chloe the cat can't be bothered unless there is food
Duke is a massive MUTT saved from the pound
Snowball (rabbit) is the Leader of the Flushed Pets
Max is the pampered terrier mix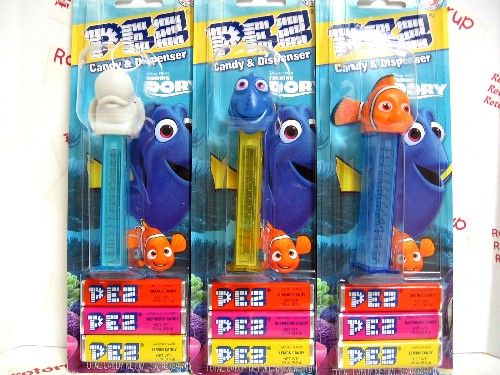 Bailey, dory and nemo. new colors of transparent stems on cards / $9.00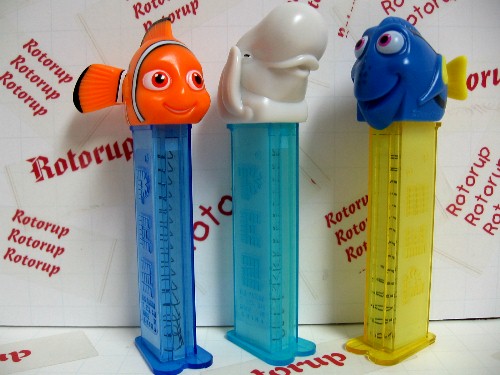 Nemo, Bailey and Dora with new (different colors) transparent stems
Either loose OR in bags, the set of 3 are $7.50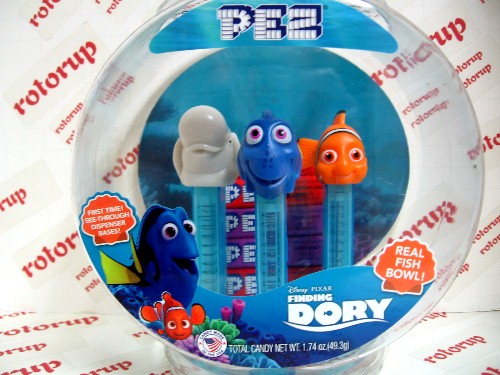 Introducing Nemo, Dory and Bailey in a Fish Bowl with 6 packs of PEZ candy / $10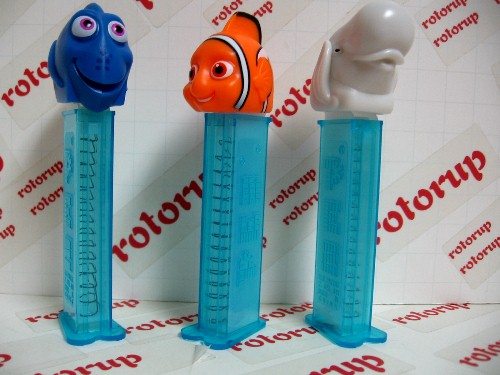 Ahhh, released from the bowl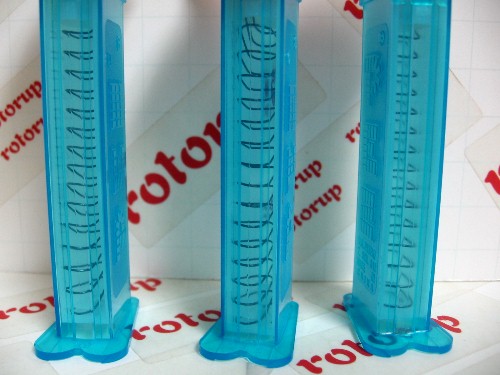 check out these trasnsparant stems.... WOW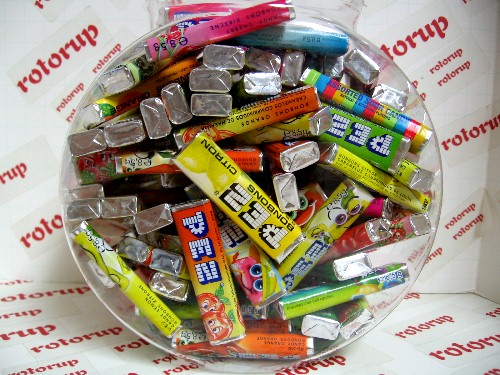 After releasing the PEZ, fill the bowl with PEZ candy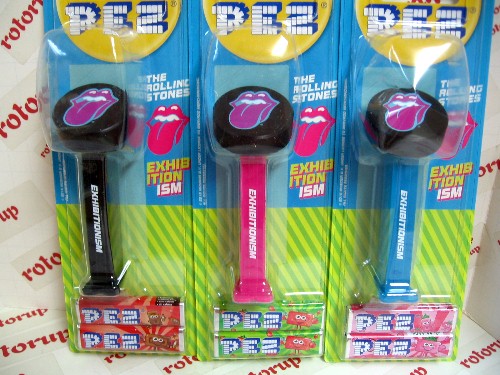 Rolling Stones Exhibitionism set of 3 / $45.00
exclusive promotion out of one store in the United Kingdom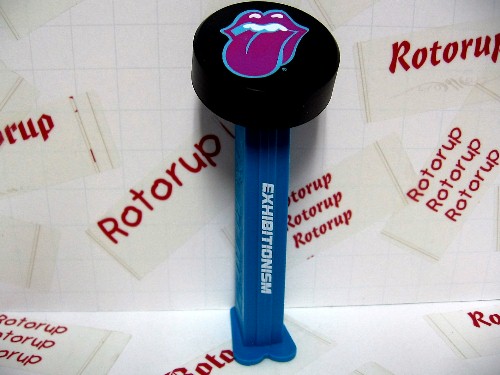 Don't need the whole set ? just want one ? blue stem 15.00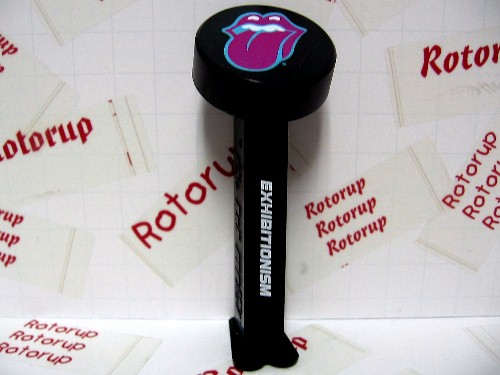 Don't need the whole set ? just want one ? black stem 15.00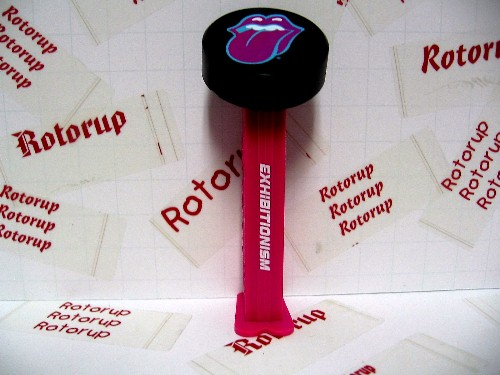 Don't need the whole set ? just want one ? pink stem 15.00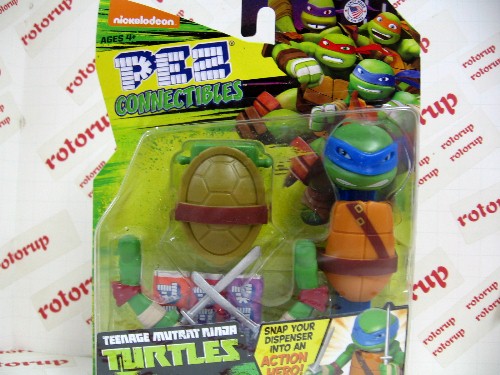 Teenage Mutant Ninja Turtles Connectibles. Come individually on cards with body armor and body parts. / $6.00 EACH
Leonardo (Leo) - The tactical, courageous leader and devoted student of his sensei, Leonardo wears a blue mask and wields two katana.
As the most conscientious of the four, he often bears the burden of responsibility for his brothers, which commonly leads to conflict with
Raphael. Leonardo was named after the Italian polymath, painter, engineer, inventor, writer, anatomist, and sculptor, Leonardo da Vinci.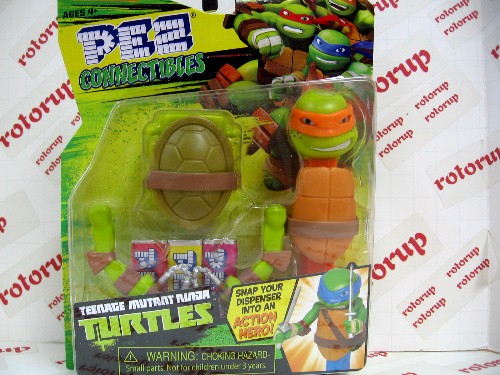 Michelangelo (Mikey) - The most stereotypical teenager of the team, Michelangelo is a free-spirited, relaxed, and often goofy jokester and known for his love of pizza.
Michelangelo wears an orange mask and wields a pair of nunchucks.
He provides the comic relief, though he still has an adventurous side.
The least mature of the four Turtles, he shows characteristics of a "surfer" type and is often depicted with a Southern Californian accent.
He is named after the Italian Renaissance painter, sculptor, architect, poet, and engineer, Michelangelo.
His name was originally misspelled "Michaelangelo" by Peter Laird and Kevin Eastman.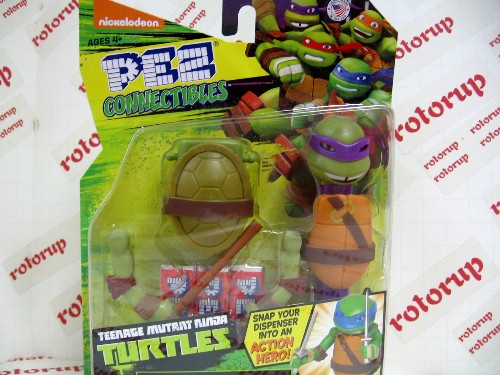 Donatello (Donnie) - The scientist, inventor, engineer, and technological genius
Donatello wears a purple mask and wields a bo staff.
Donatello is perhaps the least violent turtle, preferring to use his knowledge to solve conflicts, but never hesitates to defend his brothers.
He is named after the early Renaissance Italian artist and sculptor from Florence, Donatello.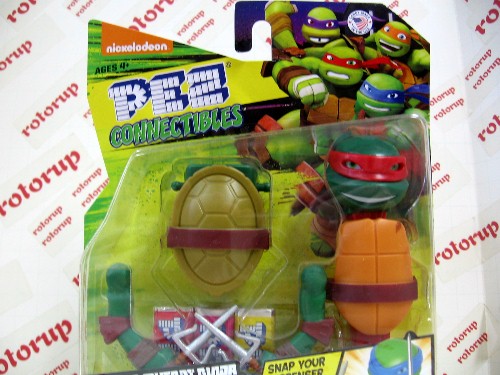 Raphael (Raph) - The team's bad boy,
Raphael wears a dark red mask and wields a pair of sai.
He is physically very strong, has an aggressive nature, and seldom hesitates to throw the first punch.
He is often depicted with a very pronounced New York accent.
His personality can be fierce and sarcastic, and oftentimes delivers deadpan humor. He is intensely loyal to his brothers and sensei.
He is named after the Italian painter and architect of the High Renaissance, Raphael.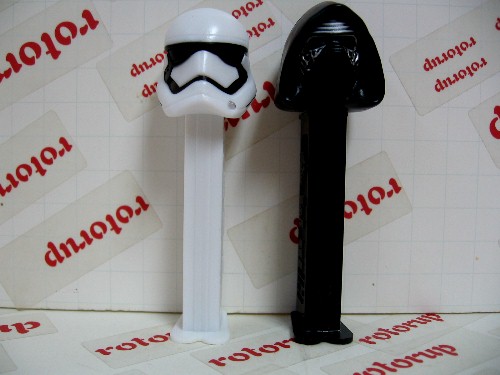 Kylo Ren and the new storm trooper / $3.00 each
from the new movie The Force Awakens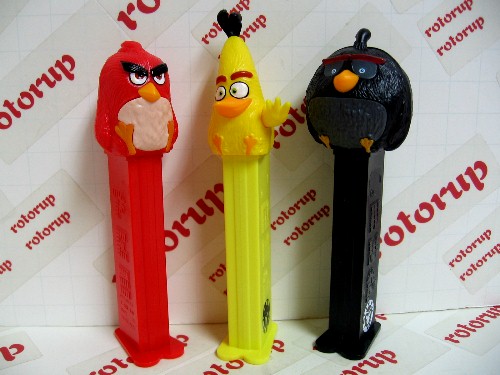 European Issue for 2016 Angry Birds / 14.00
Red Bird, Yellow Chuck and Black Bomb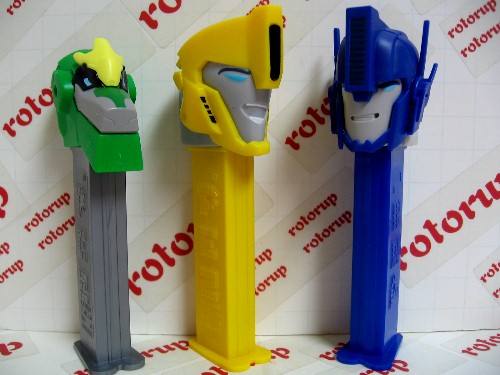 European Issue for 2016 Transformers / 14.00
Robots in Disguise / Grimlock, Bumblebee and Optimus Prime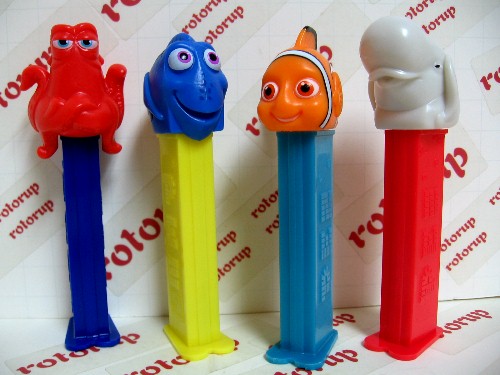 Just got these from Austria the New Dory and Nemo set with two new additions / $18.00
featuring: Hank, Dory, Nemo and Bailey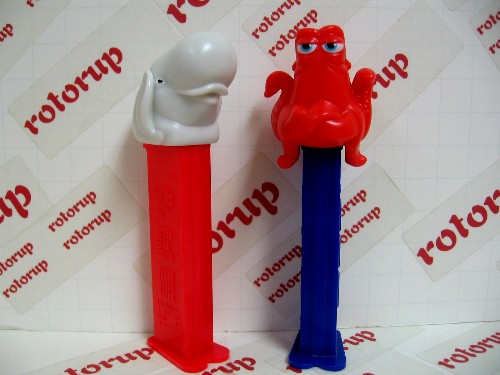 So, you don't want to buy the whole set..... Here ya go !! Bailey and Hank.
European issue. / $12.00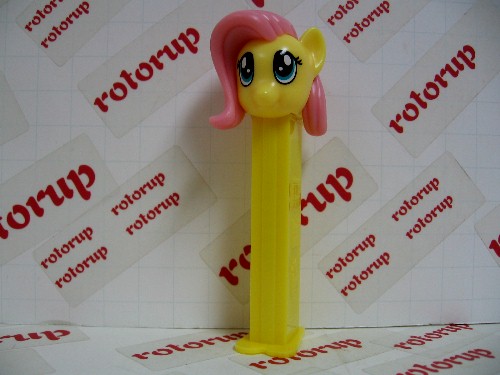 New Addition to the My Little Pony collection. Her name is *Fluttershy*.
European issue. / $6.00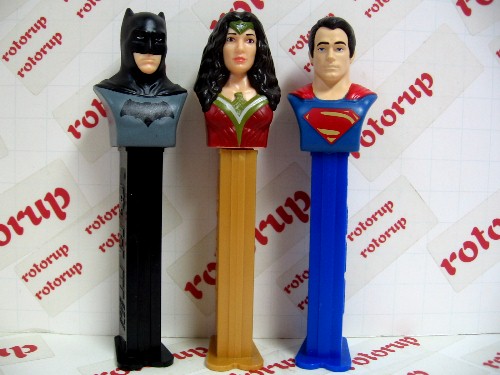 Batman, Wondewoman and Superman NEW for 2016 USA version / 9.00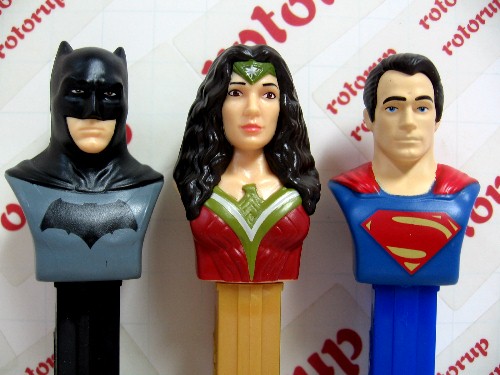 Here's a nice close-up for you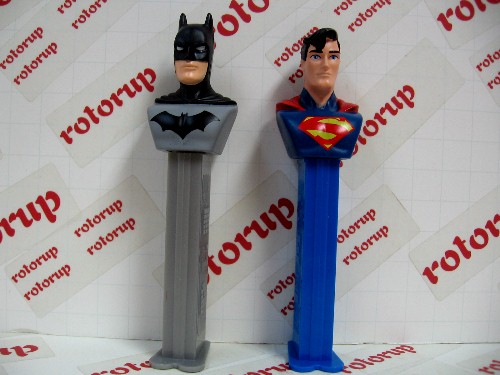 New European release of Batman and Superman for 2016 / 10.00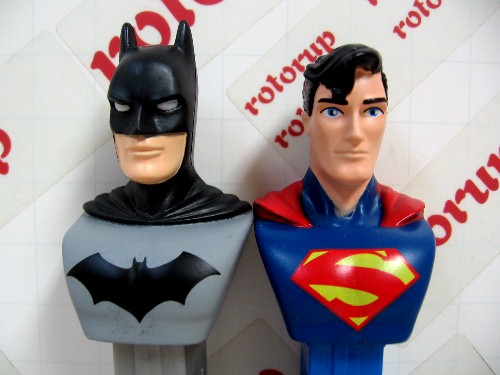 Close-up Euro 2016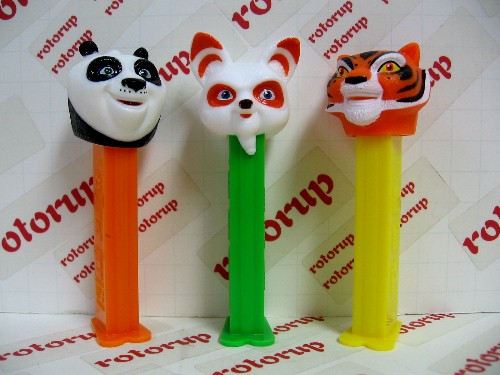 New !! The European version of Kung Fu Panda / $12.00 per set of 3
Po, Shifu and Tigress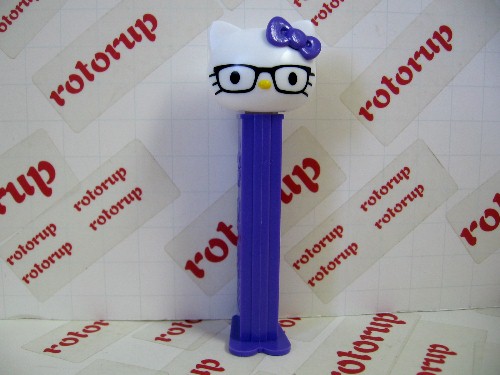 Adorable Nerdy Kitty from Europe. / $4.25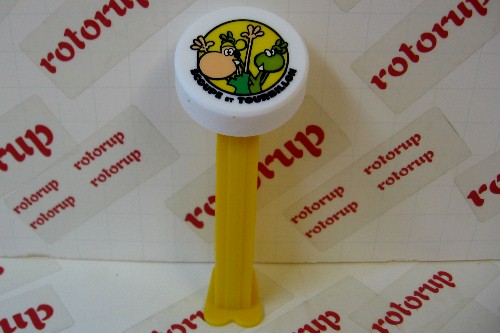 Scoupe Tourbillion from France / 2015 / $15.00
Scoupe et Tourbillon is a comic strip in a French magazine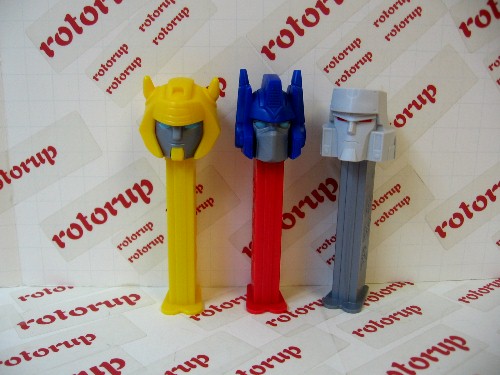 Transformers / $7.50
Bumblebee, Megatron and Optimus Prime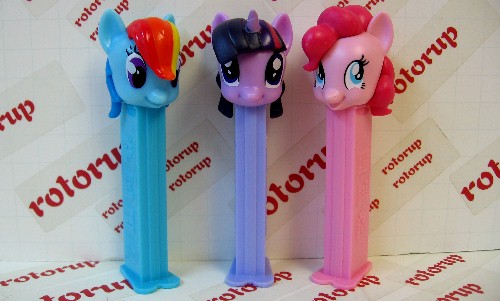 released in Europe, December 2014. My Little Pony set of 3 / 15.00
Rainbow Dash, Twilight Sparkle and Pinkie Pie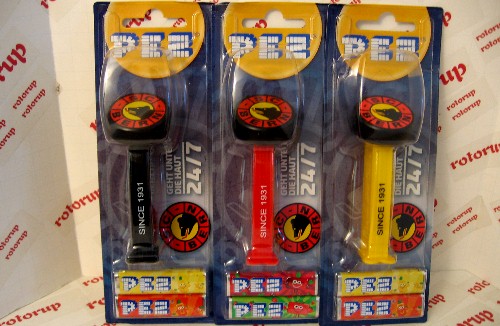 SC Bern Hockey Pucks for 2014 / 30.00
SC Bern is a Swiss Hockey team since 1931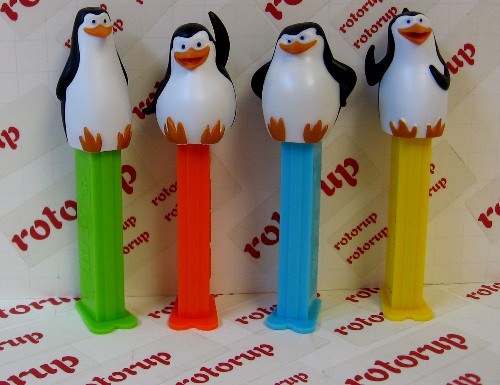 The Penguins of Madagascar The European set of 4 penguins are $14.00 per set
Kowalski, Private, Skipper and Rico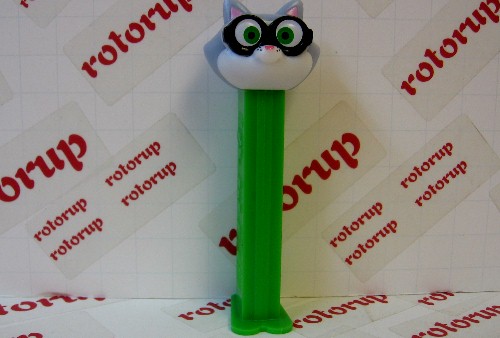 doesn't look scarry to me :)
this is the Terror Cat from the new Toy Story movie coming soon.
At this time he has only been released thru the toys R us stores. / $4.00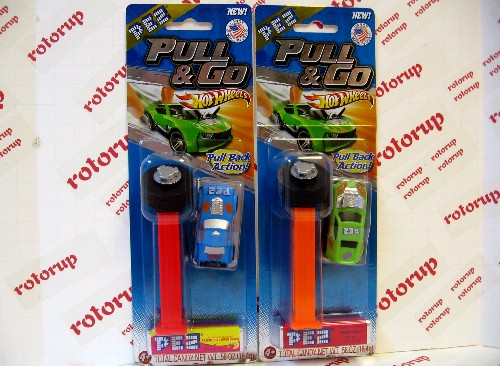 Set of 2 Pull & go Hot Wheels cars.
They sit on top of a PEZ dispenser. Very cool.
Set them down, pull them back and let them go. $8.00 for the set of 2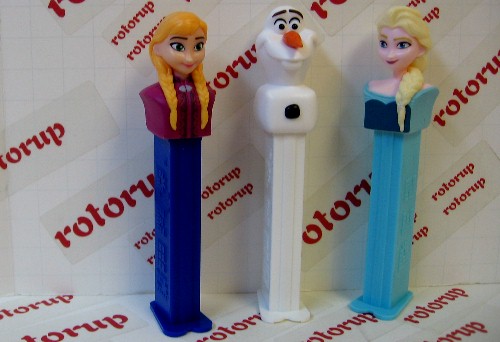 Frozen set of 3 / 7.50
Ana, Olaf and Elsa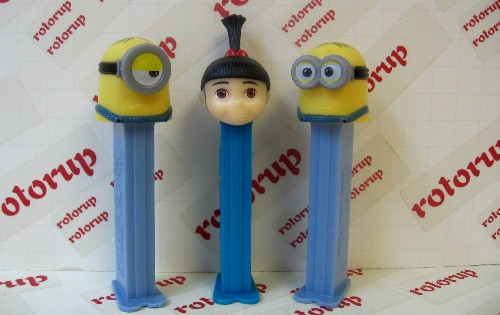 Despicable Me set of 3 / 7.50
Stuart, Agnes and Dave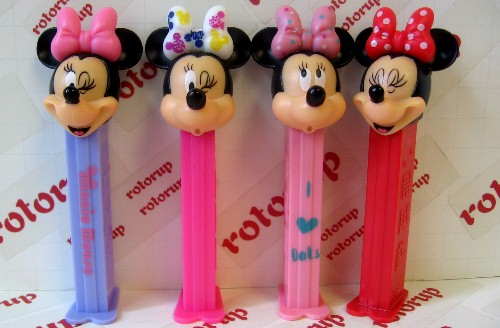 2015 Minnies. I love dots ! European issue / 24.00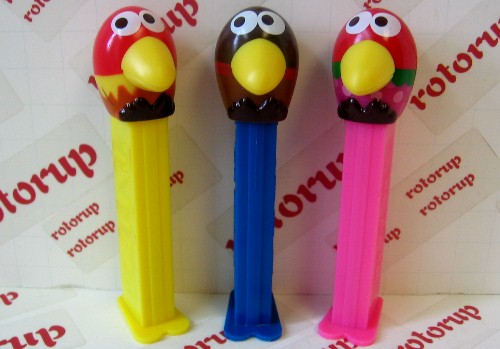 2015 European release Kyoro Chan Parrots /16.00
Caramel, Peanut and Strawberry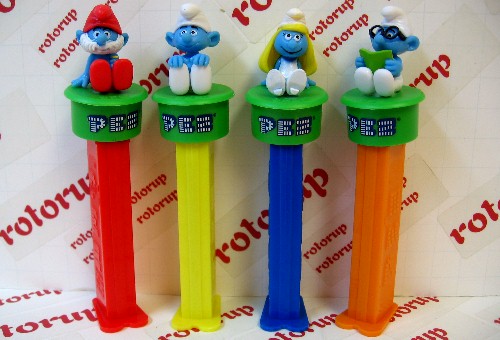 NEW for October, 2014. European Release .

Smurfs Click and Play set of 4 sitting atop a PEZ drum.

Featuring: Papa Smurf, Smurf, Smurfette and Brainy Smurf / $18.00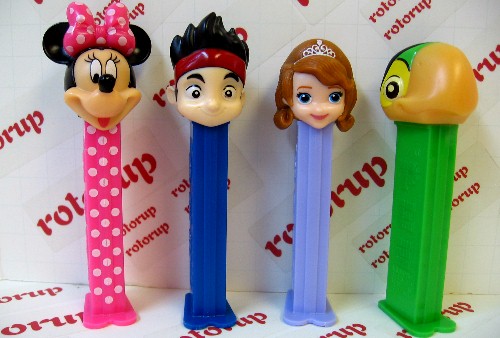 This set is called Disney Jr. by the PEZ Co.

Beautiful Minnie from Minnie's Botique with pink polka dotted stem and Bow,

Jake from Jake and the Neverland Pirates,

Sofia The first from the Movie Sophia The First

and Skully from Jake and the Neverland Pirates / $12.50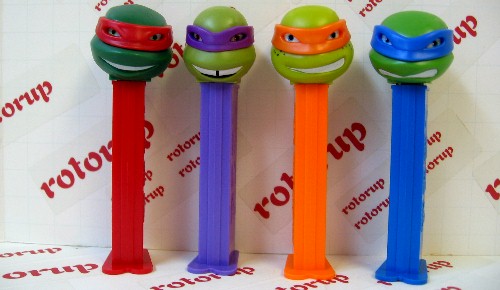 NEW for 2014 just released Turtles. Teenage Mutant Ninja Turtles / set of 4 / 10.00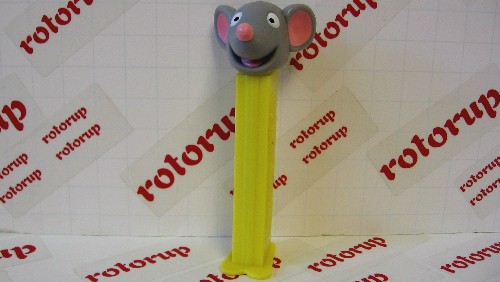 Viktor European realease / $50.00

Viktor was released for World Savings Day 10-31-2013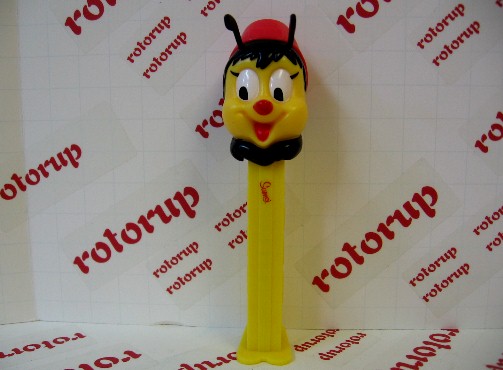 Sumsi Bee European release / $20.00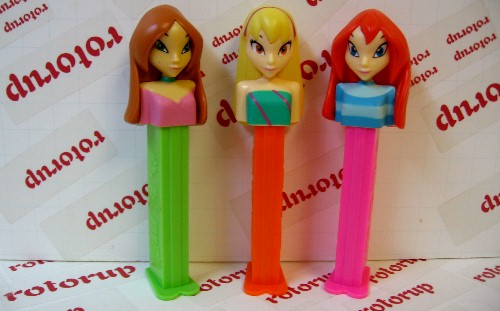 European Issue / WINX set of 4 / $15.00

The Winx Club pez set of 3 features three different fairies - Bloom, Flora and Stella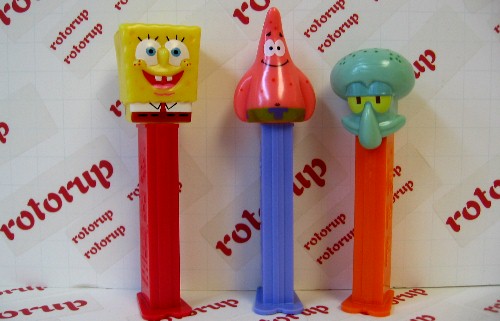 NEW for 2014 Spongebob Squarepants featuring:

Spongebob with tie on a red 7.5 Made in Hungary stem,

Patrick on a lavender 7.5 made in China stem and

Squidward on an Orange 7.9 Made in China stem / set of 3 / $7.50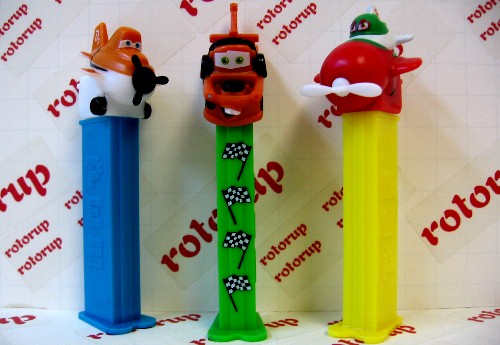 USA Release for September, 2014.

PEZ World Of Cars Disney Movie characters featuring

Dusty with landing gear, Mater with flags on stem and El Chupacabra /

set of 3 / $7.50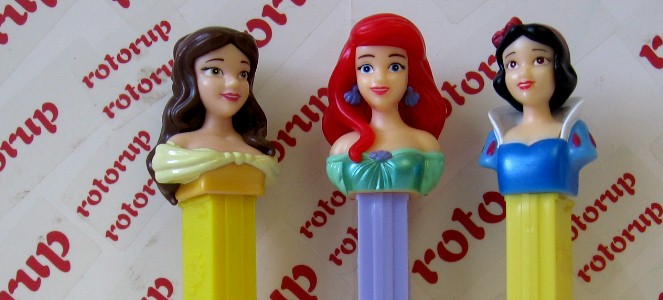 European Issue updated princess. beautiful opalescent dresses on these girls $14.00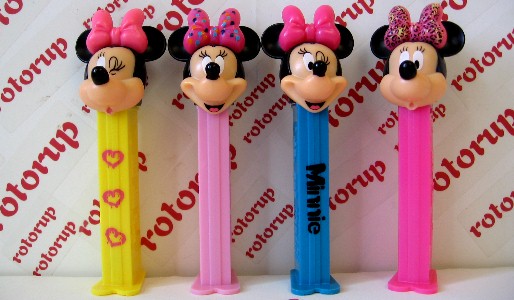 new for 2014 European issue Minnies sets of 4.

Minnie winking with hearts on the stem,

pink stem Minnie,

blue stem Minnie with Minnie written on stem

and hot pink stem Minnie / $24.00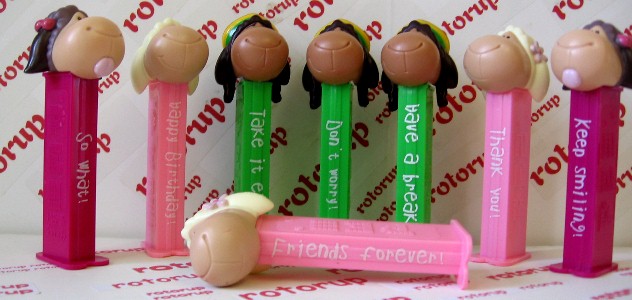 NICI sheep. European issue.

8 different sayings on the stems.

So What, Happy birthday, Take it easy, don't worry, Have a break,

Thank you, Keep smiling and Friends forever / $48.00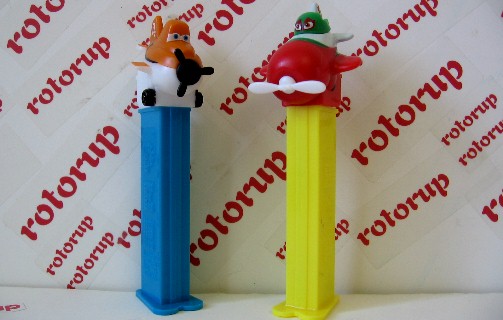 2014 European issue for the Disney Movie Planes / set of 2 / 11.00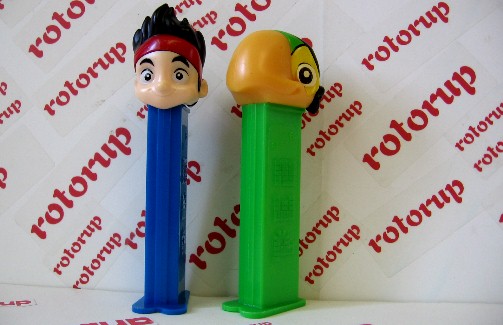 Jake and Scully from Jake and the Neverland Pirates European issue / 13.00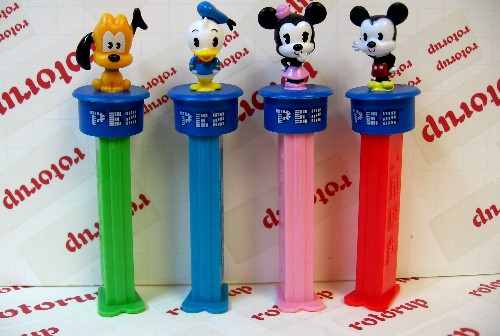 Disney Babies

European Release of 4 Disney Babies.

Set includes: Pluto, Mickey, Minnie and Donald as babies. Set of 4 / $18.00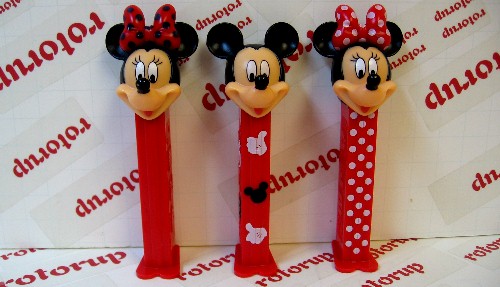 Stylish Mickey and Minnie

European release. Minnie with plain stem and black polka dot bow.

Mickey with printed stem and

Minnie with polka dotted bow and stem / set of 3 / $15.00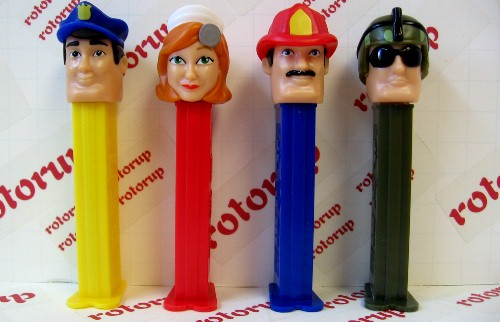 2014 USA release new Heros. Policeman, Nurse, Fireman and Army / 10.00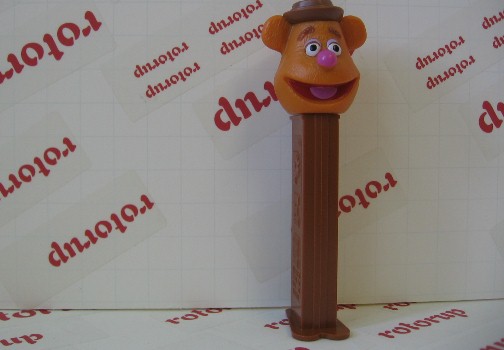 All new USA release FOZZIE. so cute / 3.00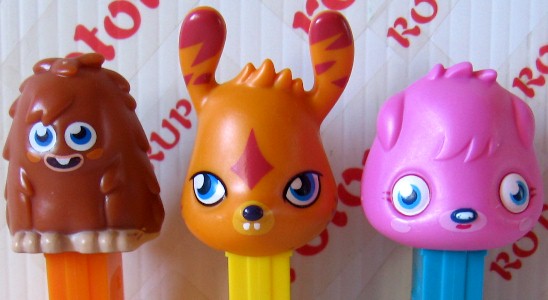 European release Moshi Monsters. Furi, Katsumas and Poppet / 15.00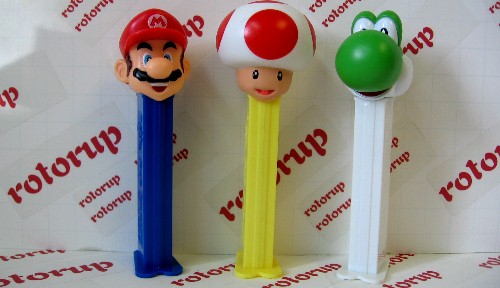 European release. Super Mario set of 3 / 12.00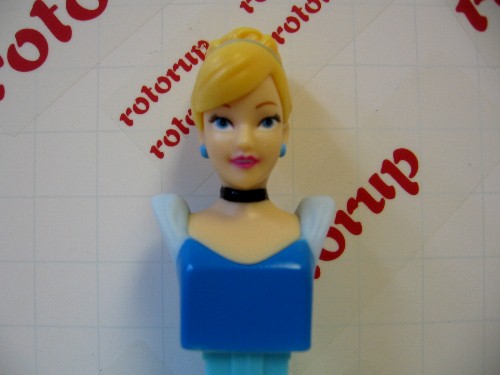 An updated look for Cinderella 2013 / 3.00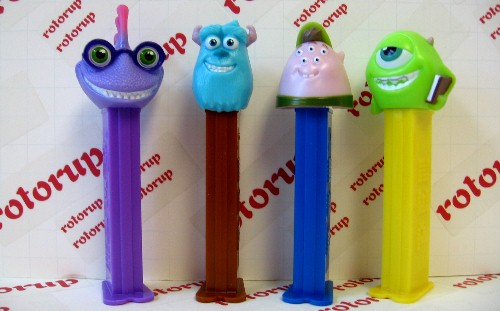 New USA version Monsters University. Sully, Randall, Mike and Squishy / set of 4 / 10.00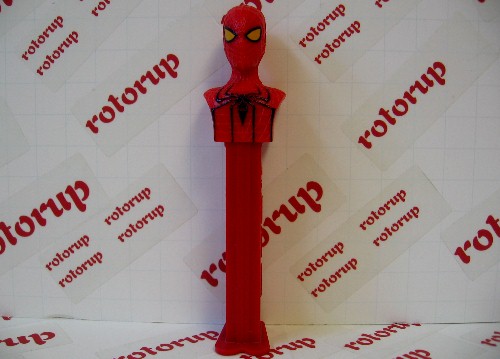 European Issue Spiderman with red stem / 8.00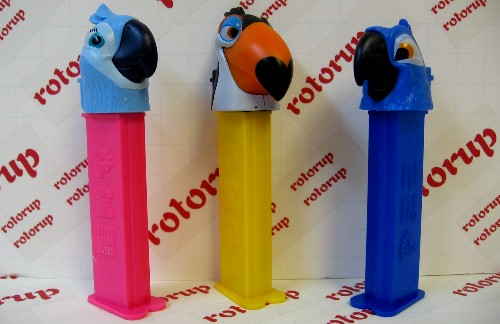 Beautiful European Release RIO birds / set of 3 $17.00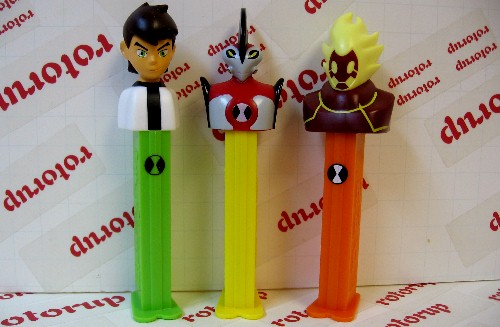 European release / Ben 10 / set of 3 / $14.99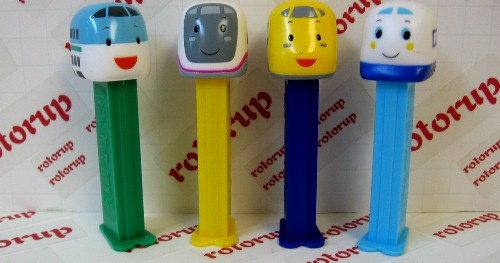 European release Shinkensen train set of 4 / $35.00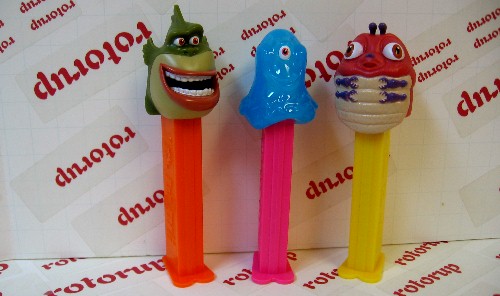 European issue Monsters VS Aliens set of 3 / $14.99

The Missing Link – a half fish, half ape hybrid,

Insectosaurus – a 350 foot tall grub

and a crystal pez a jelly-like blob with no brain, B.O.B.,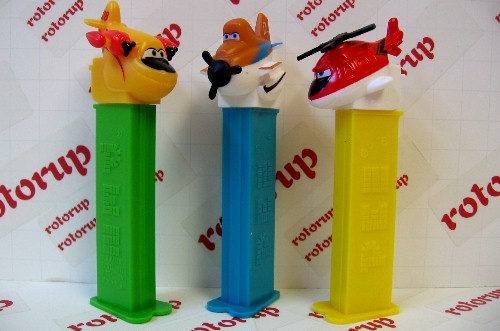 Disneys new Planes Fire and Rescue set of 3 / $15.00

Set includes:

Lil' dipper the super scooper, dusty crophopper with pontoons and Blade Ranger the helicopter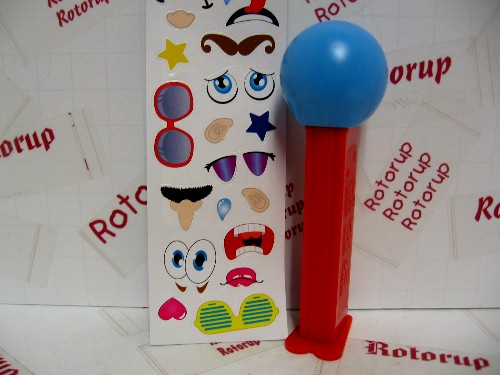 Exclusive to the PEZ Visitor Center in Orange, CT / blue ball with stickers / 6.00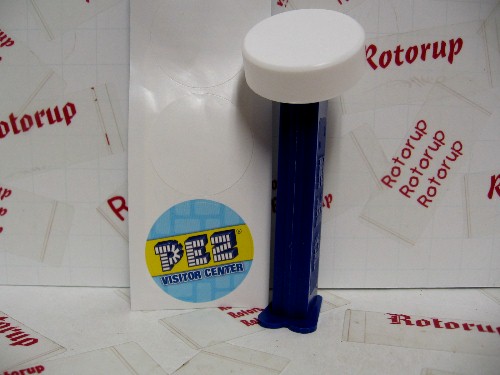 Exclusive to the PEZ Visitor Center in Orange, CT / white puck with stickers / 6.00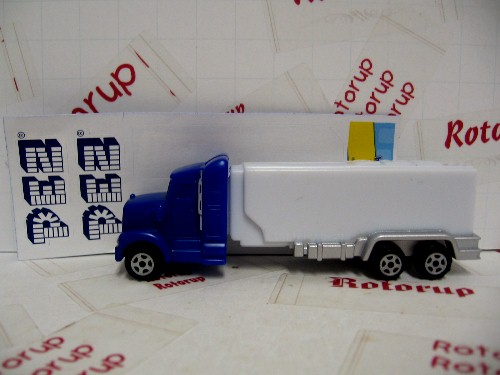 Exclusive to the PEZ Visitor Center in Orange, CT / truck with stickers / 6.00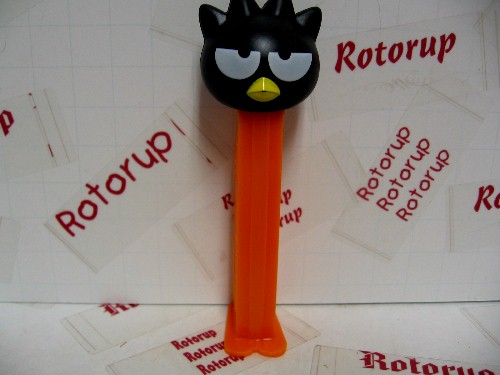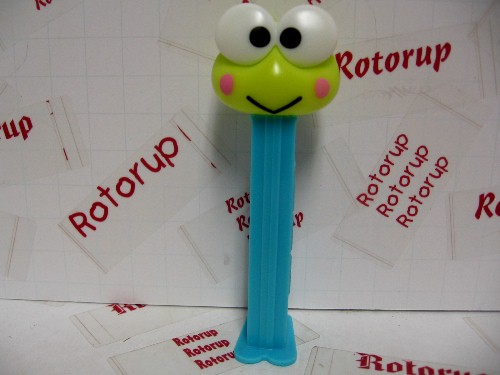 \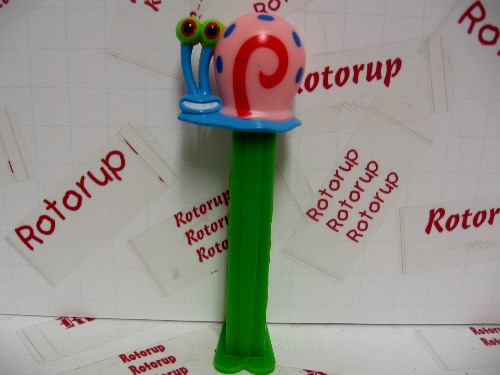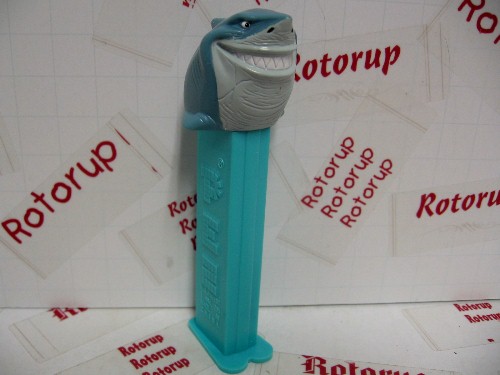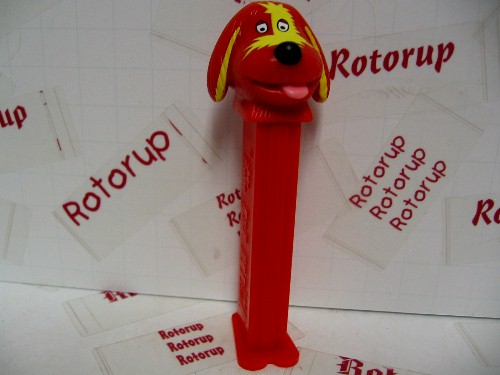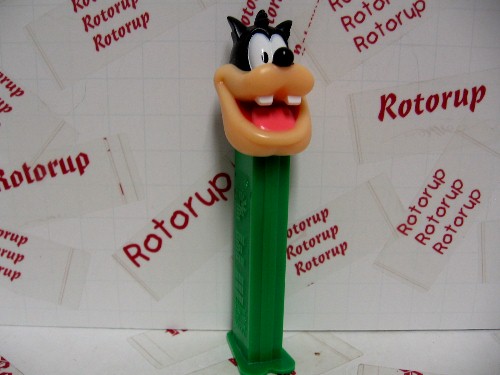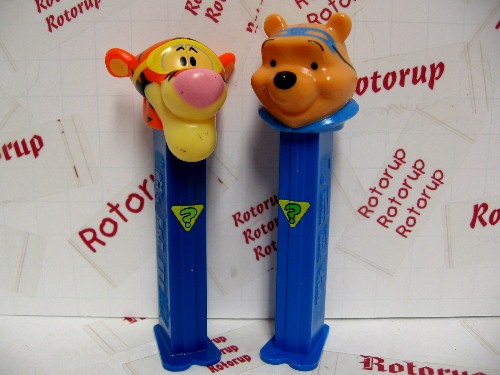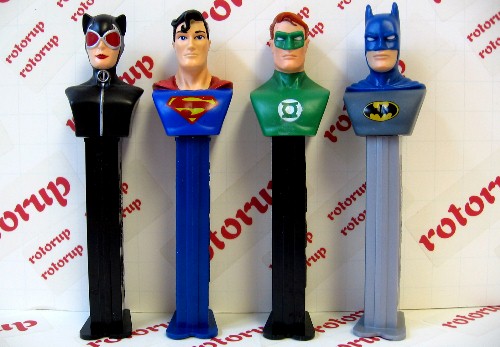 DC Comics Catwoman, Superman, Green Lantern and Batman / set of 4 / 12.00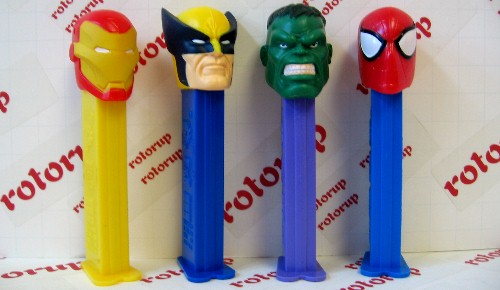 Marvel Heros ironman, Wolverine, Hulk and spiderman / set of 4 / 10.00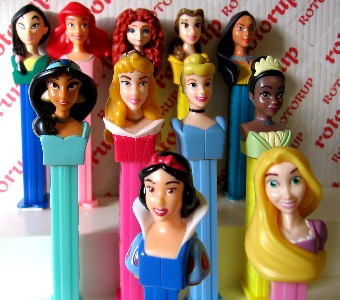 set of 11 disney Princesses / 25.00

set includes:

Mulan, Ariel, Merida, Belle, Pocahontas,

Jasmine, Aurora, Cinderella, Tiana, Snow Shite and Rapunzel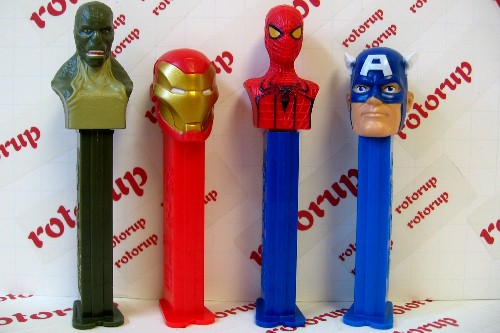 Marvel Lizardman, ironman with metallic face, spiderman and captain america /

$3.00 EACH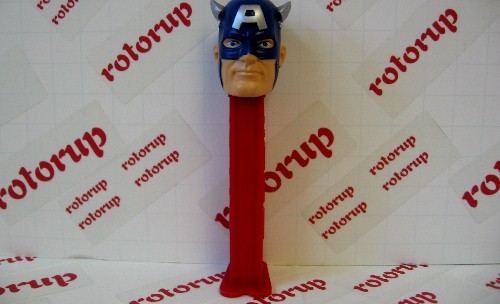 2014 NEW Captain America with Silver A and wings / $3.00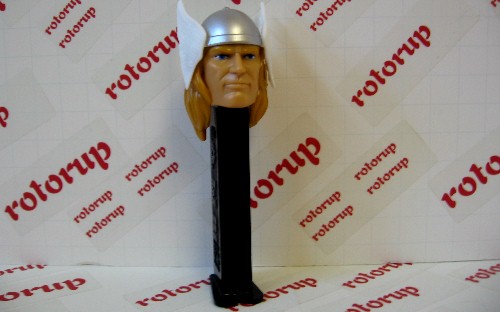 THOR / 3.00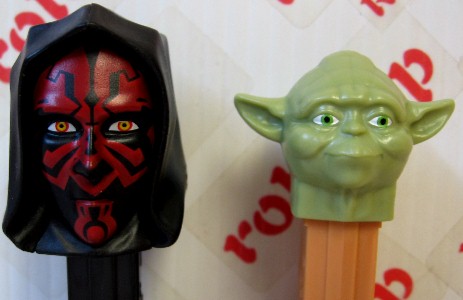 Darth Maul / 3.00...... Yoda / 3.00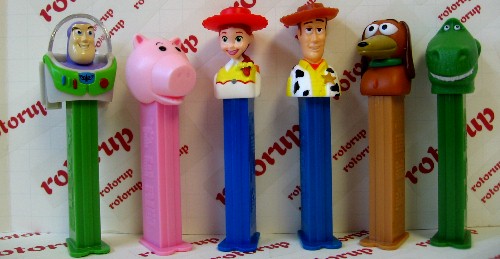 toy Story set of 6 includes Buzz Lightyear, Hamm, Jesse, Woody, Slinky and Rex / 18.00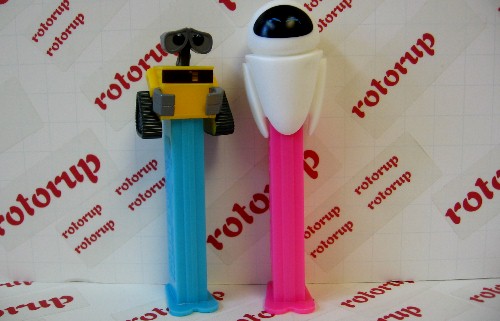 Adorable Wall e and Eve from the movie / 6.00

Bruce the Shark/ 6.00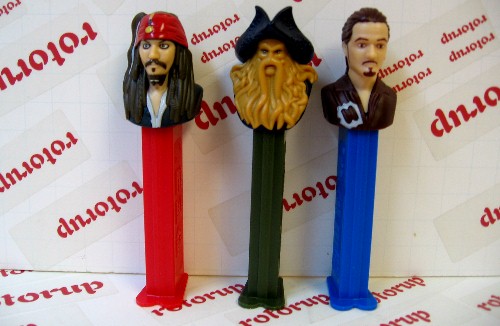 Pirates of the Caribbean set of 3 / 9.00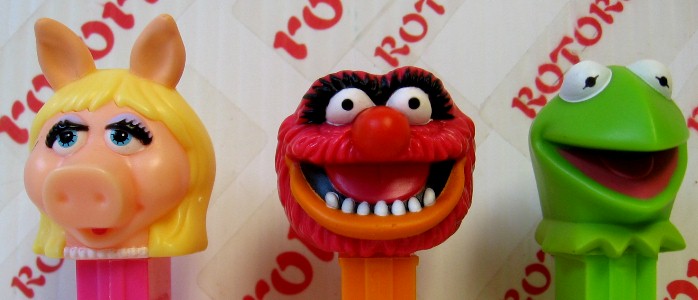 Set of 3 NEW from 2012 Muppets. Set includes Miss Piggy, Animal and Kermit / 9.00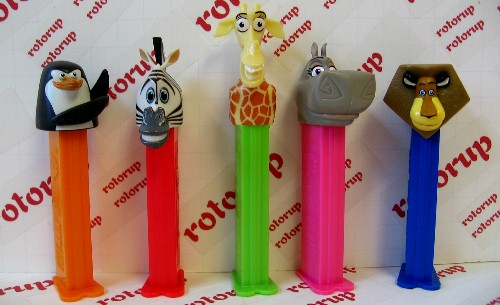 Set of 5 Madagascar includes: Skipper, Marty, Melman, Gloria and Alex / 15.00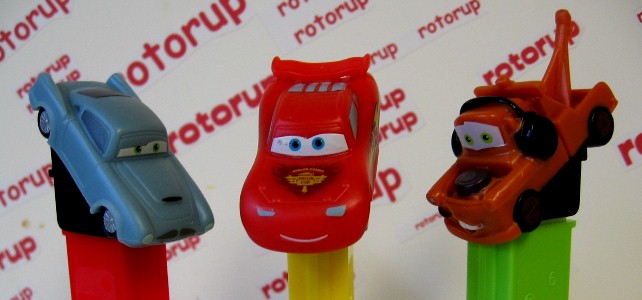 Cars 2. Magnetic Cars pull and go / set of 3 / 9.00

Bruce the shark, Nemo and Dory set of 3 / 12.00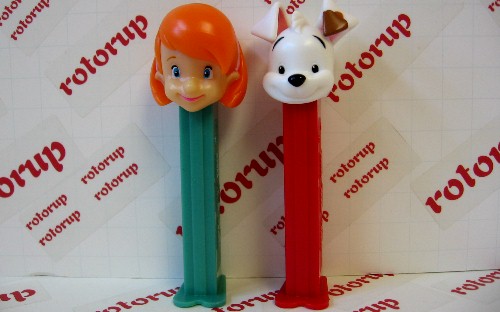 Darby and Buster from Winnie the Pooh / 6.00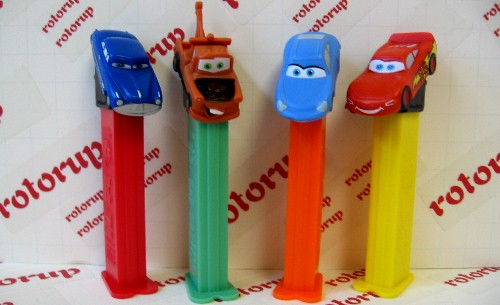 set of 4 CARS from the movie CARS 2 / 10.00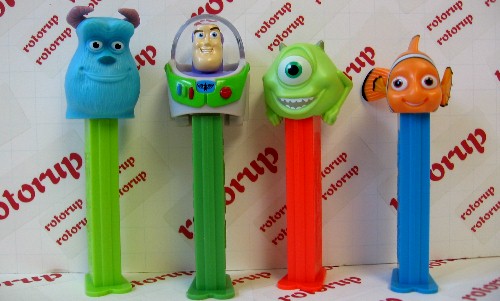 the Best of Pixar / set of 4 / 12.00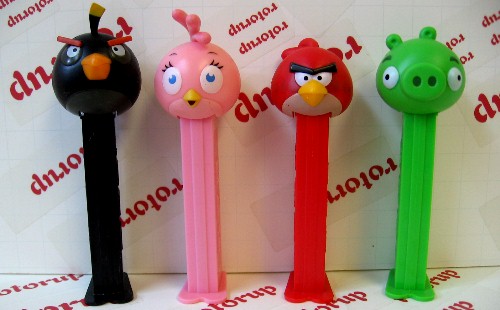 Angry Birds set of 4 / 17.00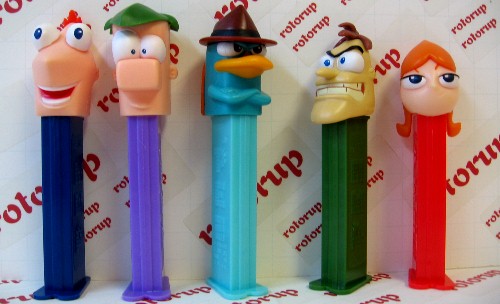 The Phineas and Ferb set contains:

Phineas, Ferb, Perry the Platypus, Dr. Doofenshmirtz and Candace / Set of 4 / $12.50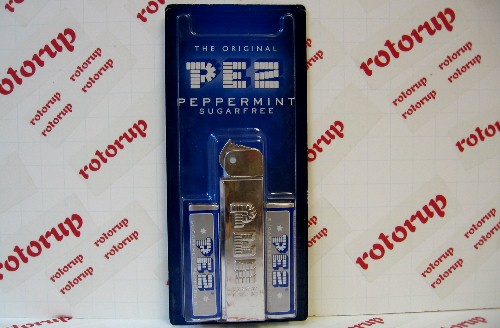 2013 release out of Europe Peppermint silver regular / 11.00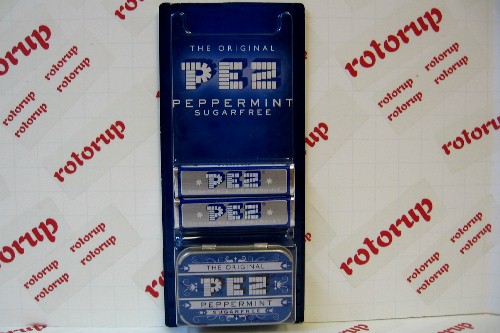 Sugarfree Peppermint with TIN silver and blue writing / 7.00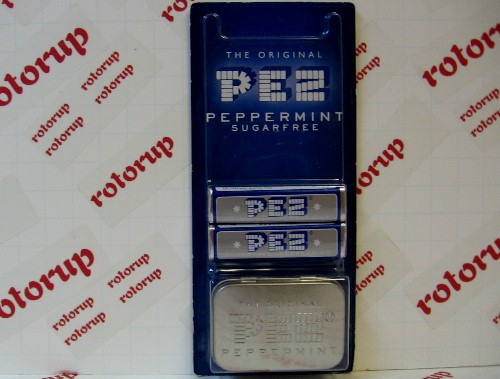 Sugarfree Peppermint with TIN all silver / 7.00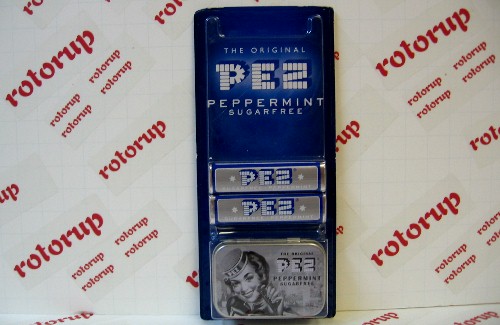 Sugarfree Peppermint TIN with PEZ Girl face / 7.00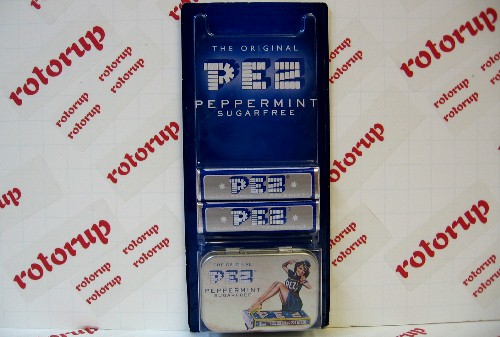 Sugarfree Peppermint TIN with PEZ girl sitting / 7.00