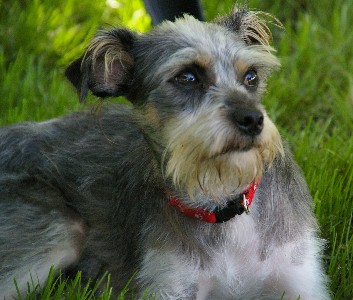 Oh Mr Zippy you stole my heart !!
Zippy flew all the way from Ohio to come to our party. He liked it here so much he stayed for a week.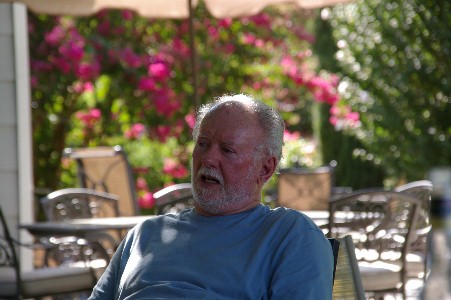 George Taylor. Looks like a pretty heavy discussion going on. Must be talking about some cool PEZ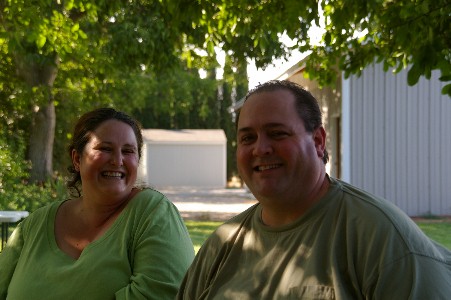 And then there's Jenny and Bobby Acker. Always happy. Always smiling. Always thinking about PEZ and coming to the next Dairyville PEZ Gathering. All the way from Benicia, CA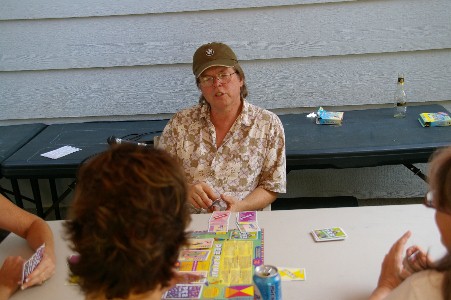 Dan Cherney teaching the finer points of the PEZ card game to some newbies to the game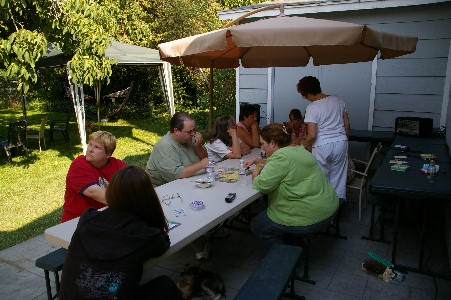 Sherrill cant seem to keep her mind on the game. Also being played by Bobby and Jenny Acker, Kathy Alexander,Judie Gatton, Dan and Susan Churney and Natalie Wilson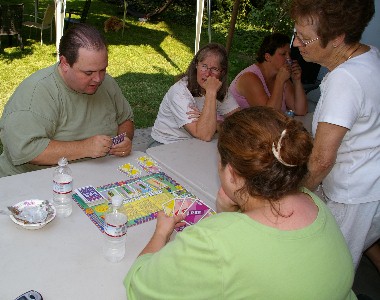 More of the PEZ card game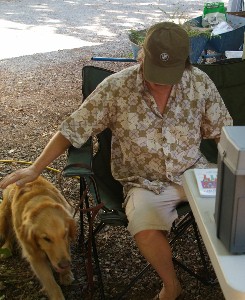 Dan Cherney and his sweet puppy. This is the dog's first gathering. He was very well behaved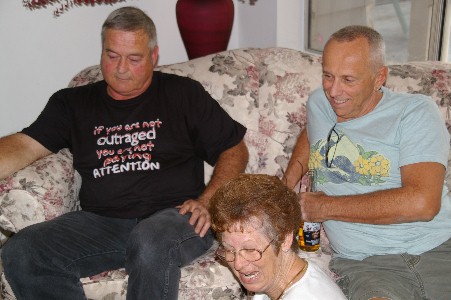 Getting a *first look* at some of Gary's prime pieces.
Gary Beck, Jeff Cason and myself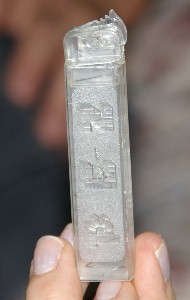 WOW !!! A Clear PEZ Regular

Beats me. Some guy with a goofy hat on ;o)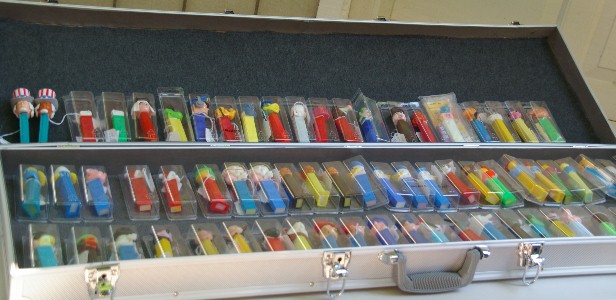 PEZ to drool over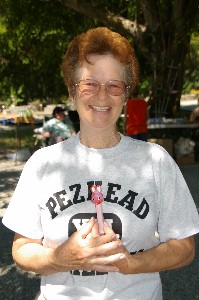 Just got this beautiful rabbit from Ivan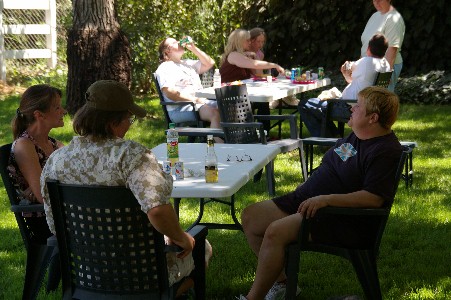 Just relaxing in the shade. front table: Susan Cherney, Dan Cherney and Sherrill Hondorf
back table:
Janet McKinley, Laura and Tabitha Knight, Valerie Miller and Darrell Knight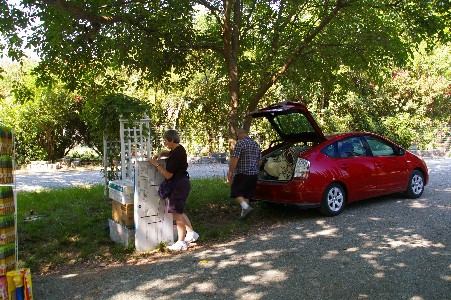 John and Carole Bell setting up shop. Got lots of PEZ to sell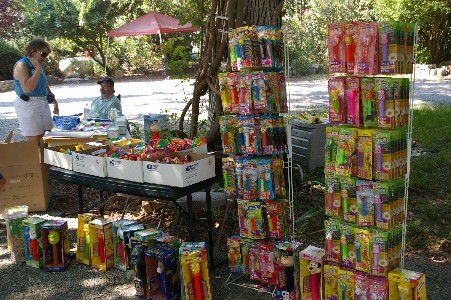 Helen McKinley-George and Bill George at their table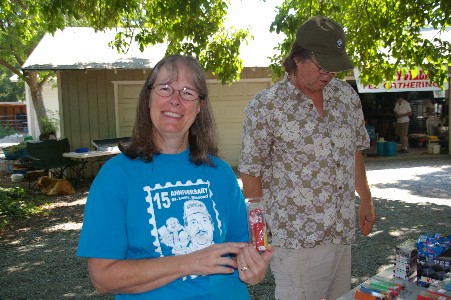 Kathy Alexander and a beautiful goofy in cello. Dan Cherney looking for a bargain.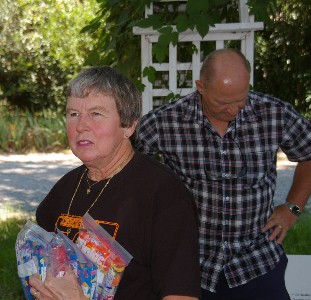 John and Carole Bell again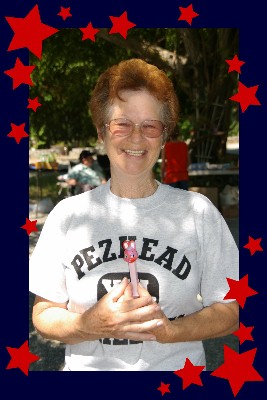 And a framed one of me compliments of Bob and Kathy Alexander photography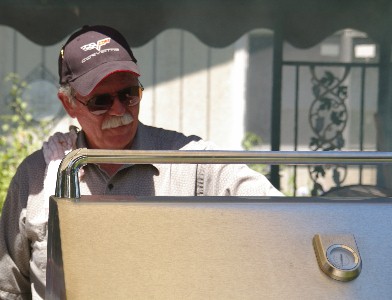 The MAIN MAN David slaving over 3 really HOT BBQ's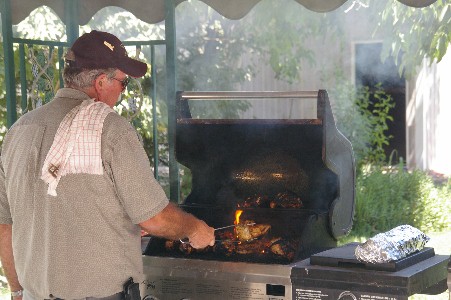 See, I told you they were HOT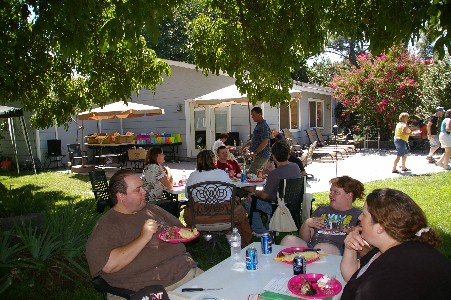 Lunch is served.
front table: Bobby and Jenny Acker and Denise Fournier
Back table: Kinda hard to see but I think it is Gary and Cyndie Barbuto, Paul Telford, Alec Miller's mom and dad.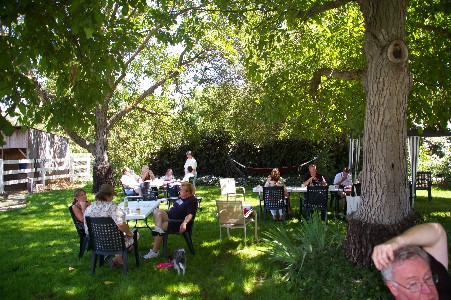 The only one close enough to see is Ted Kahan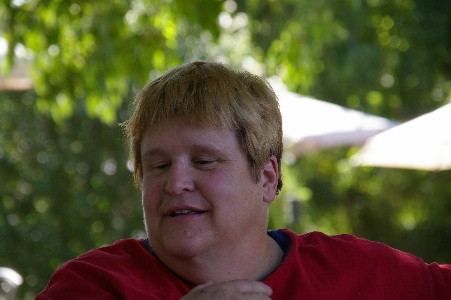 Sherill Hondorf came all the way from Batavia, Ohio with Zippy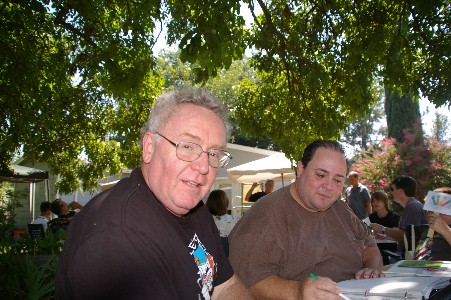 Ted Kahan and Bobby Acker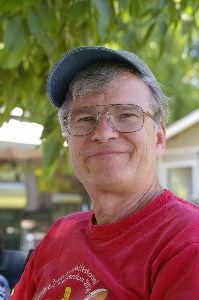 Bob Alexander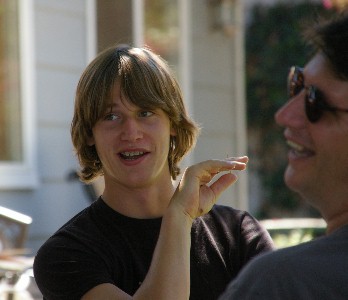 Alec talking with Gary Barbuto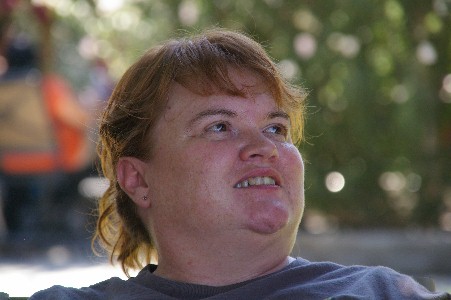 Denise Fournier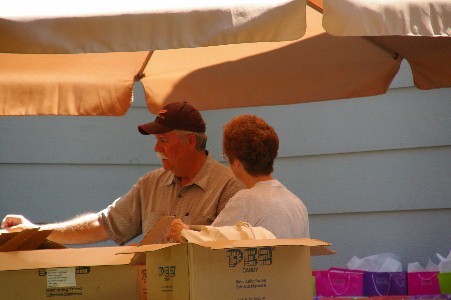 David and I looking over the gathering packets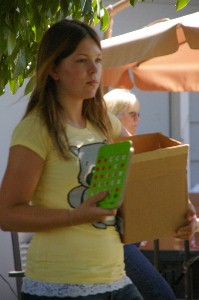 Natalie Wilson passing out BINGO cards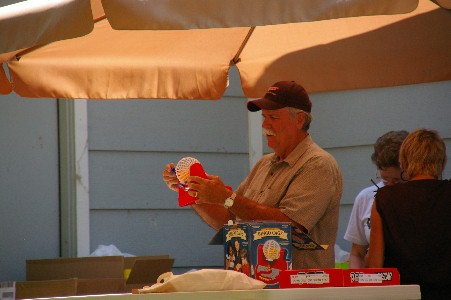 David trying out the BINGO thingy. Myself and Jan Peterson in the back.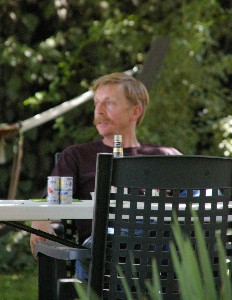 Bob Hunt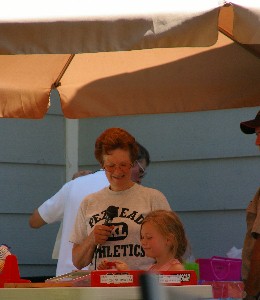 The Princess....... Tabitha Knight getting ready to call out the winning numbers for the ticket prizes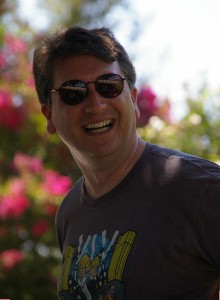 Gary Barbuto........ love the new haircut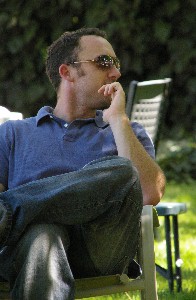 Joel Bryant. Keeping his eye on beautiful Deven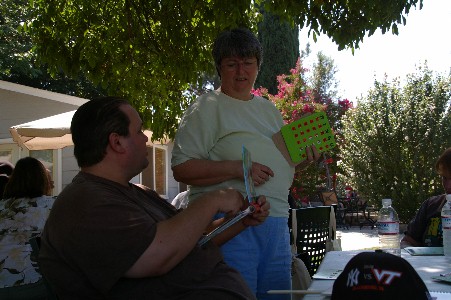 Valerie Miller and Bobby Acker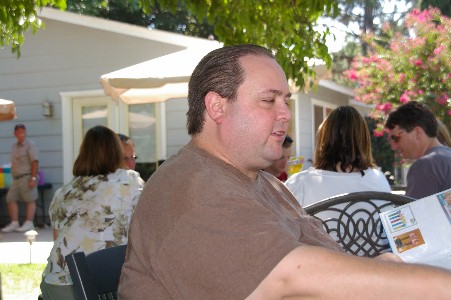 Bobby again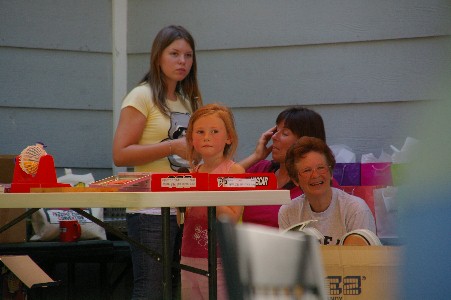 Natalie Wilson, Tabitha Knight, Tanya Wilson and me.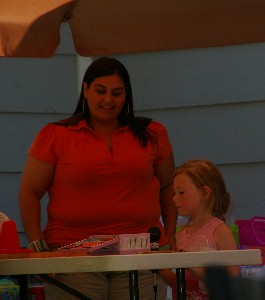 Maheba Merhi the hostess of the PEZcific convention and Tabitha Knight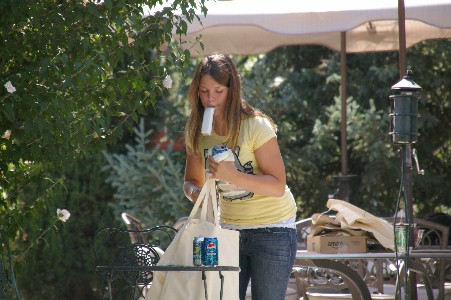 Natallie Wilson needs another hand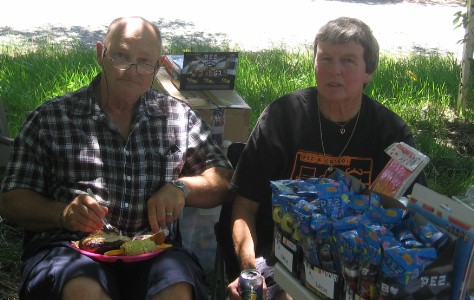 John and Carole Bell having lunch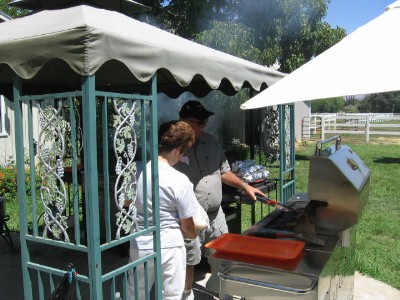 there's that handsome cook again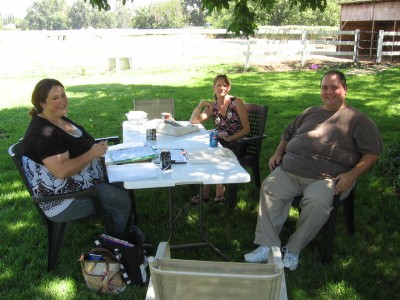 Bobby and Jenny Acker amd Susan Cherney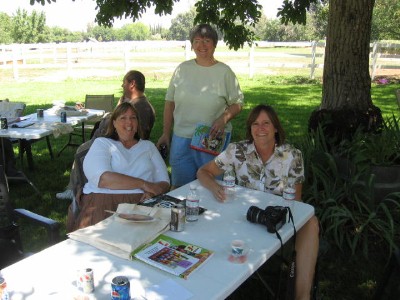 Cyndie Barbuto, Valerie Miller and Alec's mom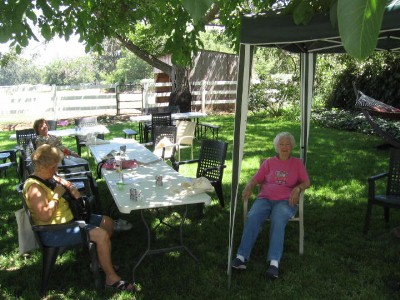 Judy Ferrera and Mom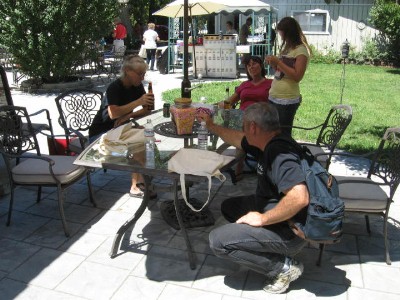 And there's that Gary Beck trying to count the PEZ candy bricks. At the table: Linda Adams, Tanya Wilson and Natalie Wilson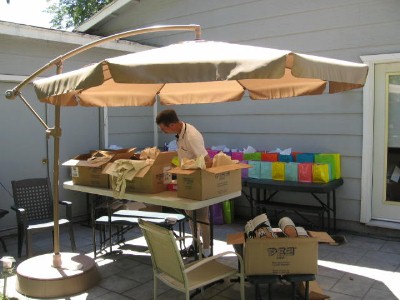 My Baby Brother dale making sure all of the gathering packets are ready to give out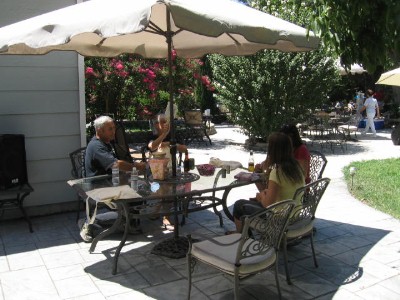 Gary Beck, Linda Adams, Natalie and Tanya Wilson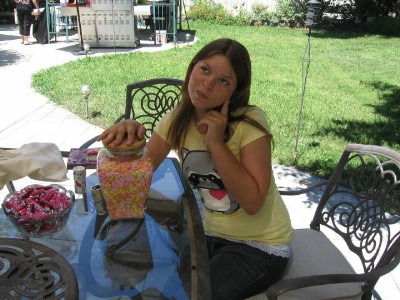 Natalie is getting her guess ready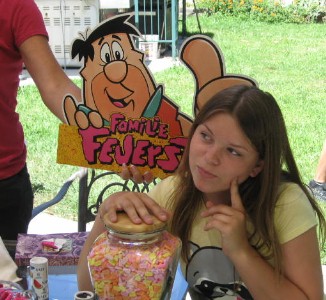 Tanya brought Fred over to help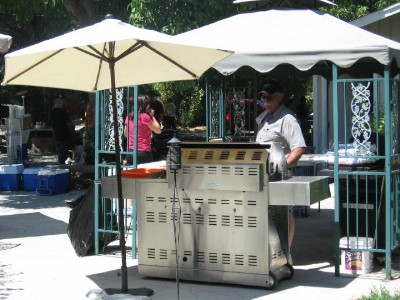 The Chief cook again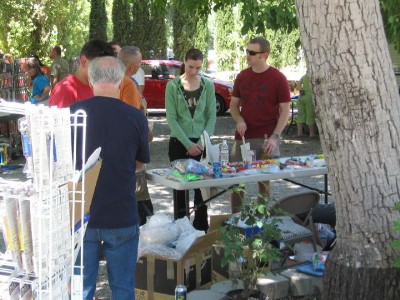 Nice group around Ivans table. George Taylor, Ivan, Jeff Cason, Deven Green Bryant and Paul Telford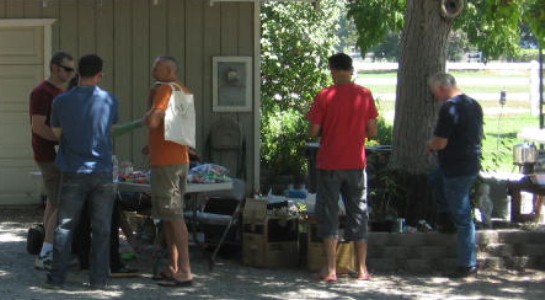 Ivans table again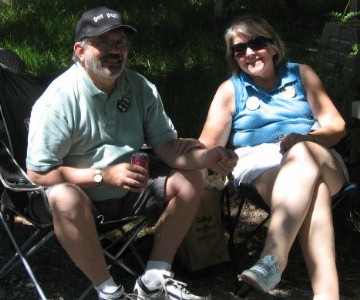 this years' newlyweds Bill George and Helen McKinley George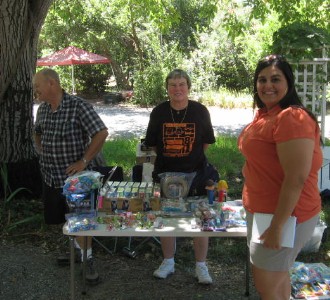 John and Carole Bell and Maheba Merhi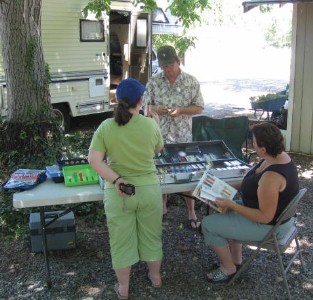 Mary Brandenburg and Judie Gatton shopping at Dan Cherneys table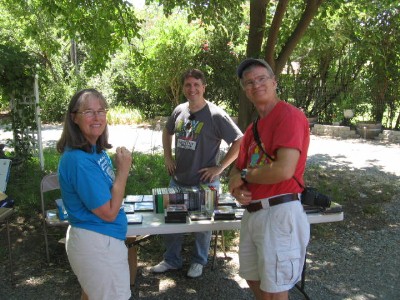 Bob and Kathy Alexander at Gary's table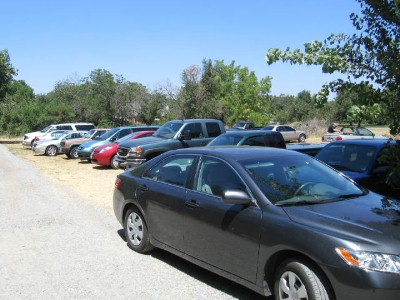 parking in the pasture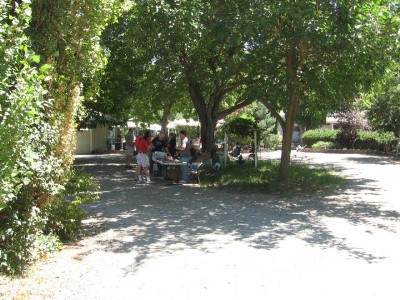 A shot from down the driveway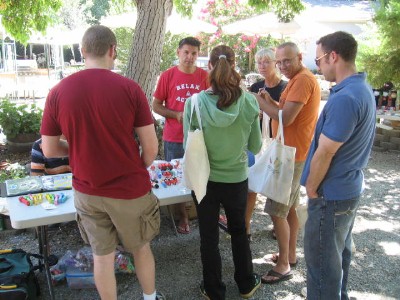 Ivans table again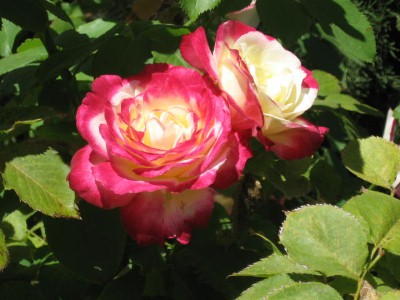 Beautiful Beautiful Double Delight Rose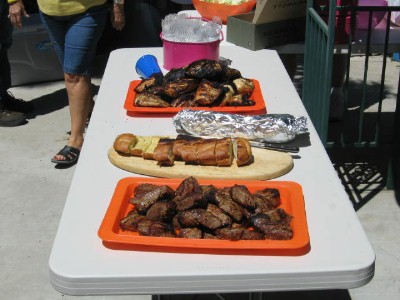 FOOD, steak, french bread and chicken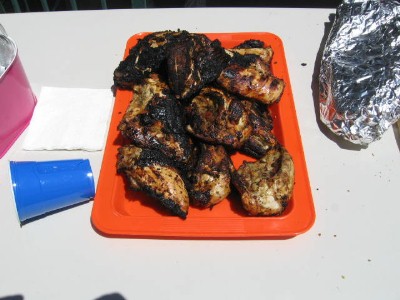 More food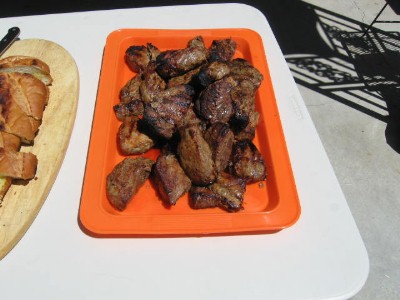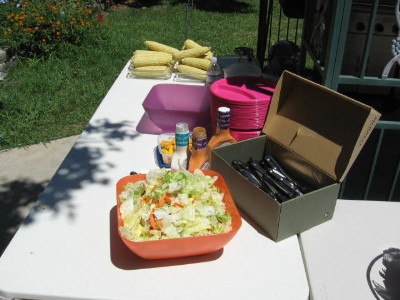 Oh Yeah, gotta have salad and corn on the cob too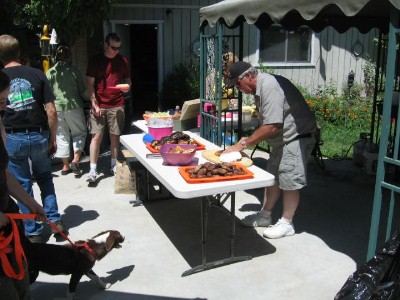 there's that David again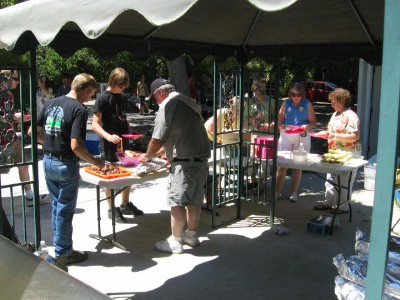 Feeding time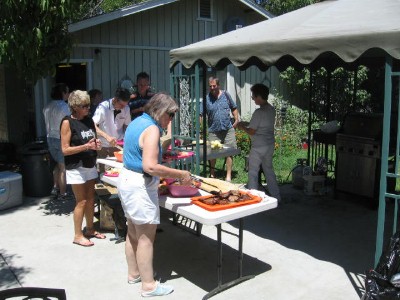 Don't forget to save room for the homemade ice cream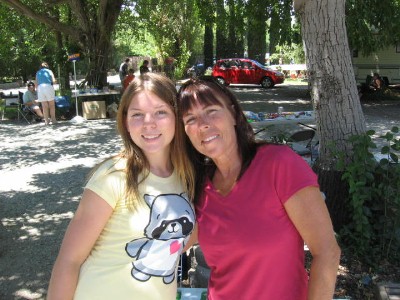 Ahhh, Natalie and Tanya Wilson. Too cute !!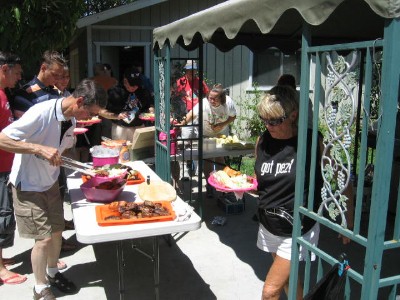 More Food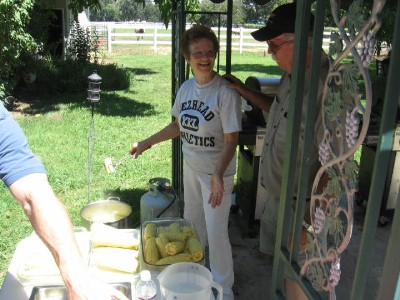 I'm the official *take the corn out of the pot* person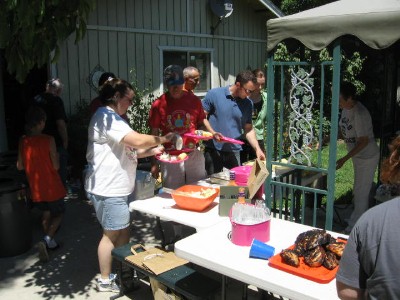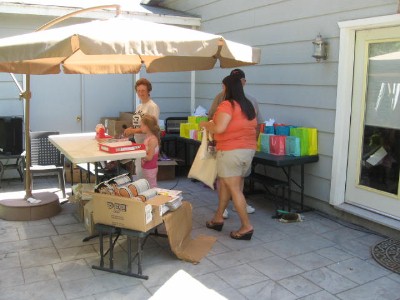 Bingo and ticket table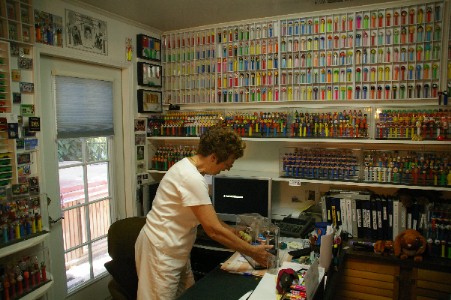 Okay, this is BIG. Here I am in my PEZ room looking at my original bride and groom..........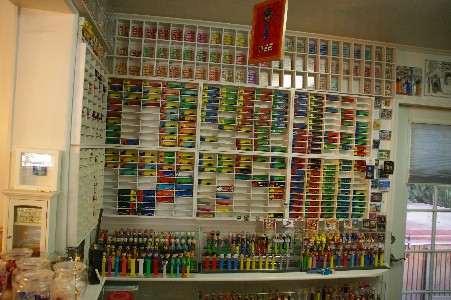 South Wall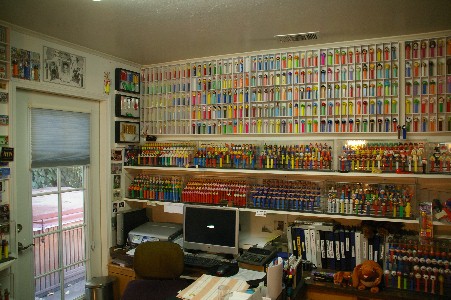 West Wall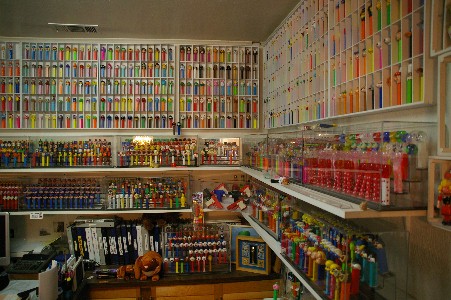 Part of the West wall and North wall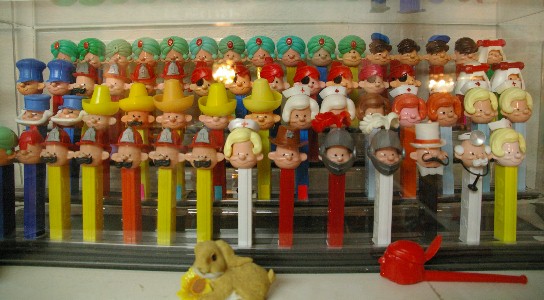 Just a few PEZ Pals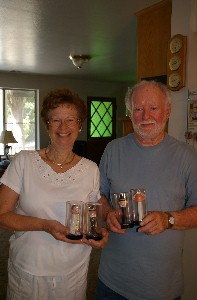 Me holding an ORIGINAL BRIDE AND GROOM IN CELLO. Just traded with George Taylor. He took my original bride and groom (loose) and gave me his original bride and groom IN CELLO. YIKES !!! See the grin.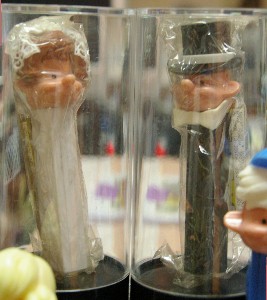 Bride and Groom in cello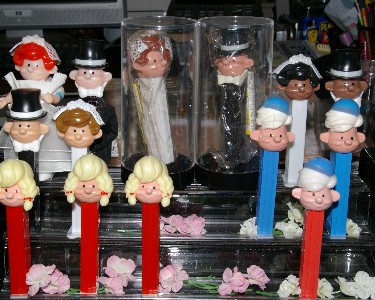 they look pretty good in with the remakes don't you think.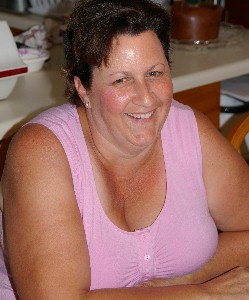 Judie Gatton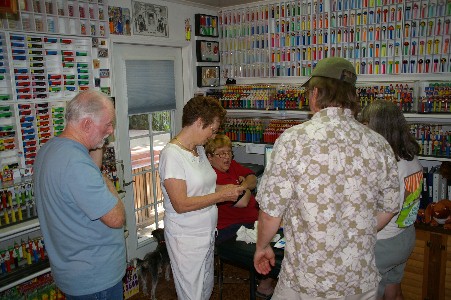 Looks like some pretty serious PEZZING goin on in here. George Taylor, myself, Sherrill Hondorf, Dan Cherney and Kathy Alexander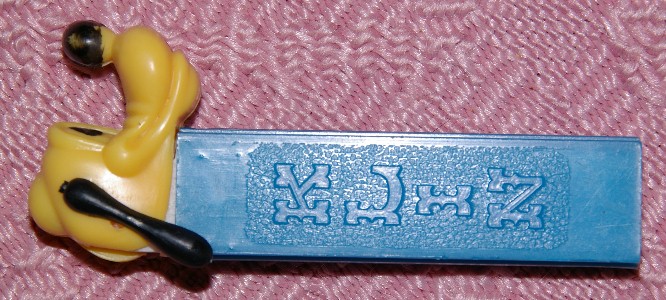 Show and Tell. Pluto on a very unique stem. May be one of a kind. Anyone else ever seen one of these stems?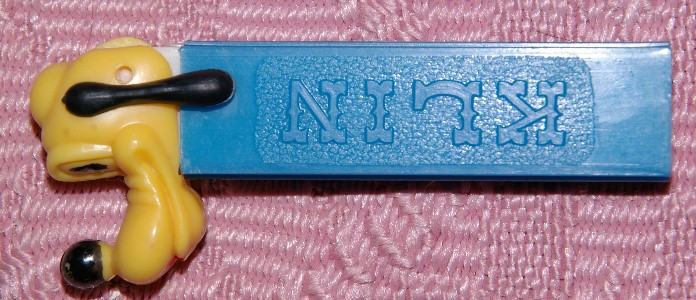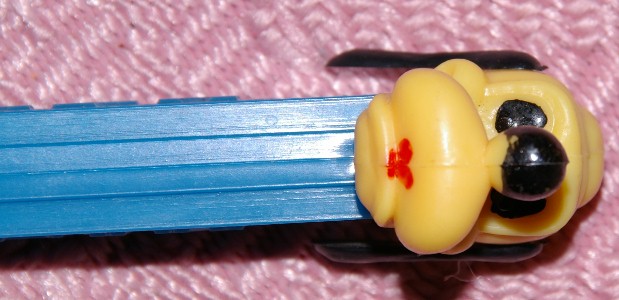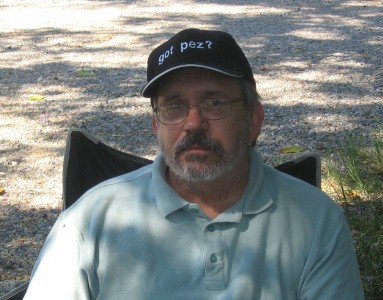 Bill looks like someone just stole his last PEZ.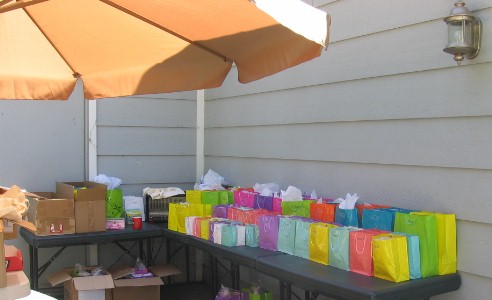 And everyone gets a prize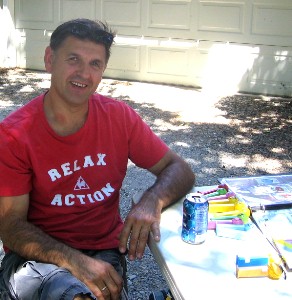 Ivan Jurjevic all the way from Slovenia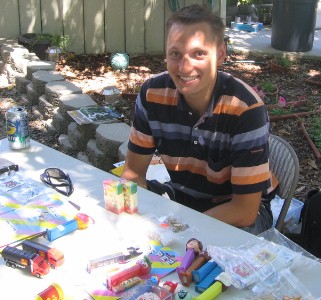 Gregor Jurjevic came from Slovenia with his dad Ivan. Sure nice to see you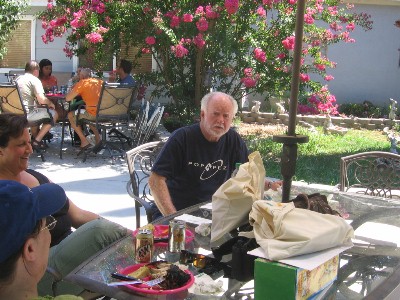 Mary Brandenburg, Judie Gatton and George Taylor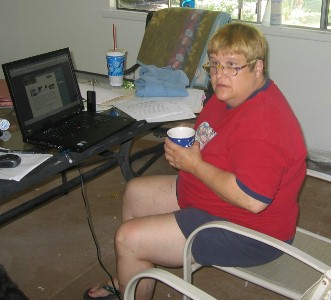 Sherrill at Stans *bed and breakfast*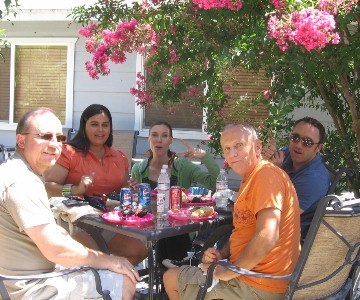 Birnell, Maheba, Deven, Joel and Jeff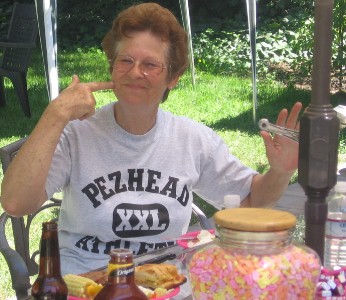 Nope, can't talk. Got my mouth full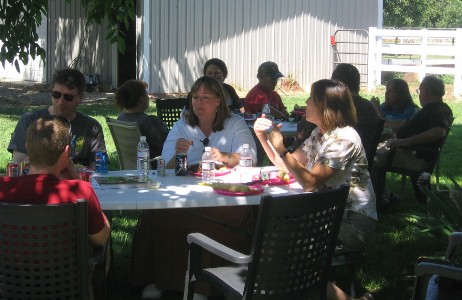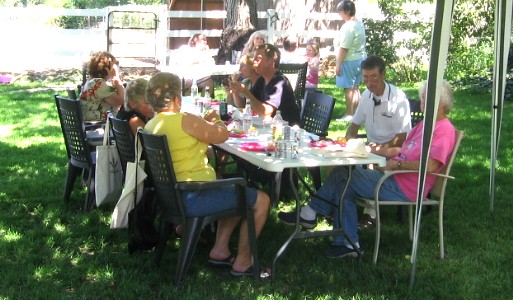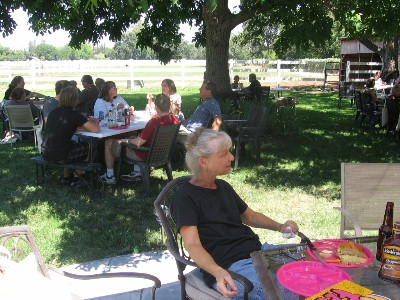 Brother Bobby and Gary Beck.
Bob Alexander with his BINGO win.
Yep, Gary guessed right. He won the jar of PEZ candy
Tanya calling BINGO
The Biggest moment of all. Me presented with a beautiful BOX PATENT. My first. So beautiful. Thank you ALL
Oh My Gosh, you guys bought us a TV for Stans Bed and Breakfast
Bob Alexander with his door prize
Group Shot
Group shot
Tanya licking the ice cream beaters