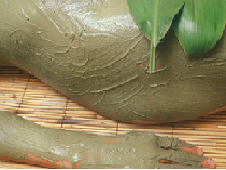 A warm seaweed wrap that enhances body circulation and cleanses the skin.
Eucalyptus-$115
Refreshes and relaxes the entirebody to allow a more restful sleep.
Cocoa Butter-$105
A deeply hydrating blend of cocoa butter and oils that will leave the skin soft and smooth.
Shea Butter-$115
Maintains the skin by keeping it clear and healthy while fighting premature wrinkles.
Aloe-$95
A wrap containing aloe vera, herbs, and minerals to cleanse the skin.
Ocean Wrap-$110
A warm body mask combined with oils to deeply detoxify.
Jump To A Page