Sidesaddles for Sale
(As of 8-18-04)
<![if !vml]>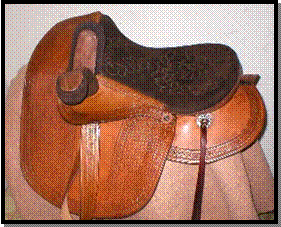 <![endif]>
Ruwart Western
18 inch. Rebuilt with all new leather.
Medium width tree with fleece lined
bars. Tooled like the original.
$1,895 plus shipping.
<![if !vml]>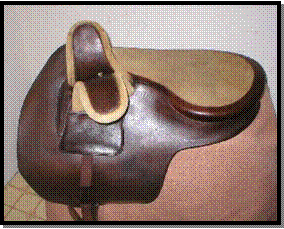 <![endif]>
Passier Sidesaddle
Documented date of manufacture from Passier of Hanover, Germany, December 1939. Seat 22 X 14.5. Tree width 4.5 inches at the top to 13 inches at the short point to the left side point of the tree. Flocking is for a high withered horse. Billets have been replaced, Seat has been reflocked. All repairs have been done. Belgian linen panels.
Asking price on this museum quality, fine antique is
$4,500 plus shipping.
<![if !vml]>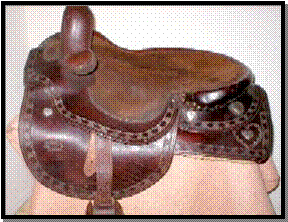 <![endif]>
Western Sidesaddle
23 inch seat, wide tree. Offside purse.
Made by Fred Wesselink, Jamestown California.
All repairs done.  $1,500 plus shipping.
<![if !vml]>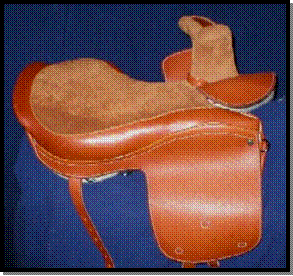 <![endif]>
Child's Sidesaddle 17 inch seat by 10 inches.
Just like an adults sidesaddle, complete with
balance girth and over girth and off side hook
to hold down the flap. Extensions included to
use with horse. Pony size Fitzwilliams girth
included. Safety stirrup in child size also.
$1,800.00 plus shipping.
<![if !vml]>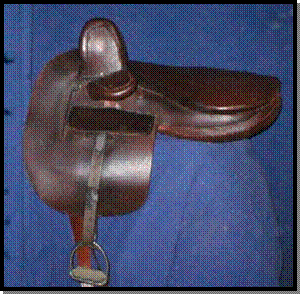 <![endif]>
Park Seat Sidesaddle
22 inch. Not stressed for jumping.
Leather panels, all new billets. This
saddle was rebuilt 13 years ago and
was used on an Arab for shows.
$800.00 plus shipping.
Visa and MasterCard Accepted
<![if !vml]>

<![endif]>
---
Heritage Tack & Saddlery
(530) 934-4152
E-mail: sadlmakr@snowcrest.net
---
Home/Welcome!/The Saddler/Photos/For Sale/Prices/Measuring/Letters/Links/Contact