2/16/04

CONTENTS
Background
The Sierra Club Foundation Mission Statement
Tips on Hiking to Horse Camp
Visiting Horse Camp
School Field Trips
Winter At Horse Camp
LINKS

Background
Shasta Alpine Lodge is a climbers' hut at Horse Camp, a 720-acre parcel within the Mount Shasta Wilderness of the Shasta-Trinity National Forest. Horse Camp is a popular base camp for climbers and hikers on Mount Shasta. The property is owned and operated by the The Sierra Club Foundation, a tax-deductible foundation, IRC 501(c)(3). Shasta Alpine Lodge was dedicated on July 4, 1923 and is constructed primarily of indigenous materials including volcanic rock and Shasta red fir. Located at an altitude of approximately 7950 feet, Horse Camp offers low impact camp sites, a seasonal source of fresh water, and emergency shelter in the Lodge. During the late May through September climbing season Horse Camp is staffed by friendly, knowledgeable caretakers.

The Sierra Club Foundation Mission Statement
"The Mission of The Sierra Club Foundation is to advance the preservation and protection of the natural environment by empowering the citizenry, especially democratically-based grassroots organizations, with charitable resources to further the cause of environmental protection. The Sierra Club is the vehicle through which The Sierra Club Foundation generally fulfills its charitable mission."

Tips on Hiking to Horse Camp
take Everitt Memorial Highway from Mount Shasta City to Bunny Flat trail head at about 7,000 feet elevation
bring at least one quart of water per hiker as there is none at the trail head nor on the trail itself.
the trail is about 2 miles long and gains approximately 1,000 feet in elevation
a slow and steady pace often works best in the high country
remember to get a Wilderness Permit at the trailhead
pet dogs are not allowed in The Mount Shasta Wilderness, nor on The Sierra Club Foundation property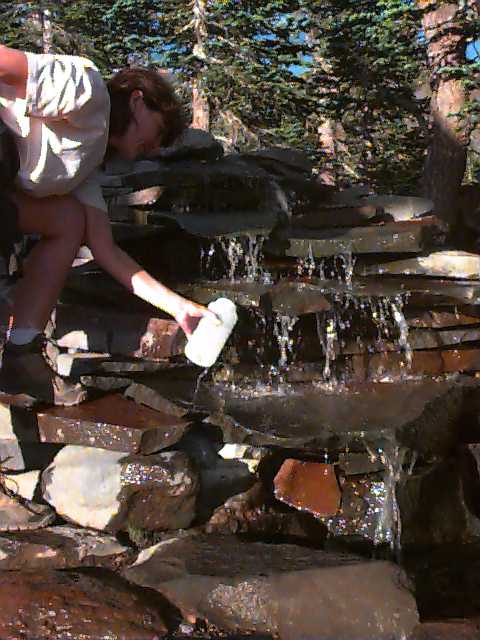 Visiting Horse Camp
In summer, the spring at Horse Camp ensures a reliable supply of fresh water. There are plenty of cleared campsites after the snow melts out. A fire ring in front of the hut offers climbers and campers a place to socialize on summer evenings. The Phoenix solar-powered, composting toilet converts human waste into a non-toxic end product, making it easier to practice low impact camping. The hut itself houses a guest register, a small library of mountain books, and displays pertaining to Mount Shasta, including a lost and found board for climbers.
The following guidelines are for campers and day hikers as well:
avoid walking on on fragile plant life: stay on trails
leave rocks and plants where they are
respect wild animals: hang and pack out all food and trash
camp only in established sites
wash dishes at least 100 feet away from the spring and strain all rinse water
fees for camping are $5.00 per tent and $3.00 per solo bivy
suggested day use donation is $1.00 per person
Remember to hang your food to keep it away from small animals
and to prevent your nifty gear from being chewed!!!


School Field Trips

Each year many groups of students enjoy visiting visiting Horse Camp, and being inspired by the wilderness.

Mt. Shasta
mystical, milky
glorious, ivory apline
flora and fauna
silvery in the sunset
peaceful outline in the sky

The Sierra Club Foundation welcomes school groups who wish to hike to Horse Camp for an educational field trip during the month of September. Horse Camp is staffed by experienced caretakers who will lead classes on an informative tour of the property. We ask that educators call in advance and make a reservation for their school groups. There are several points to keep in mind when planning your group's visit:

Email Linda C. at the following adress: "linda at chitwoodenergy dot com" to reserve a date and time. When your school group's reservation to visit Horse Camp is confirmed, support materials and wilderness guidelines will be sent to you.
A caretaker will be there to interact with you and your students and to answer your questions. Each caretaker has a wealth of outdoor experience to share.
The Sierra Club Foundation works closely with the Mt. Shasta Ranger District of the U.S. Forest Service and at your request we may be able to arrange for a visit with one of the wilderness rangers in coordination with your hike to Horse Camp.
Horse Camp is supported by donations to The Sierra Club Foundation, and we are suggesting that school groups voluntarily donate $1.00 per visitor. Donations may be in cash or in one check for the entire group and may be deposited directly into the donation tube inside the cabin at the time of your visit.

Hiking to Horse Camp is a tradition for many elementary school classes in Siskiyou County. Please contact us at your earliest convenience to reserve a date for your class, or if you have any questions.

Winter at Horse Camp
In the winter season there is no daily caretaker presence at Horse Camp. The winter caretaker sees to it that the entrances to the Lodge and the composting toilet are kept free of snow. The spring is not maintained during the winter months, so visitors must provide their own water. Skiers, snowshoers, and climbers must be properly outfitted and experienced in winter wilderness travel. Winter conditions on Mt. Shasta can be harsh and unforgiving.


Shasta Land Operation
The Sierra Club Foundation
85 Second Steet, Suite 750
San Francisco, Ca 94105

Webpage design, text (except Misson Statement) and photographs copyright 1997-2004 by Bob Musgrove.