SHASTA SPRINGS
(Page One)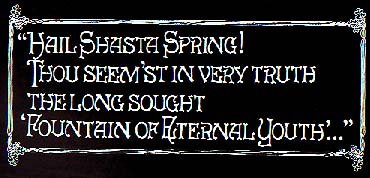 THE BUILDINGS SHOWN IN THE FOLLOWING TURN OF THE CENTURY PHOTOS ARE ALL GONE NOW AND ONLY THEIR FOUNDATIONS CAN BE SEEN AMONG THE THICK UNDERBRUSH. ALL PHOTOS ARE AVAILABLE FOR PURCHASE. ORDERING INFORMATION IS LOCATED ON THE HISTORICAL PHOTO PAGE.
---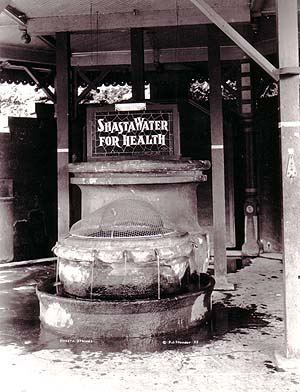 (Neg# SS-1)
LOCATED 3 1/2 RAIL MILES NORTH OF DUNSMUIR, SHASTA SPRINGS WAS THE MOST FAMOUS OF THE RESORTS LOCATED IN THE UPPER SACRAMENTO RIVER CANYON. TRAINS WOULD STOP HERE SO PASSENGERS COULD DRINK THE NATURAL SPRING WATER. THE DRINKING OF "SHASTA WATER" WAS REPORTED TO HAVE BENIFICIAL RESULTS AND USED AS A REMEDIAL AGENT.
---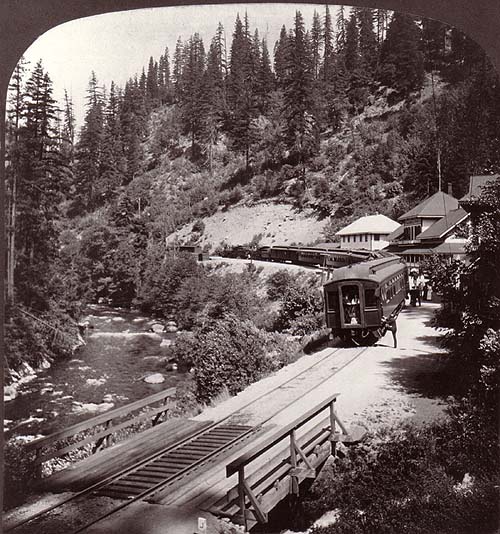 (Neg# SS-6)
A NORTHBOUND TRAIN IS READY TO DEPART AS THE CONDUCTOR BOARDS THE REAR SOLARIUM CAR. THE PASSENGERS HAVE HAD A CHANCE TO ENJOY THE NATURAL SPRING WATER, GET A BREAK FROM THE "NON AIR CONDITIONED CARS" AND SPEND A LITTLE MONEY AT THE GIFT STAND.
---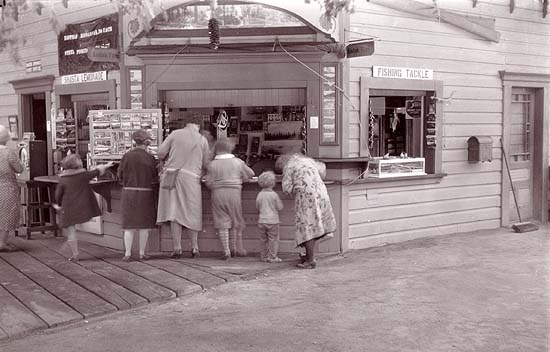 (Neg# SS-13)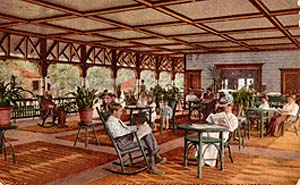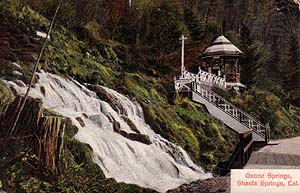 THE GIFT STAND WAS THE CENTER OF ATTRACTION AFTER A LOOK AT THE RIVER AND A TASTE OF THE WATER. THE POST CARDS SHOWN ABOVE WERE MOST LIKELY PURCHASED FROM THE POST CARD RACK SHOWN IN THE PHOTO
---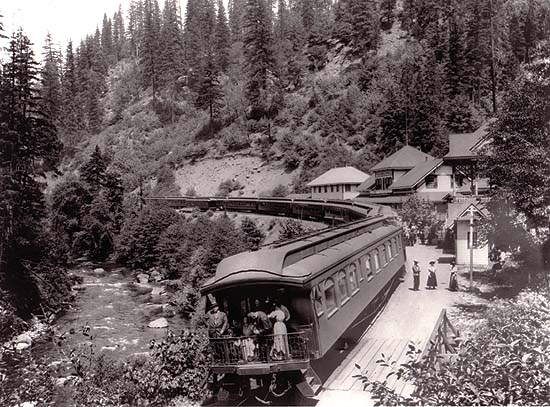 (Neg# SS-8)
ANOTHER NORTHBOUND TRAIN GIVES ITS PASSENGERS A BREAK. THIS TRAIN HAS AN OPEN OBSERVATION CAR. IT APPEARS THE PASSENGERS WOULD RATHER STAY ON BOARD THAN TO RISK LOSSING THEIR PRIZED SEATS.
---
Next Page