DUNSMUIR 1960'S
(Page One)
THE FOLLOWING PHOTOS OF DUNSMUIR IN THE 1960'S WERE ALL TAKEN BY BOB MORRIS EXCEPT FOR THE ONES MARKED "SHASTA DIVISION ARCHIVES". ALL PHOTOS ARE AVAILIABLE FOR PURCHASE. ORDERING INFORMATION IS LOCATED AT THE BOTTOM OF "ROBERT MORRIS PHOTOGRAPHY" HOME PAGE OR THE SP INDEX PAGE.
BY THE 1960'S, DUNSMUIR RAIL OPERATIONS WERE BEGINNING TO CHANGE. STEAM HAD BEEN GONE FOR MANY YEARS AND MANY OF THE STRUCTURES WERE REMOVED. A NEW DIESEL SERVICING FACILITY WAS SET UP IN THE LOWER YARD AND LESS ACTION WAS TO BE FOUND AROUND THE DEPOT AREA. THE PEDESTRIAN BRIDGE WAS PULLED DOWN IN THE MID 60'S AND FROM THERE ON THE OLD IMAGE OF DUNSMUIR BEGAN TO CHANGE. PASSENGER OPERATIONS IN THE EARLY 60'S HAD THREE TRAINS IN EACH DIRECTION. THE "SHASTA DAYLIGHT, CASCADE AND KLAMATH" ALL STOPPED AT DUNSMUIR.
---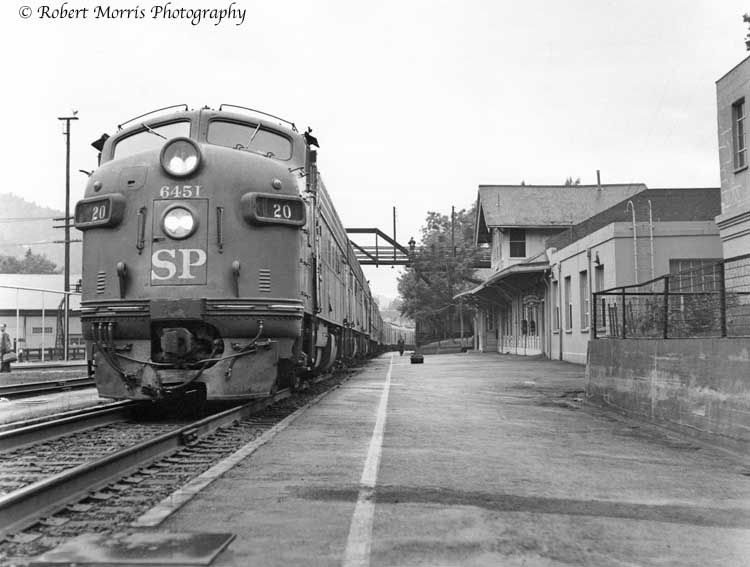 (NEGATIVE #KL-2)
SIX AM FINDS THE NORTHBOUND "KLAMATH" AT THE DUNSMUIR DEPOT IN 1961.
---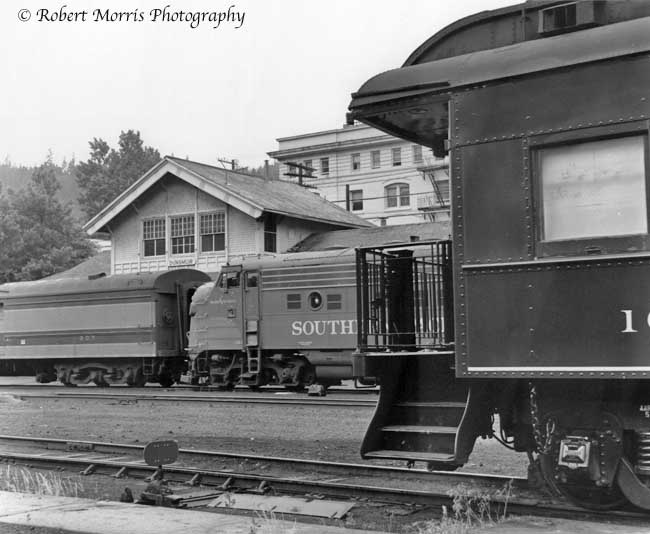 (NEGATIVE #KL-11)
THE DUNSMUIR DEPOT RISES BEHIND A GREAT NORTHERN MAIL CAR ON THE NORTHBOUND "KLAMATH"
---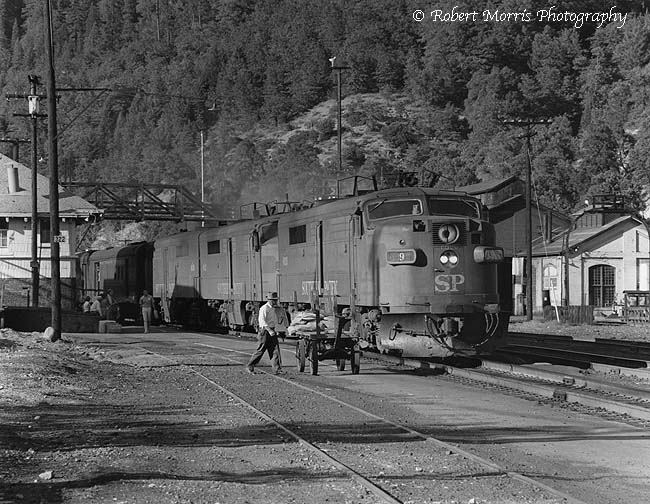 (NEGATIVE #SH-12)
THE SOUTHBOUND "SHASTA DAYLIGHT" ARRIVING AT DUNSMUIR ON A SUMMER AFTERNOON IN 1961. THE STATION CLERK HAS SPOTTED A CART WITH MAIL SACKS TO BE LOADED ON THE TRAIN.
---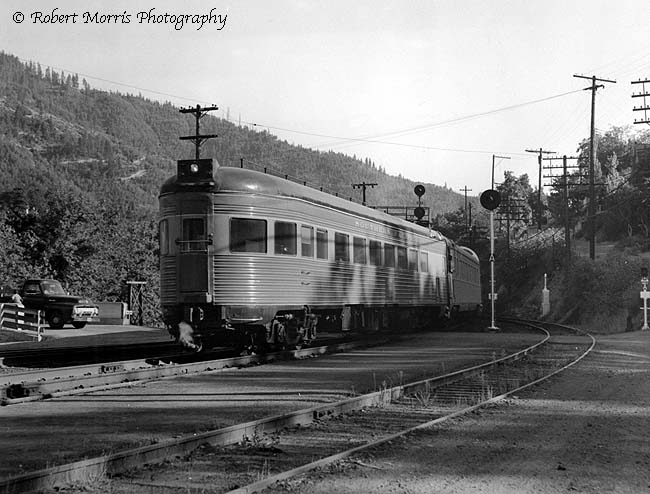 (NEGATIVE #SH-11)
A ROUND END OBSERVATION CAR BRINGS UP THE REAR OF THE SOUTHBOUND "SHASTA DAYLIGHT" AS IT DEPARTS DUNSMUIR IN 1961. ALL OF THE SIGNALS THAT SHOW IN THIS PHOTO HAVE ALL BEEN REMOVED.
---
(Click For Page Two)