DUNSMUIR 1960'S
(Page Two)
THE EARLY 1960'S FOUND FIRST GENERATION DIESELS HANDELING THE FREIGHT OPERATIONS AROUND DUNSMUIR. F-UNITS HANDLED TRAINS SOUTH TO ROSEVILLE AND NORTH TO KLAMATH FALLS. SD-UNITS DID HELPER SERVICE AND HANDLED TRAINS BOUND FOR THE SISKIYOU LINE. A NEW DIESEL SERVICING FACILITY WAS CONSTRUCTED DOWN IN THE LOWER YARD AND FUELING AND SERVICING TOOK PLACE THERE. THE FACILITY WAS CLOSED DOWN WHEN SECOND GENERATION POWER, WITH THEIR LARGER FUEL TANKS, DID NOT REQUIRE REFUELING ON THE ROSEVILLE TO EUGENE RUN.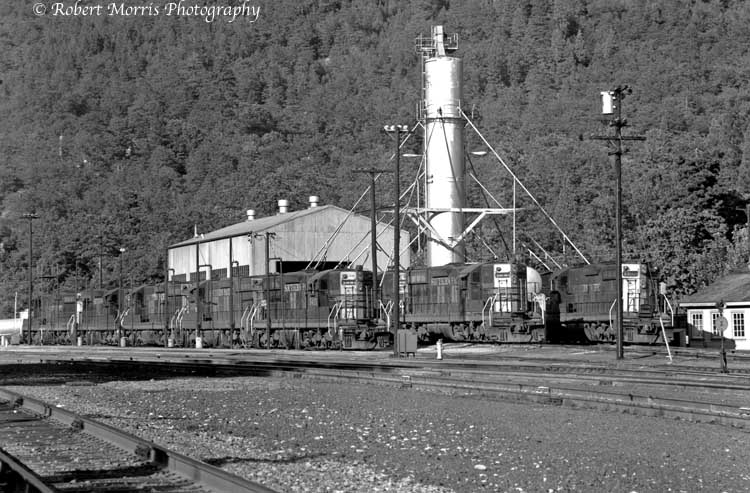 (NEGATIVE #SD-90)
SD-9'S SURROUND THE NEW DIESEL FACILITY. THE STRUCTURE WAS ABANDONED WITH THE CLOSING OF THE YARD IN 1968 AND REMOVED. THE SANDING TOWERS REMAINED INTO THE 1990'S.
---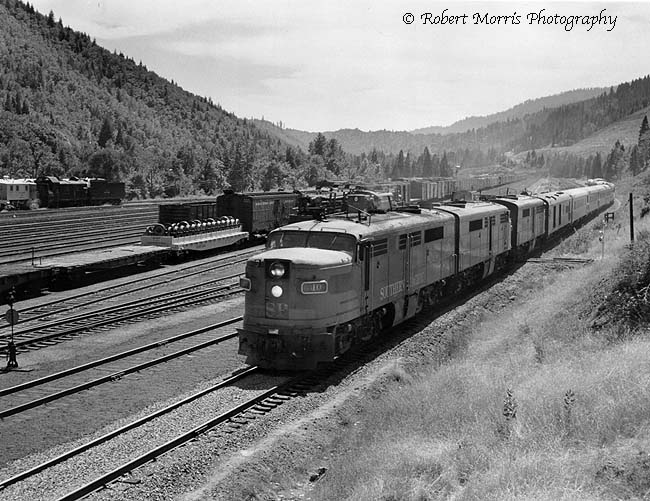 (NEGATIVE #SH-14)
THE NORTHBOUND "SHASTA DAYLIGHT" PASSING DUNSMUIR YARD IN 1961. A ROTARY PLOW CAN BE SEEN STORED IN THE YARD. ROTARY PLOWS ARE A RARE SIGHT IN DUNSMUIR THESE DAYS. A BALDWIN ROAD SWITCHER ALSO SHOWS WORKING THE YARD OVER THE LEAD PA 6005.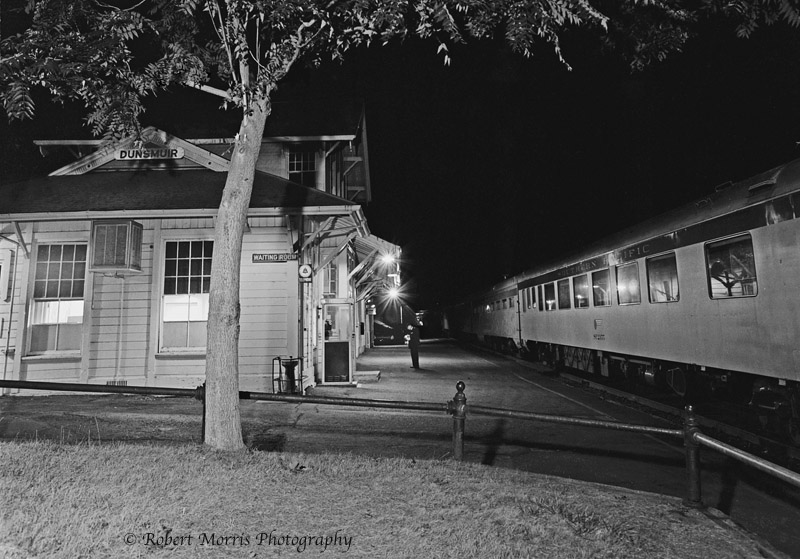 (NEGATIVE #CA-17)
THE CONDUCTOR OF THE SOUTHBOUND "CASCADE" USES THE LIGHT OF THE DEPOT TO READ HIS ORDERS IN THIS 2:30 AM PHOTO IN THE SUMMER OF 1967.
---
(Click For Page Three)