THIRD & TOWNSEND DEPOT
(Page One)
THE THIRD AND TOWNSEND STATION WAS BUILT IN 1914 FOR THE PANAMA- PACIFIC EXPOSITION HELD THE FOLLOWING YEAR TO CELEBRATE THE OPENING OF THE PANAMA CANAL. IT SERVED THE SOUTHERN PACIFIC FOR OVER SIXTY YEARS AS A TERMINAL FOR THE SAN JOSE COMMUTE SERVICE AS WELL AS SOME OF ITS MOST FAMOUS NAME TRAINS INCLUDING THE COAST DAYLIGHT, LARK AND DEL MONTE.
DESIGNED IN THE CALIFORNIA MISSION STYLE, IT WAS A SHOWPIECE FOR PASSENGERS LEAVING OR ARRIVING IN SAN FRANCISCO. WITH THE COMING OF AMTRAK, WHICH OPERATED NO DIRECT RAIL SERVICE FROM SAN FRANCISCO, A MUCH MORE MODEST DEPOT WAS DESIGNED AND BUILT ON THE SITE THAT WAS ONCE THE FOURTH ST TOWER. THE LARGE CITY BLOCK THE DEPOT WAS LOCATED ON WAS TURNED INTO AN RV PARK. THE FOLLOWING PHOTOS SHOW THE SAD FATE OF A ONCE BEAUTIFUL PIECE OF SAN FRANCISCO AND RAILROAD HISTORY.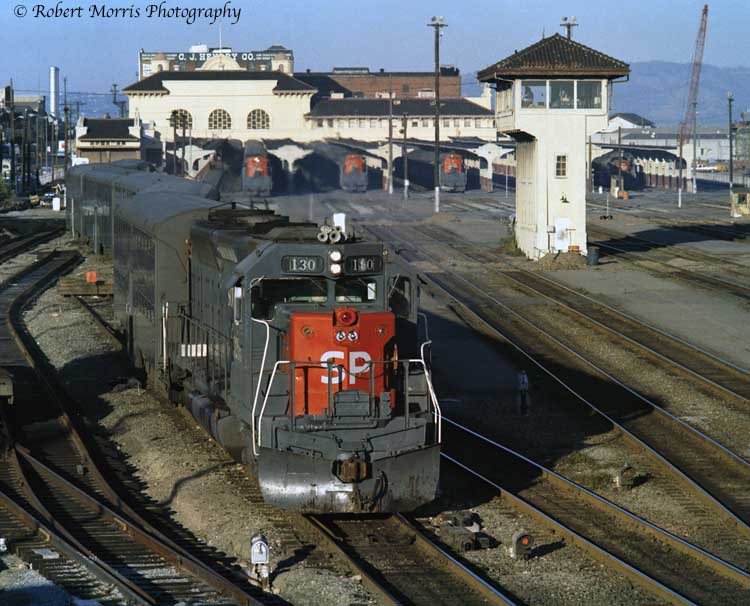 (NEGATIVE #CSDP-1)

TRAIN130 LED BY SDP45 3205 LEAVES THE THIRD AND TOWNSEND STATION ON ITS WAY TO SAN JOSE. THE STATIONS DAYS ARE FEW AS THIS PHOTO WAS TAKEN FROM THE NEW TOWER WHICH WAS BUILT TO REPLACE THE FOURTH ST TOWER SHOWN IN THIS VIEW.
---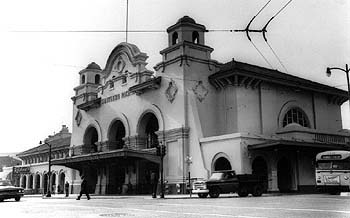 (NEGATIVE #3RD-2)

THIS VIEW OF THE STATION SHOWS ITS MISSION STYLE DESIGN. THERE WERE EVEN MISSION BELLS LOCATED JUST OVER THE SOUTHERN PACIFIC LETTERING.
---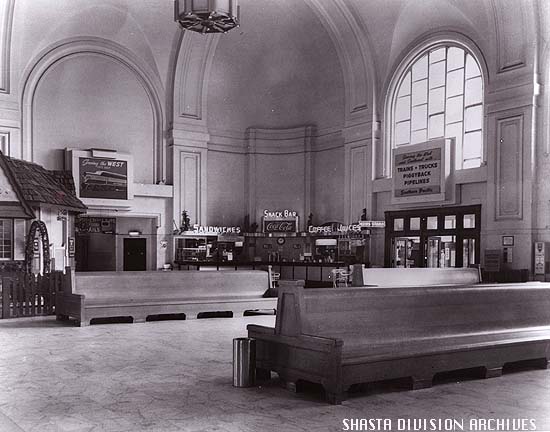 (NEGATIVE #3RD-11)
THE INTERIOR OF THE WAITING ROOM.
---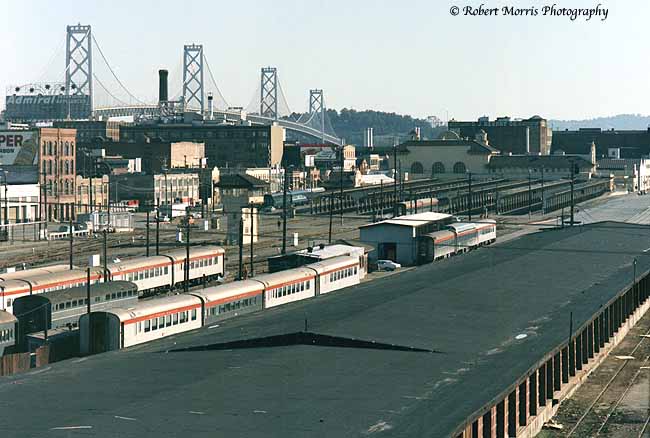 (NEGATIVE #3RD-4)

THE BAY BRIDGE RISES OVER THE STATION IN THIS 1971 VIEW FROM THE STILL UNCOMPLETED FREEWAY OVERPASS. SHASTA DAYLIGHT COACHES, A FULL DOME AND OTHER CARS ARE SEEN. THE BUILDING IN THE FOREGROUND WAS ONE OF THE LARGE FREIGHT SHEDS LOCATED ALONG KING AND BERRY STREETS. THESE WERE ALSO TORN DOWN TO MAKE WAY FOR A FREEWAY.
---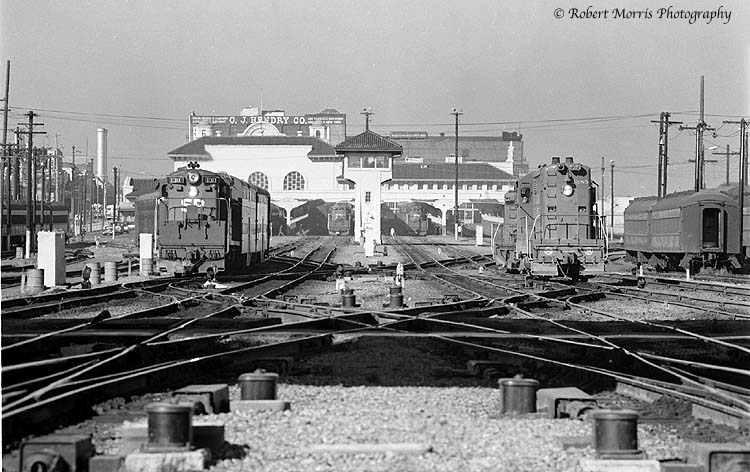 (NEGATIVE #FMC-12)

TRAIN 130 DEPARTS FOR SAN JOSE AS THE REST OF THE FLEET PREPARES TO FOLLOW JUST MINUTES APART. FM SWITCHER 1385 WAS STILL HARD AT WORK IN THIS 1972 PHOTO.
---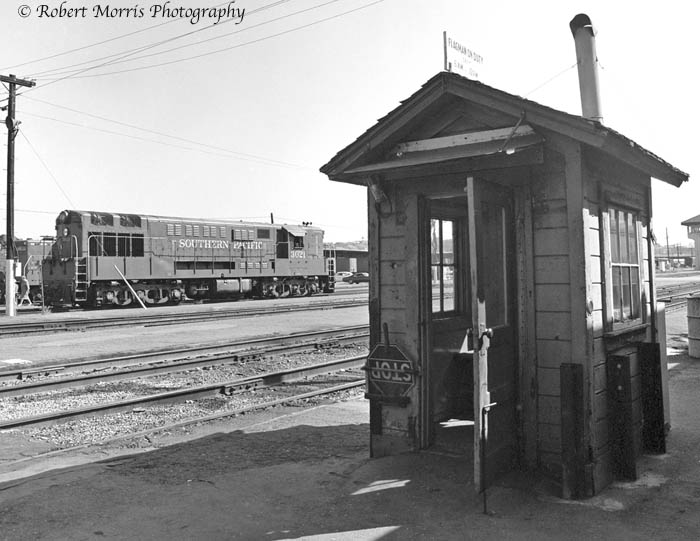 (NEGATIVE #FMC-9)

THIS IS ONE OF THE CROSSING GUARD SHANTYS THAT WAS LOCATED ON FOURTH ST. THERE WERE NO CROSSING GATES AT ONE TIME BETWEEN THE STATION AND TUNNEL ONE.
---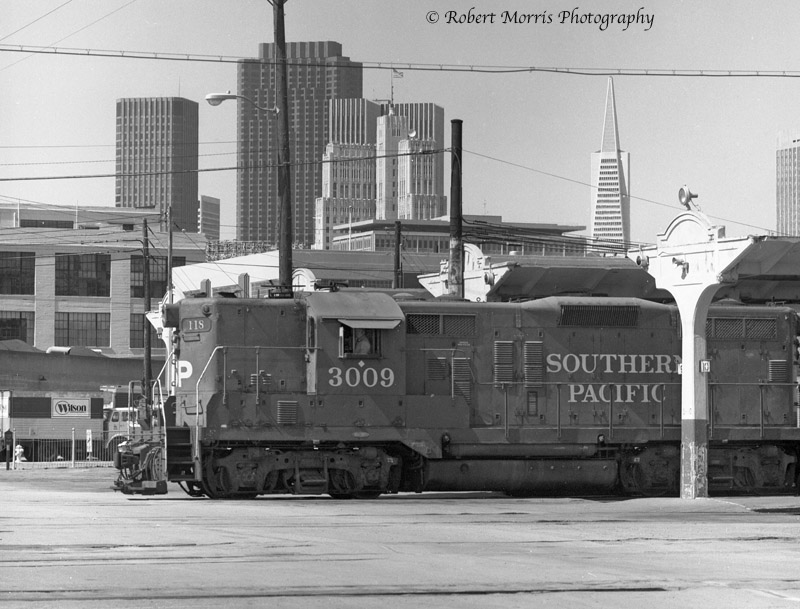 (NEGATIVE #GC-15)

THE TRANSAMERICA PYRAMID AND RISES ABOVE GEEP 3009 AS IT BACKS DOWN TO ITS TRAIN.
---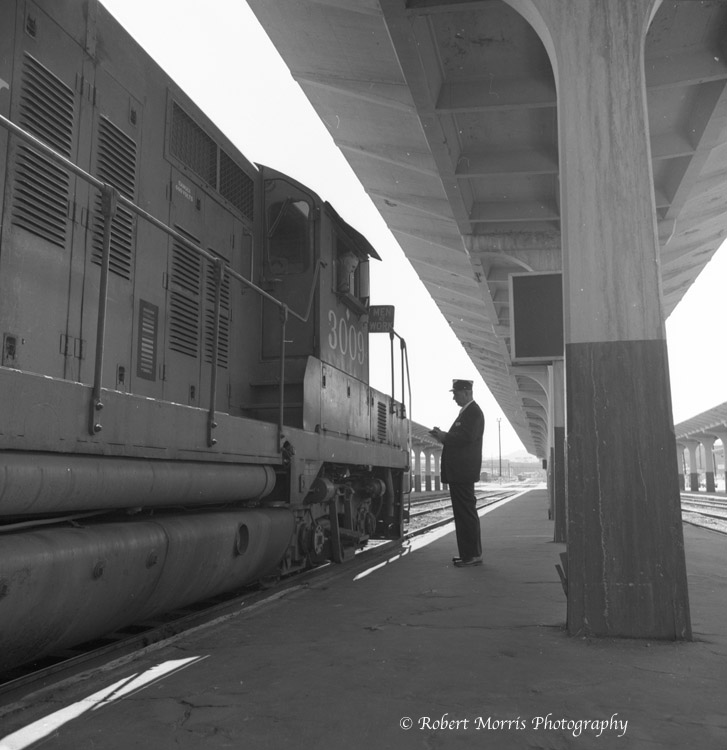 (NEGATIVE #GC-13)

THE CONDUCTOR AND ENGINEER GO OVER THEIR TRAIN ORDERS AS THEY PREPARE FOR THEIR RUN DOWN TO SAN JOSE.
---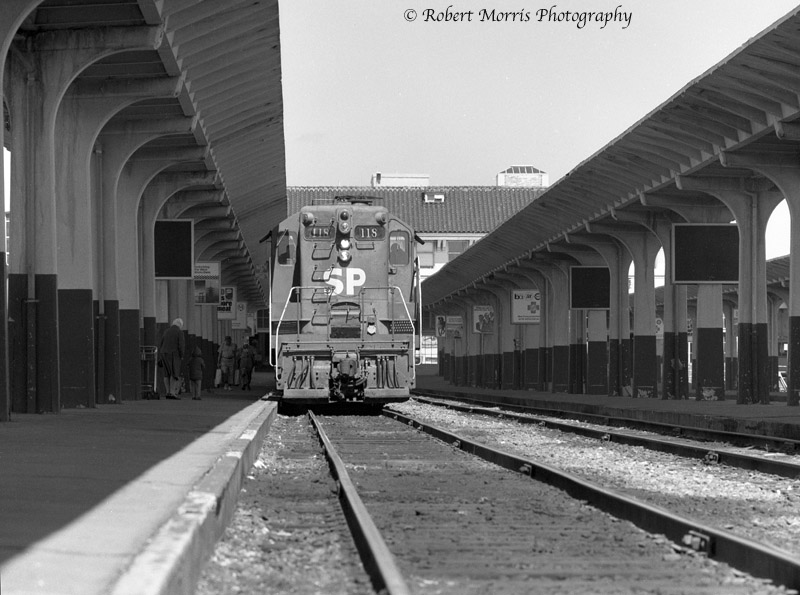 (NEGATIVE #GC-14)

TRAIN 118 IS READY TO DEPART THE STATION FOR ITS 47 MILE RUN TO SAN JOSE.

---
CLICK FOR PAGE TWO