THIRD & TOWNSEND DEPOT
(Page Two)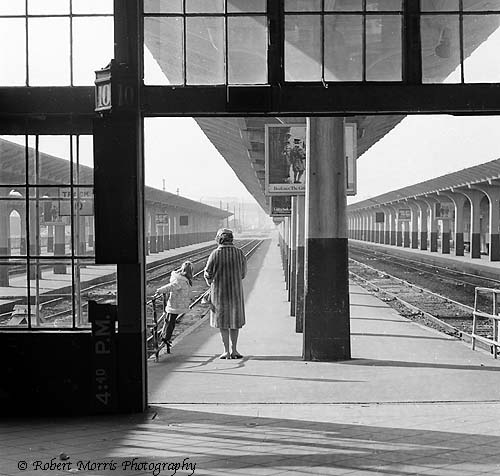 (NEGATIVE #3ST-3)

WAITING FOR A TRAIN TO ARRIVE ON A SUNDAY MORNING COULD BE A REAL QUIET TIME. EVEN THE PIGIONS HAVE TAKEN THE DAY OFF. ON A WEEKDAY MORNING THIS WOULD NOT BE A SAFE PLACE TO BE STANDING AS THE COMMUTERS RACE OFF THEIR TRAINS.
---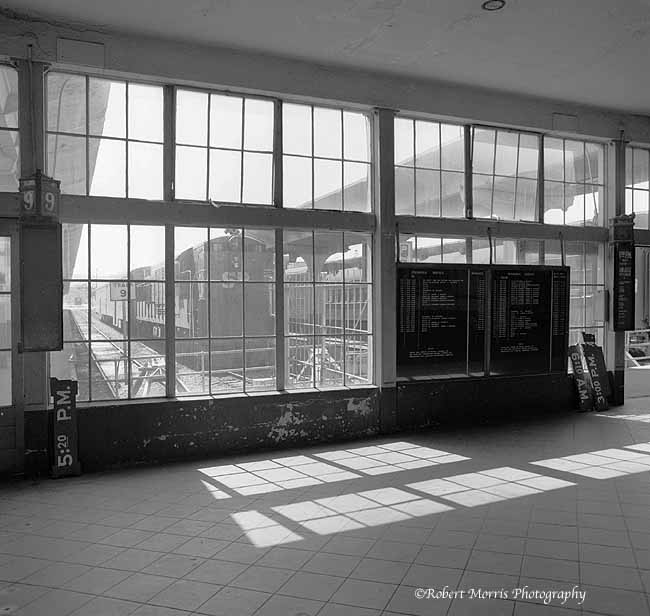 (NEGATIVE #FMC-1)

A SUNDAY MORNING TRAIN JUST IN FROM SAN JOSE. THE SCHEDULE BOARD IN THE FOREGROUND LISTS THE TIMES OF OVER FIFTY TRAINS THAT ARRIVED AND DEPARTED ON WEEKDAYS FROM THIS STATION.
---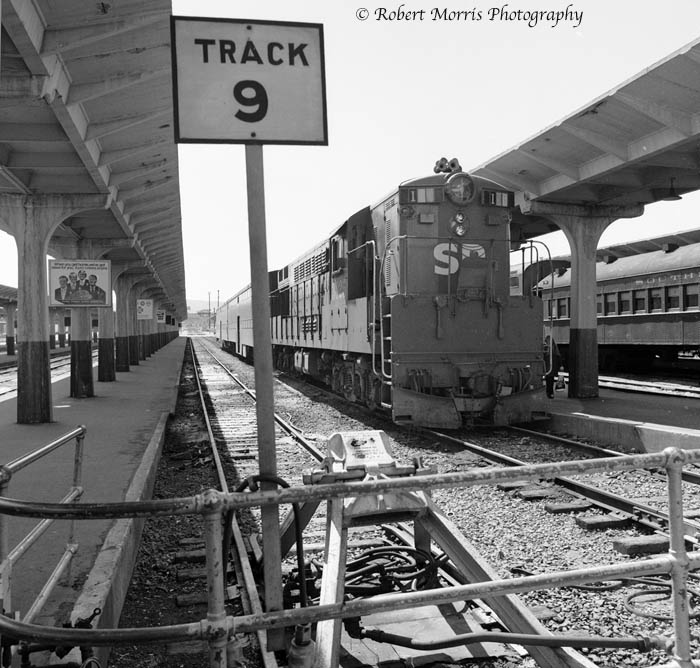 (NEGATIVE #FMC-8)

TRAINMASTER 3025 SITS ON TRACK 10 WAITING FOR THE SWITCHER TO CUT OFF ITS TRAIN SO IT CAN BACK UP TO THE MISSION BAY WYE TO BE TURNED FOR ITS NEXT SOUTHBOUND RUN.
---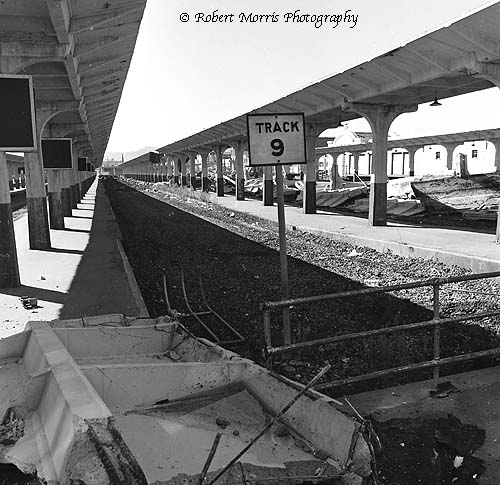 (NEGATIVE #3ST-1)

IN THIS VIEW, TAKEN FROM THE SAME LOCATION AS THE ABOVE PHOTO, THE TRACKS ARE ALREADY REMOVED AND IN THE BACKGROUND THE NEW DEPOT IS ALREADY IN PLACE.
---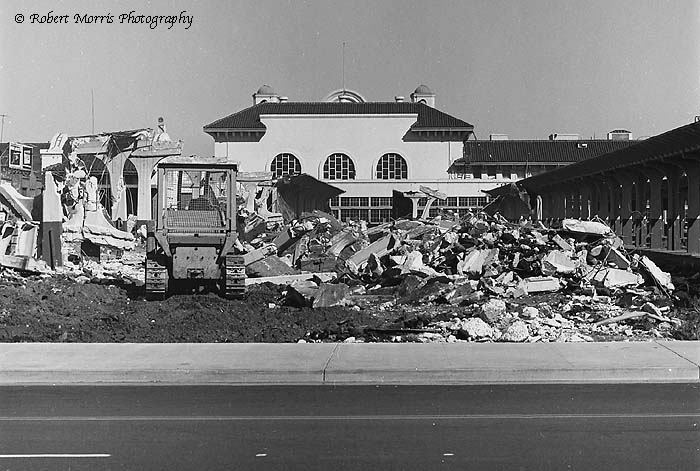 (NEGATIVE #3ST-5)

A BULLDOZER IS IN THE PROCESS OF TEARING DOWN THE UMBRELLA SHEDS IN THIS PHOTO TAKEN FROM THE NEW DEPOT. IF YOU WERE TO LOOK FROM THE CAL-TRAIN DEPOT ON FOURTH ST TO THE EAST THIS IS WHAT YOU WOULD HAVE SEEN.
---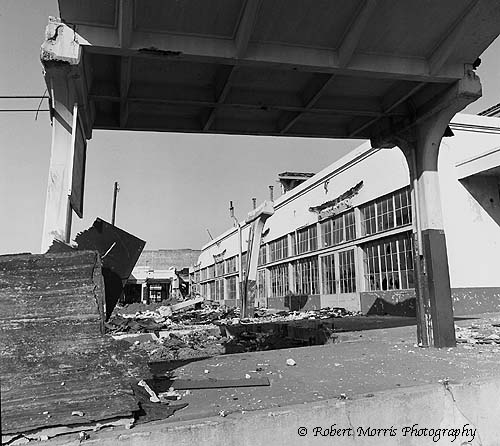 (NEGATIVE #3ST-6)

THE UMBRELLA SHEDS ARE ALMOST GONE IN THIS VIEW. THE PLATFORM IN THE FOREGROUND WAS THE ONE WHICH THE COAST DAYLIGHT AND LARK ARRIVED.
---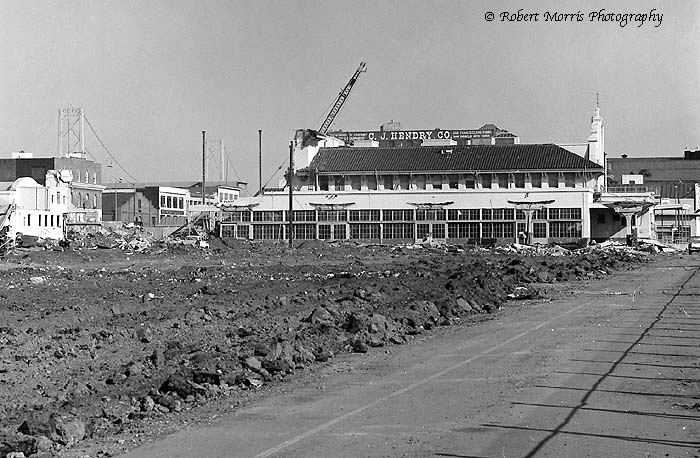 (NEGATIVE #3ST-7)

THE UMBRELLA SHEDS ARE GONE AND THE WREAKING CRANE IS NOW STARTING TO TEAR THE MAIN STRUCTURE DOWN.
---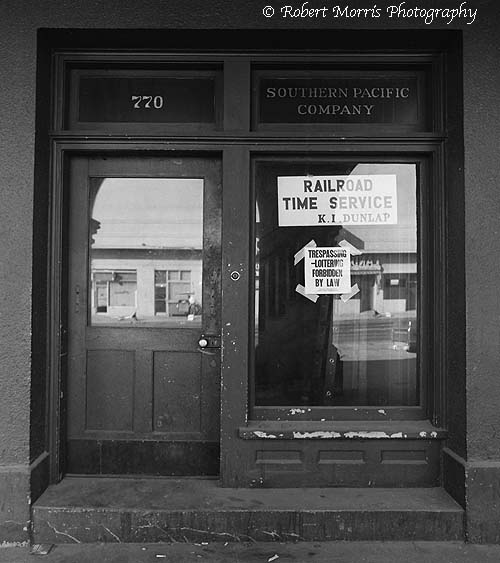 (NEGATIVE #3ST-8)

770 THIRD ST WAS THE LOCATION OF "K.I.DUNLAP-RAILROAD TIME SERVICE". LOCATED IN THE STATION , CREWS COULD BRING THEIR WATCHES IN FOR THEIR PERIODIC CHECKS. THE SP "NO TRESPASSING SIGN" PRETTY WELL SUMS UP THIS (PRE-QUARTZ WORKS) TRADITION.
---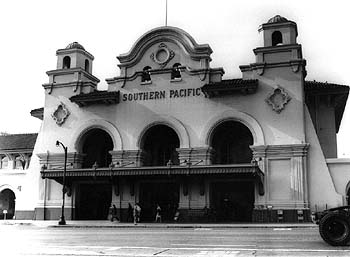 (NEGATIVE #3ST-9)
BEFORE
---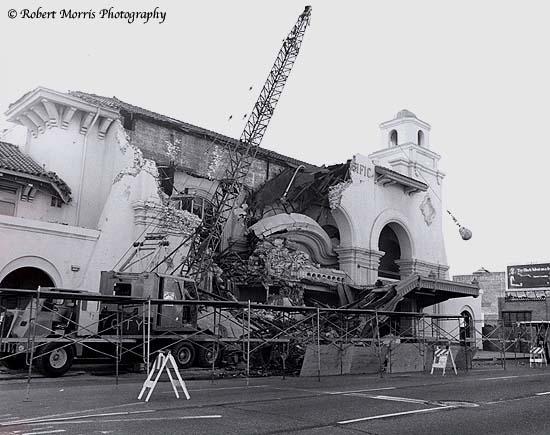 (NEGATIVE #3ST-10)
AFTER
---
(Return Photo Story Page)