5 Easy Steps To
Transparent Color
with
Gif Construction Set!

Before you begin, make sure your background is
a solid color and a color which
does not appear in any other areas of your image.
Load your images into
Gif Con,
inserting a control box
in front of each frame.
1. Double Click your first control box.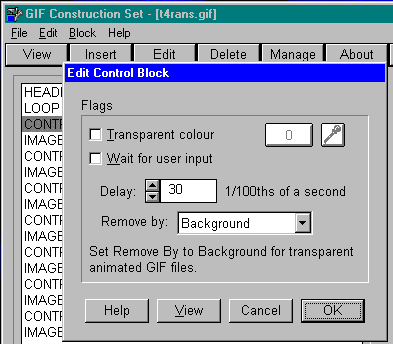 This screen will appear!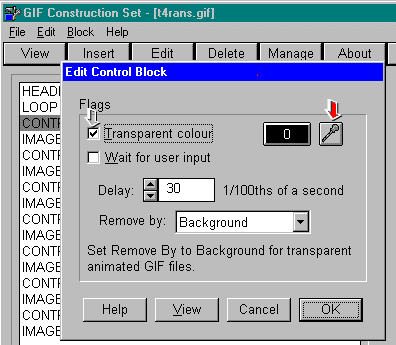 2. Click the Transparent color box, and a checkmark will appear.
3. Single-Click on the eye-dropper button on the top right.
Your first frame will appear at the top left of a grey screen.
Your mouse will control the eye dropper.
4. Move the eye-dropper to the area (color) on your image which
you want to make transparent, and click.
This screen returns,
showing a new number
for transparent color.

5. Make sure you remove by background,
click "OK" - Repeat these steps in all your control boxes - And, You're done!
Back to Turtle Demo.
Back to Image Works.
PageWorks.