---
Wild Women! The Humboldt gilrs and their guide!
We had a great 4 hr ride around Ash Creek crater, playing in the fields and a little getting unstuck!
Hey no one has helmet head but the guide!! : )
I cant wait to see them again next year!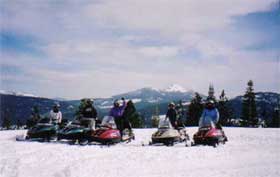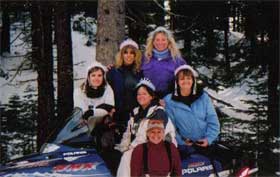 This is us on the back side of Ash Creek Crater! Heck of a view hua!!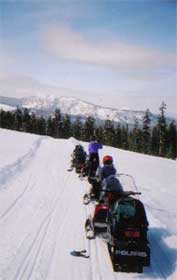 ---
Hey girl,
Just wanted to send some pictures to you...
Man do I feel old today!!!!!! Had fun girl, even though it was a lot of work... hope to do it again, under better circumstances.
Thanks for all your help!
Teri Park,
Broadcast Engineer
KDOV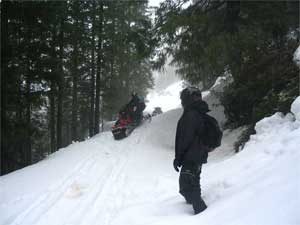 Lots of heavy wet snow...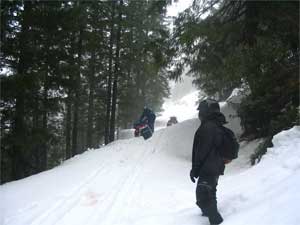 ...a virtual stick 'em fest...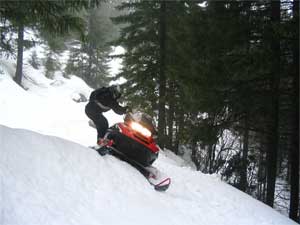 ...but the radio station is back up on the air! Go Team!!
---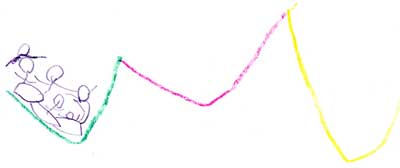 "Snowmobiling with Michele" by Faith, age 4
Dear Fun Factory - Thank you for the fun time on my vacation. I've always wanted to ride snowmobiles and you are the one that made it happen. Not only that you're a real neat person. I would like to ride again. And Kyle keeps saying that you may not let him ride again. We'll show him! This is just a small token to say thanks. God Bless.
Faith M.
---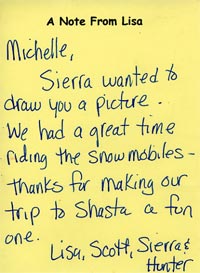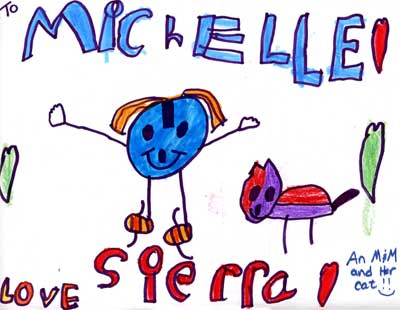 ---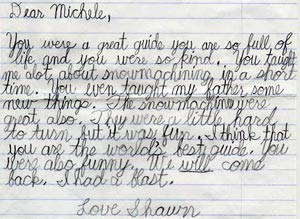 Shawn, age 7
---
We just had to let you know again what a great time we had with you last week. Going on our trip brought back all the memories of the fun times I had on my sled growing up. I had been waiting a long time to get back in the snowy woods again. I appreciated the variety of terrain you showed us - steep hills, powder meadows, groomed trails, and back woods - oh yeah, and even some dirt. It definitely made for an exciting trip - not just a boring trail ride.
Truthfully, I wasn't sure what to expect from a guide/rental service, but you completely shattered all of our expectations. You were very personable with us and touring with you was like going with an old friend. If we don't buy any machines this year, we will definitely book another trip with you and Fun Factory next year. Play hard, have fun, and stay strong so you can help me get unstuck again next year! Thanks for everything!
D and D, parents of Shawn
---
I just want you to know how much I appreciate your help yesterday on Deer Mountain. Just knowing I wasn't up there alone with Chris out on the trail was real peace of mind. But you went beyond that and willingly went "the second mile" - literally and figuratively. Thanks again!
S.H., "Dog Sled Mom," Big Springs CA.
---
Thanks again for giving us all a day to remember! Hope you like the pictures!
L.S.
---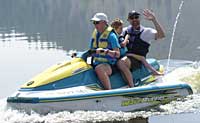 This is a photo of George -he's a young physically challenged boy who wanted to ride but his parents did not think we'd let them... so with a little help from Geroge we loaded up his mom and dad and then him for a great ride on the lake!
Click the photo to see the full-size image.
---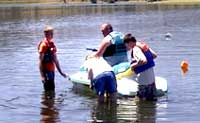 Robbie and Angela and the kids were here from Washington to play on our great lake!! Here's a photo of the boys deciding who's going first.. me first... no.. I am!! no way.. I am!! Ok dad you can drive first!! see yea mom!! Super great renters!! See you again next year...
Click the photo to see the full-size image.


---
Michelle,

Thanks for the fun adventure on the seadoos. We really appreciated the extra time you spent showing us how to have fun. We had a great time. Here is a photo of us getting ready for our first shot at the water. Take care.
Rob and Angela