The Plastic Chapel was a collaborative effort involving a number of local volunteer artists. The core group of individuals - Finley Fryer, Mario Rubino, Steve Rice, Jayne Bruck Fryer, Jeff Stricker, Eric Webster, and Glenn Crane - worked tirelessly for 30 to 40 hours per week over a period of several months. Other artists, notably Tristan Smith and Marianne Kikerpil, contributed long hours to the project.
Plastic Chapel grew out of a body of artwork created by Finley Fryer over the course of the past 15 years. The stained glass and plastic windows installed in the Chapel are the culmination of a gallery installation at the New Museum in New York City. This major installation was a catalyst for the Chapel's eventual construction. But it took a trip to the U.K.'s Channel Islands to prod Fryer to create a housing for this series of stained glass and plastic windows.
While Fryer was overseas, members of SMP contemplated the creation of a stage for poetry at Burning Man '98. Upon his return to the States, Fryer proposed to the group his concept for Plastic Chapel. Initial support for the concept was strong, and members immediately began assisting Fryer in the creation of his brainchild. Over a course of three months, the framework went up, panels were assembled from steel, and tons of plastic were collected from the community.
The core group of artist-volunteers worked tirelessly welding the thirty-seven panels, sorting and cutting up plastic, gluing plastic to the panels, and finally hanging them to struts bolted to the construction scaffolding.
On Saturday, August 20th, Plastic Chapel was completely assembled and lit. The next day, its transportation to the Black Rock Desert and Burning Man '98 began. At Burning Man, performers of all stripes were immediately drawn to Plastic Chapel, and though minimal arrangements had been made ahead of time, the assembled Plastic Chapel always had some musican, band, poet or DJ performing on stage from dusk until midnight. Even in the quiet times before sunset, and after midnight, crowds gathered at Plastic Chapel - visible a mile away, late-night reveler and the Black Rock Rangers used the Chapel as a navigational aide.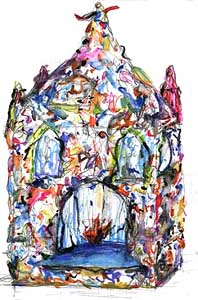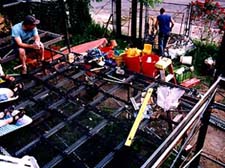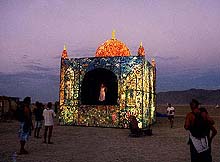 Plastic Chapel Productions
c/o Shasta Mountain Playhouse, Inc.
P.O. Box 103
Dunsmuir, CA 96025