---
BUZ'S CRAB
Seafood Market & Restaurant
---

First-time visitors to Redding may find the following directions helpful in locating Buz's Crab. Follow along on the map below. Although some of the suggested routes may not appear to be direct, they will help you avoid our problem traffic areas.
---

Exit at Central Redding exit and head west on Hwy. 44.

Over the Sacramento River and past the Redding Convention Center on the right. Divided highway changes into one-way street.

Prepare for a left hand turn as you enter the city.



Turn left on East Street.


Continue on East Street until you see Buz's Crab on left side of street.

Parking lot on north side of building.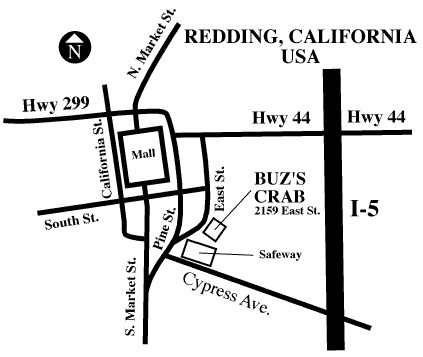 Interstate-5 Cypress Avenue Exit
Exit I-5 at Cypress Avenue exit and turn west on Cypress Avenue.

Travel west on Cypress until it ends. Be prepared to turn right.

Cypress splits into a "Y" and you will be forced off to Hwy 273 if you are in the left lane. You will see Safeway Market on right hand corner where you will turn.

Immediately make a hard right turn onto East Street.
Buz's Crab is adjacent to the Safeway Market parking lot. Look for the large crab sign and the colorful seascape mural on the side of the restaurant.
---

Recommended route to Buz's Crab from Hwy 299
299 is also called Eureka Way as it comes into Redding from the coast.
Traveling east from the coast on 299, turn right on California Street.

This manuver will keep you out of one of our problem traffic areas. After several blocks, California Street changes from a two-way street into a one-way street. This is to your advantage.

Prepare for a left hand turn by moving to far left lane.

Turn left on South Street.


Turn right on East Street.

Buz's Crab is just a few short blocks away on the left side of the street. Parking lot entrance is on the north side of the restaurant. If you should miss the parking lot entrance, turn into the Safeway parking lot to turn around.
---
---