European Releases
You may purchase any item on this page by sending
an email to me at tina@snowcrest.net
I accept Paypal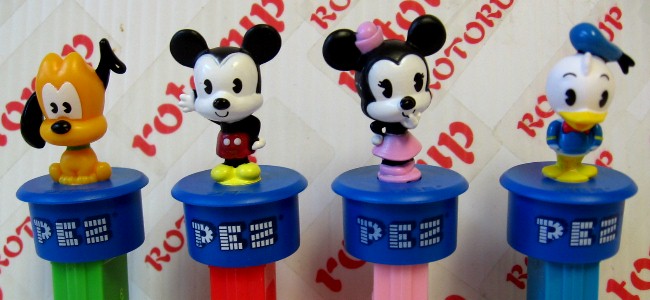 Aren't they cute. The new Disney Cuties.

Shows pluto, mickey, minnie and donald as babies. Adorable. set of 4 / 20.00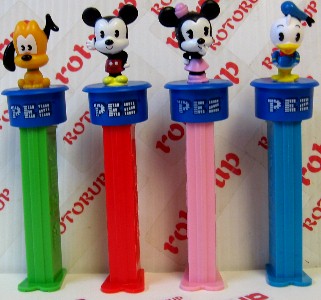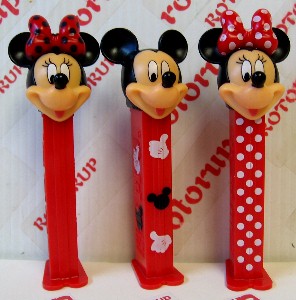 Just released in Austria. The new Mickey and Minnies. with printed stems and minnie's bow with polka dots. Cute.

15.00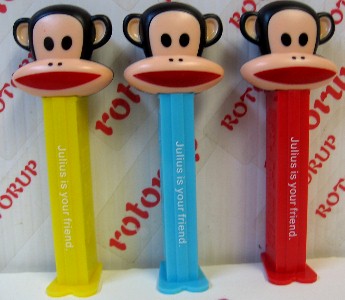 New from Europe. Frank Paul ( Julius is your friend ) sock monkey PEZ dispensers / 18.00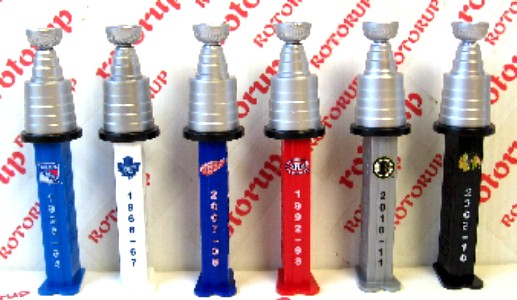 New from Canada. Set of 6 Stanley cup PEZ dispensers / 46.00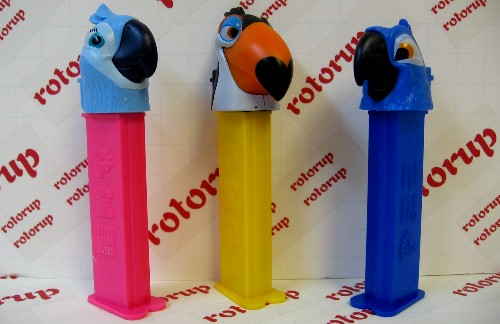 BEAUTIFUL RIO birds / $17.00 set of 3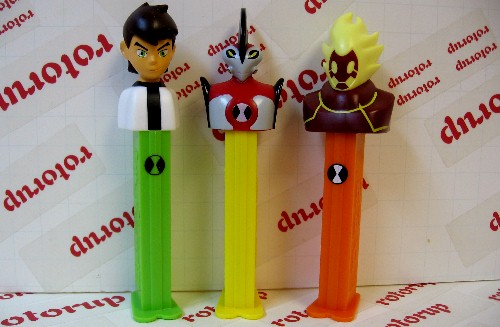 Ben 10 / 14.99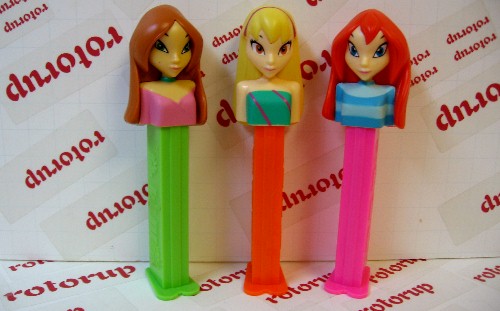 Winx / 14.99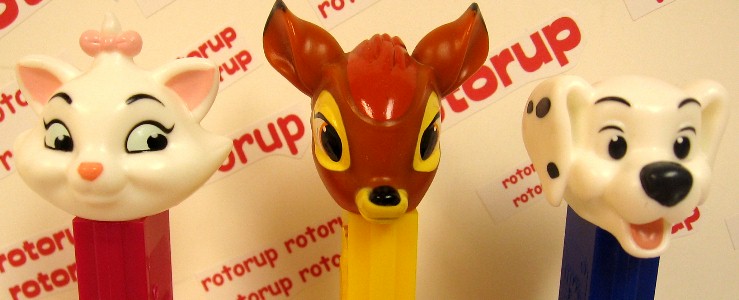 Just released from Austria....... Marie from the Aristocats, Bambi and Dalmation

cute as can be.

$14.00 for the set of 3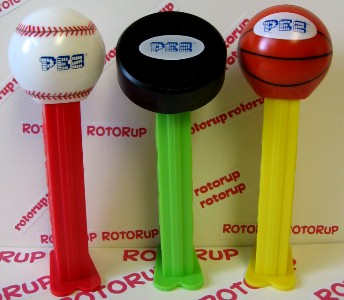 Euro Sports set of 3 / 18.00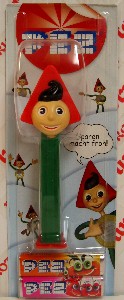 This remake of the Sparfroh was a give away at the Sparkasse Bank in Austria. / 35.00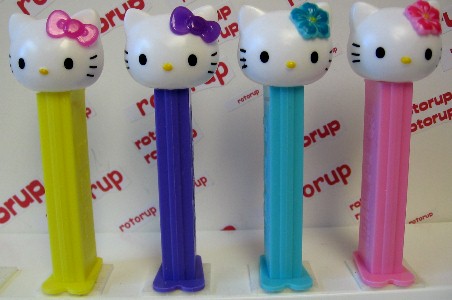 European Issue Hello Kitty in pastels. Pink bow and purple bows are crysal / 24.00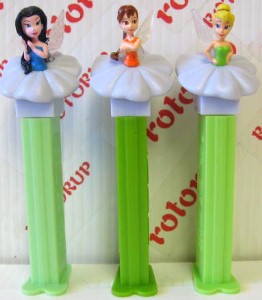 Disney Fairies, These are the European release April 2008

$18.00 for the set of 3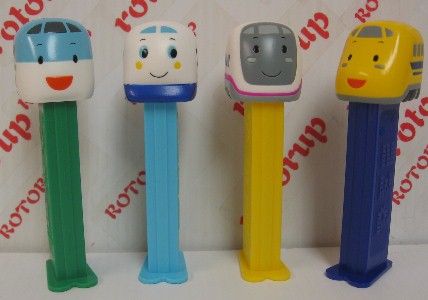 Discontinued from Japan.... Shuinkansen...... or Japanese Train set.........

4 pieces. CUTE

$35.00 / set of 4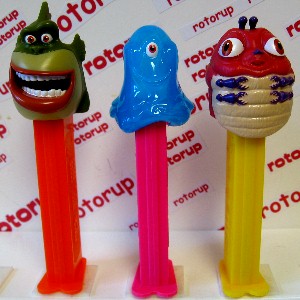 Monsters VS Aliens / set of 3 / 14.99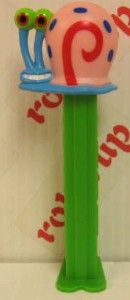 And... a new addition to The Spongebob set

Gary / $8.00 each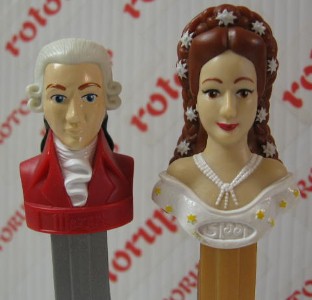 Sissi and Mozart beautifully done.

$35.00 for the pair. or purchased individually for $20.00 each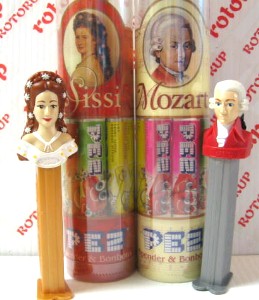 Sissi and Mozart shown both loose and in the package. Very well done. Beautiful pieces.

$40.00 for the set in package or $20.00 each in the package.

The tubes are 11 inches high and contain a single dispenser plus 8 packs of PEZ candy bon bons.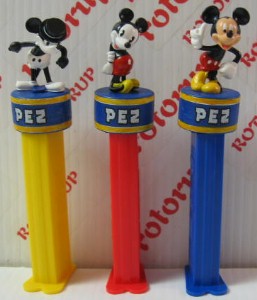 New European set of 3 Mickeys to celebrate the 80th anniversary of PEZ.

The three Mickeys represent the different stages of Mickey as he evolved to what we know today.

Mickey on the left as Steamboat Willie in 1928

in the middle. Mickey in 1940

on the right.... Mickey in 2000

The 3 characters are made from a soft rubber sitting on top of a drum.

$25.00 for the set of 3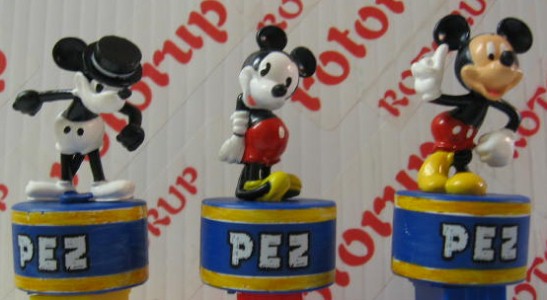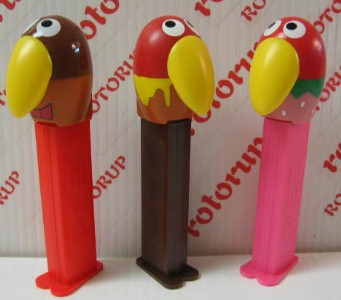 Kyoro Chan set of 3

Kyro Chan Peanut, Kyro Chan Caramel and Kyro Chan Strawberry

Only have Banana (not shown ) and Caramel and Strawberry

$10.00 each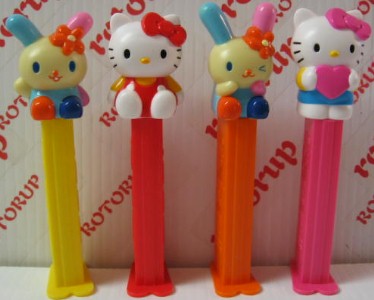 Newest set of Hello Kitty to come out of the European market

1) Ushana smiling 2) Hello Kitty 3) Ushana winking 4) Hello Kitty Holding Heart

30.00 for the set of 4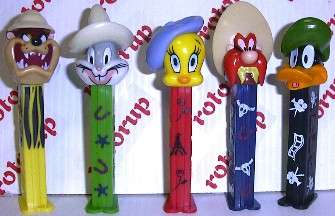 Back In Action set of 5

$25.00

golden Jack Jack

Sold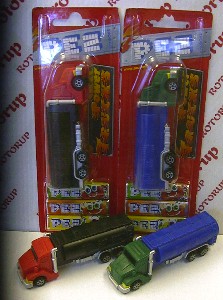 NEW European Tankers...........These two trucks are NOT included in the USA set of RIGS

Only have loose sets left.

$16.00 per set loose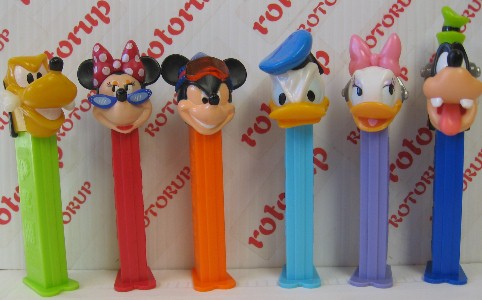 Set of 6 European version of the Disney Extreme

$18.00 / set of 6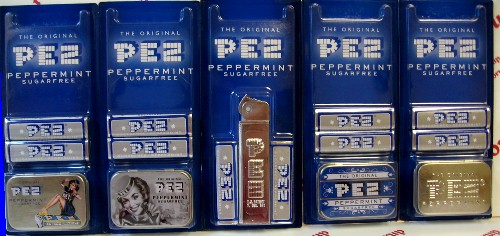 so beautiful. 4 tins and one silverglow all with sugar-free peppermint candy

set of all 5 / $30.00
WOW is all I can say about these new SOFT PEZ from Austria

These dispensers are almost the exact size of my cell phone, are completely transparent with a white band around the middle outside.

They come in 4 colors. black, blue, green and hot pink

The candy is shaped the same as a regular PEZ brick of candy and is imprinted with the PEZ logo on the top.

Load and SHOOT.

I also loaded mine with regulaer PEZ candy and it works

Sumsi Bee / Limited Edition European only / $16.00

Disney Planes 2 Fire and Rescue Series. Set includes/Dusty with pontoons, blade Ranger the helicopter and Lil' Dipper the suuper scooper. Set of 3 / $15.00

Classic Silverglow Sugar Free Peppermint Regular

$15.00

Blue Peppermint Tin / $10.00

Silver Peppermint Tin / $10.00
| | |
| --- | --- |
| Peppermint tin with PEZ girl in silver / $10.00 | Peppermint tin with PEZ girl sitting on candy pack / $10.00 |
| | |
| | |
| | |
| | |
| | |
Come on back ... we are in the process of remodeling our web site.