Directions: The access road from Mt. Shasta City is approximately 11 miles over a paved road and a 1/8-mile unpaved entrance road. When snow packed (winter months) the camp can be reached by snowshoes &/or cross-country skis.
For interactive directions, click here.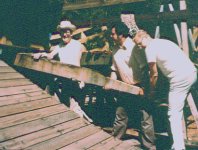 Service Opportunities: Shasta United Methodist Camp has established a policy of offsetting fees for camp rental in exchange for volunteer work at the campsite. The camp is always in need of repairs which may include, painting, plumbing, carpentry skills, trail clearing, and firewood gathering (splitting and stacking).
Presently we have several groups who schedule a visit to the camp to take care of specific tasks as well as enjoy this lovely place. If you are interested in service opportunities, please contact us.