YREKA WESTERN RAILROAD
(Page One)

THE YREKA WESTERN RAILROAD RUNS FROM THE SISKIYOU COUNTY SEAT AT YREKA TO THE CONNECTION WITH THE CORP RAILWAY AT MONTAGUE A DISTANCE OF ABOUT SEVEN AND A HALF MILES. CONTRUCTION WAS STARTED IN APRIL OF 1888 AND ON JANUARY 9, 1889 WAS OFFICIALLY OPENED FOR TRAFFIC. THE RAILROAD WAS BUILT TO CONNECT WITH THE CENTRAL PACIFIC RAILROAD AT MONTAGUE AFTER IT WAS FOUND OUT THAT THE CENTRAL PACIFIC HAD DECIDED TO RUN IN A LINE STRAIGHT ACROSS THE SHASTA VALLEY AVOIDING YREKA.
THE RAILROAD STILL PROVIDES FREIGHT SERVICE BY HAULING LUMBER LOADS TO THE CORP RAILROAD INTERCHANGE AND ALSO A SEASONAL STEAM EXCURSION TRAIN CALLED THE "BLUE GOOSE".
THE FOLLOWING PAGES OF PHOTOGRAPHS WERE TAKEN DURING A STEAM EXCURSION RUN IN THE SUMMER OF 1962 AND THE REST WERE TAKEN DURING THE LAST FEW YEARS. WE CAN ONLY HOPE THAT THIS LITTLE RAILROAD CAN SURVIVE AS IT HAS IN THE PAST.
---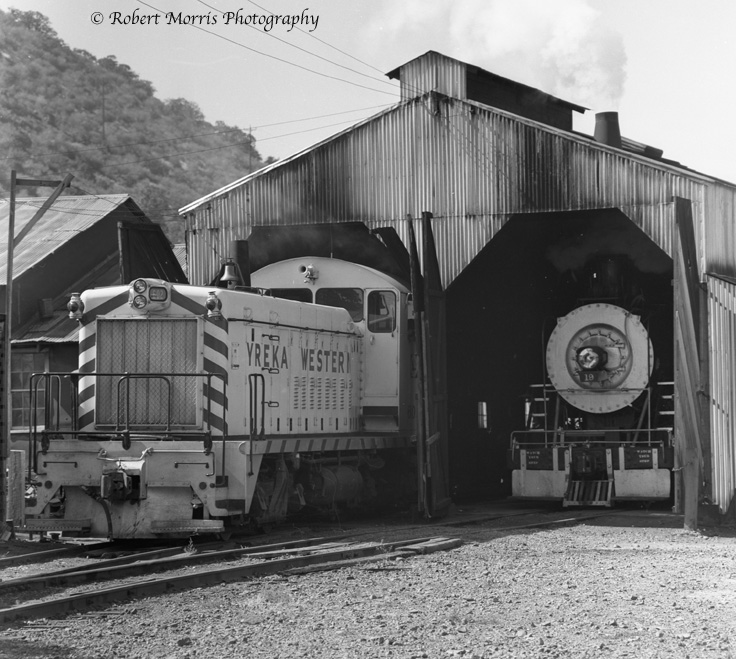 (NEGATIVE #YWS-3)
ITS A HOT SUMMER MORNING IN 1962 AS EMD SWITCHER 602 LEAVES THE YREKA ENGINEHOUSE. NUMBER 19 IS UNDER STEAM AND WAITS ITS TURN TO COME OUT INTO THE MORNING SUN.
---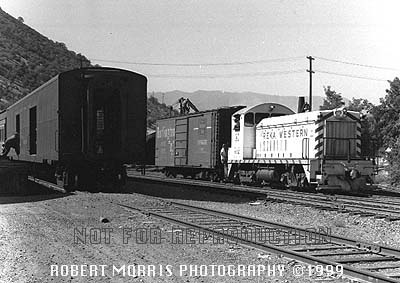 (NEGATIVE #YW-14)
602 MOVES A BOX CAR PAST THE WAITING EXCURSION TRAIN HEADED BY A SOUTHERN PACIFIC MAIL CAR.
---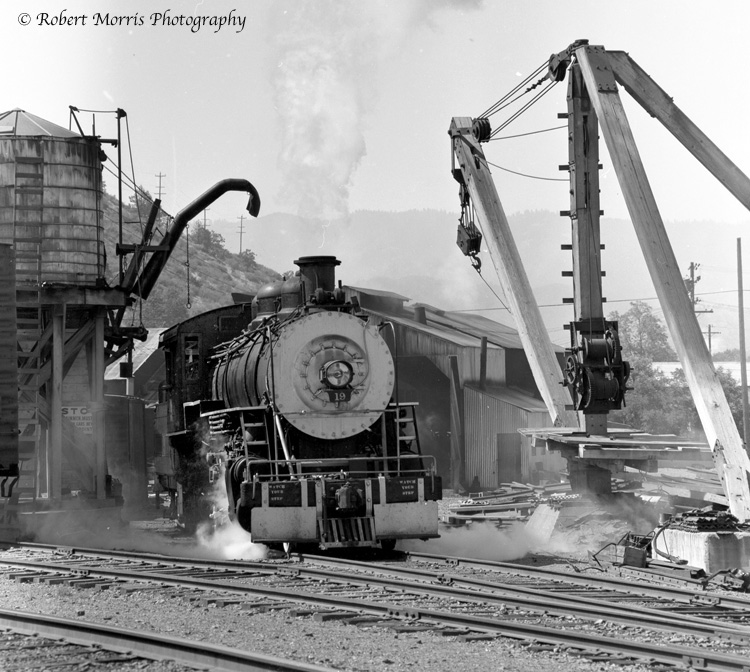 (NEGATIVE #YWS-4)
NUMBER 19 STEAMS OUT OF THE ENGINE HOUSE AND SPOTS ITSELF UNDER THE WATER TANK.
---
(Page Two)