MISSION BAY ROUNDHOUSE
THE MISSION BAY ROUNDHOUSE AND ENGINE SERVICING FACILITY WAS OPENED IN 1906. ON FEBRUARY 27,1960 THE FACILITY WAS CLOSED AND SHORTLY THEREAFTER IT WAS TORN DOWN. AS A YOUNG KID MY DAD WOULD TAKE ME DOWN TO MISSION BAY AND MORE THEN ONCE I WAS ABLE TO RIDE ONE OF THE BIG DAYLIGHT TYPE ENGINES AS THEY BACKED FROM THE ROUNDHOUSE, ALONG 7TH ST AND ONTO THEIR TRAIN AT THIRD AND TOWNSEND. I GOT MY FIRST CAMERA, A GERMAN MADE TWIN LENS REFLEX CAMERA, AND SOME OF MY FIRST TRAIN PHOTOS WERE THE DESTRUCTION OF A PLACE WERE I FIRST GOT HOOKED ON TRAINS.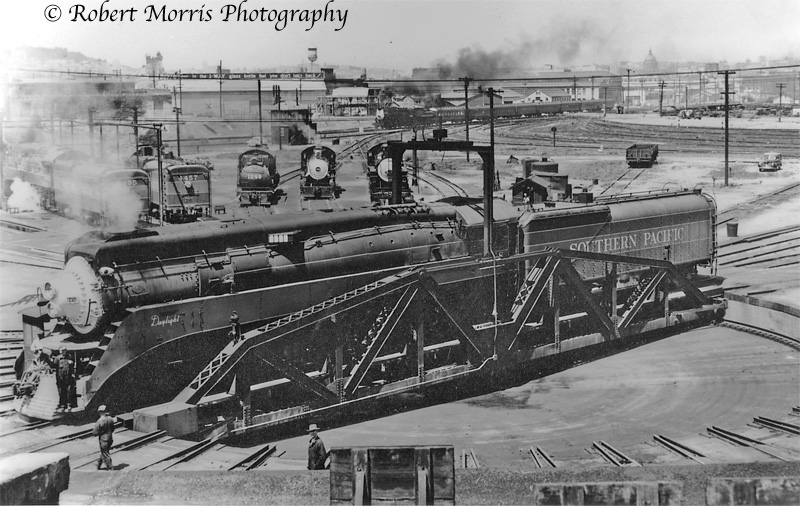 (NEGATIVE #MB-1)
GS-4 No.4458 RIDES ON THE MISSION BAY TURNTABLE. THERES ONLY INCHES TO SPARE AS BOTH THE TENDER AND FRONT END STICK OUT A FEW FEET FROM THE TURNTABLE.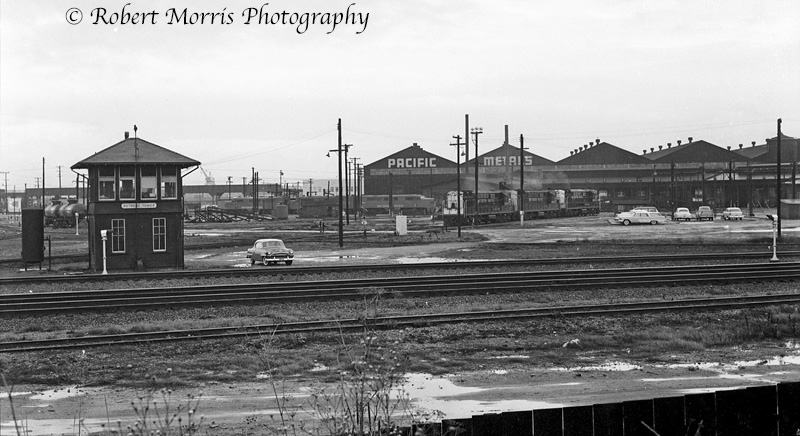 (NEGATIVE #MB-2)
IN 1960 STEAM HAD BEEN GONE FOR FOUR YEARS AND DIESELS NO LONGER REQUIRED WHAT MISSION BAY HAD TO OFFER. THE PRICE OF REAL ESTATE IN SAN FRANCISCO WAS TO VALUABLE TO WASTE ON OUTDATED SERVICE FACILITIES. IN THIS VIEW, FROM POTRERO TOWER, TRAINMASTERS AND ALCO PAS WAIT THEIR TURN TO RUN DOWN TO THIRD AND TOWNSEND FOR THEIR TRAINS.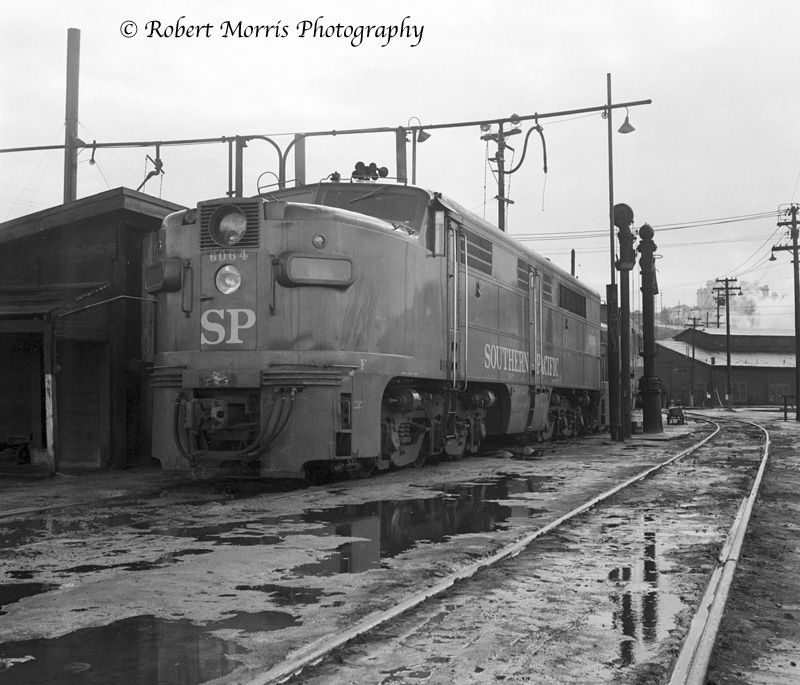 (NEGATIVE #SPA-3)
ALCO PA 6064 ARRIVED FROM LOS ANGELES ON THE LARK AND IS NOW SPENDING THE DAY AT MISSION BAY WAITING FOR ITS RETURN JOURNEY ON TONIGHTS LARK.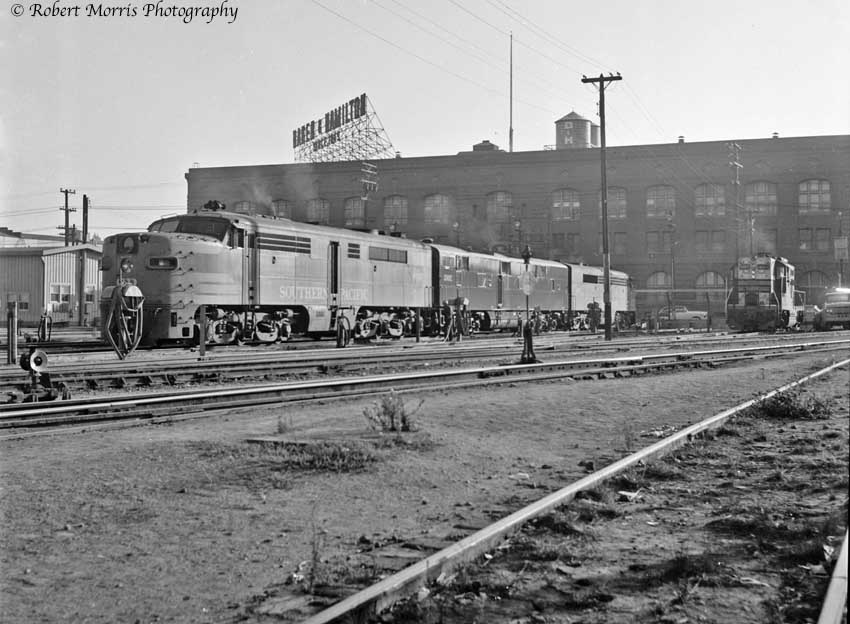 (NEGATIVE #SPA-1)
A NEW FACILITY WAS BUILT AT 7TH AND TOWNDSEND ST. HERE PA'S, E-UNITS AND THE COMMUTE POWER WERE CHECKED OVER.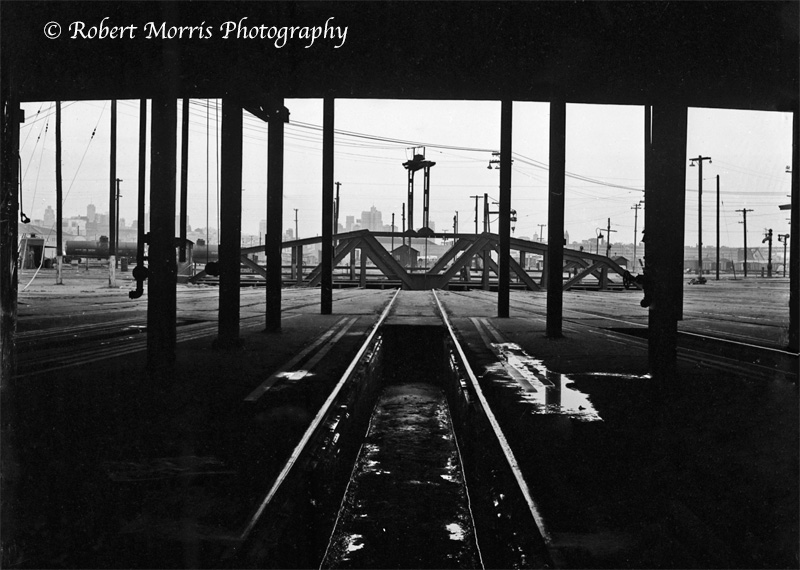 (NEGATIVE #MB-3)
THE SAN FRANCISCO SKYLINE RISES ABOVE THE ONCE BUSY MISSION BAY TURNTABLE.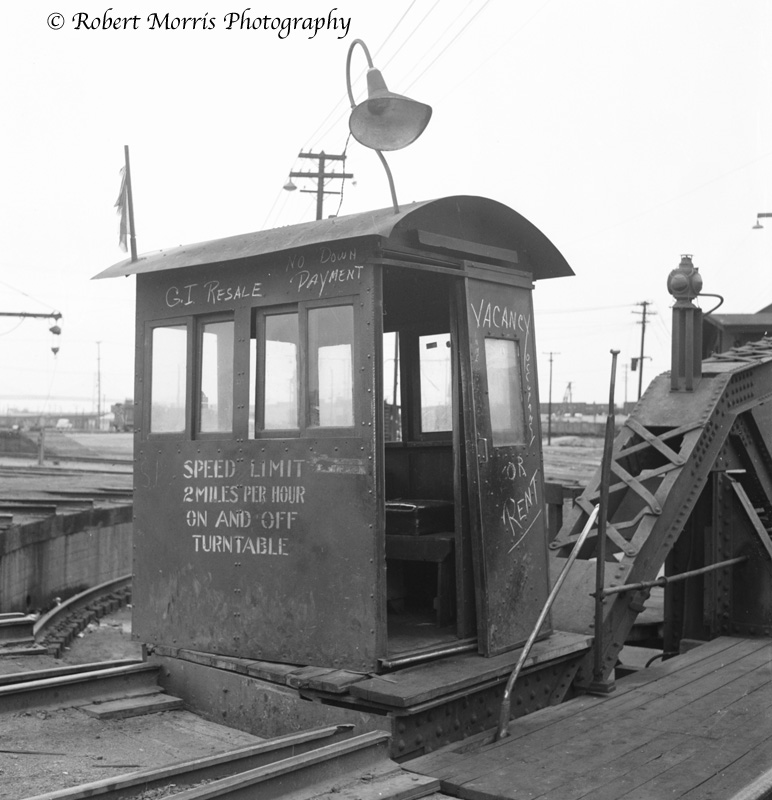 (NEGATIVE #MB-4)
THE WRITTING ON THE WALLS OF THE TURNTABLE OPERATORS SHACK SUMS UP THE FEELINGS OF THOSE WHO WORKED AT MISSION BAY. NOTICE THE GREAT LANTERN STILL MARKING THE END OF THE TURNTABLE.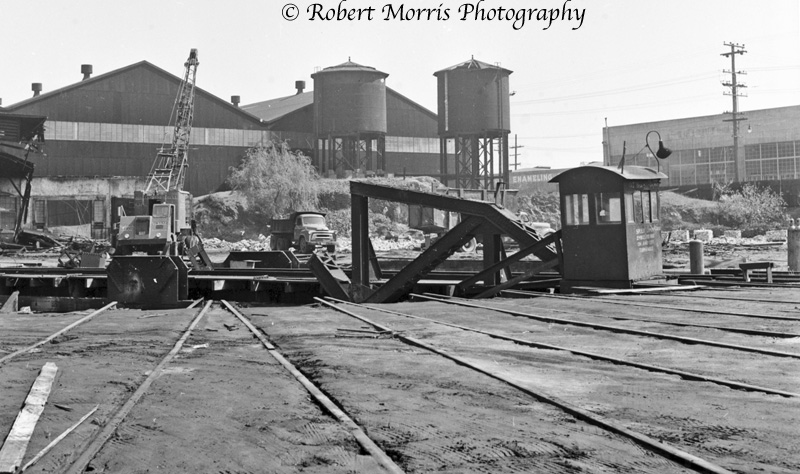 (NEGATIVE #MB-5)
THE LANTERNS GONE AND SO IS MUCH OF THE TURNTABLE IN THIS PHOTO TAKEN A FEW DAYS LATER.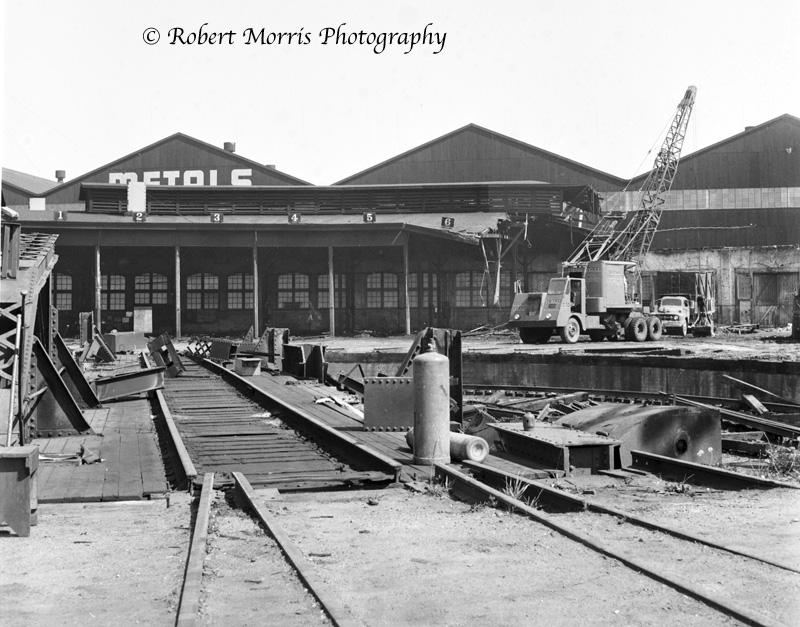 (NEGATIVE #MB-6)
THERE WERE ONLY SIX STALLS LEFT AND THE CRANE WAS ABOUT TO MAKE SHORT ORDER OF THESE.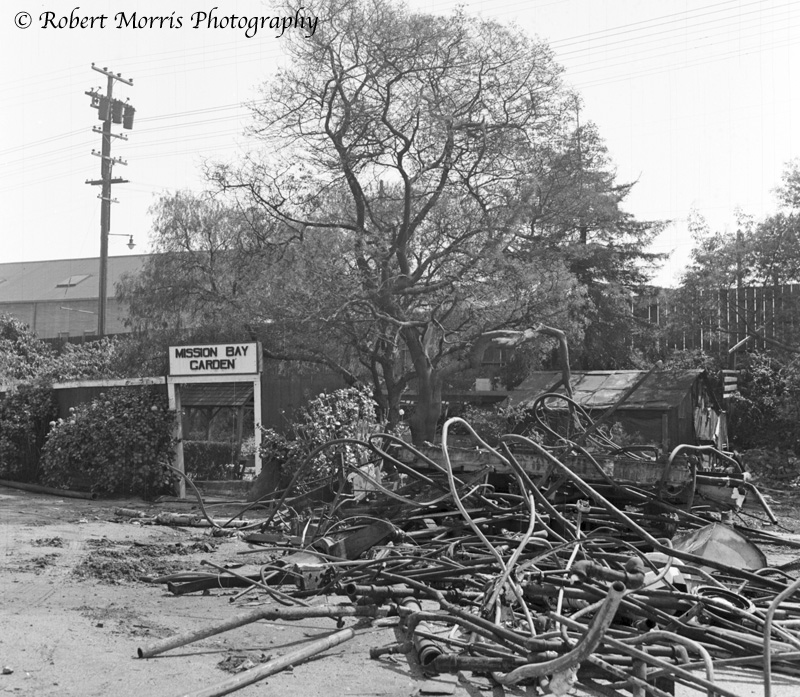 (NEGATIVE #MB-7)
THE MISSION BAY GARDEN WAS LAST TO GO. HERE CREWS BETWEEN TRAINS AND SHOP WORKERS COULD HAVE THEIR LUNCH OR JUST ENJOY THE VARIETY OF PLANTS THAT WERE MAINTAINED HERE. BENT PIPES ARE PILED UP IN FRONT OF WHAT WAS THE ENTRANCE TO THIS OASIS. I RETURNED A FEW DAYS LATER AND ALL TRACES OF IT AND A GREAT PART OF MY CHILDHOOD WERE GONE.

---
Return to Photo Story Page