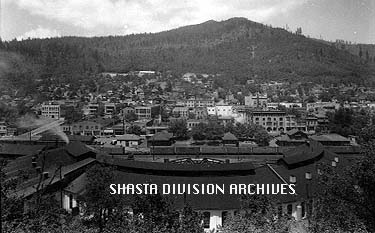 THIS 1930'S VIEW WAS TAKEN FROM THE SAME LOCATION AS THE SECOND PHOTO ON THE PREVIOUS PAGE. THE TOWN OF DUNSMUIR HAS GROWN AND THE RAILROAD HAS GROWN WITH IT.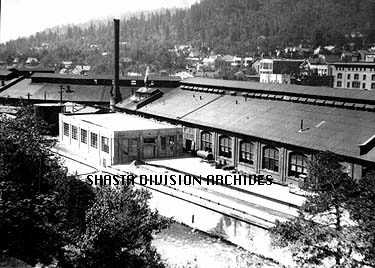 THE LARGE STRUCTURE WAS THE MACHINE SHOP. TO THE LEFT CAN BE SEEN THE ROUNDHOUSE. THE CONCRETE BUILDING IS STILL IN USE TODAY AS OFFICES FOR THE UNION PACIFIC. THE SACRAMENTO RIVER CAN BE SEEN IN THE FOREGROUND.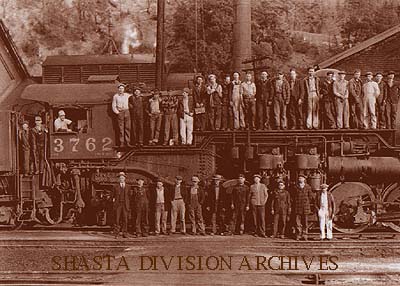 THE COMPANY PHOTOGRAPHER HAS GATHERED UP MANY OF THE SHOP EMPLOYEES FOR A PHOTO ON ONE OF THE LOCOMOTIVES THEY HELP TO MAINTAIN.
---