DUNSMUIR PHOTOS 1950'S
THE FOLLOWING PHOTOS ARE TAKEN FROM THE SHASTA DIVISION ARCHIVES AND SHOW SOME OF THE STRUCTURES THAT WERE STILL IN USE AT THAT TIME. STEAM WAS GONE BY THE MID-50'S AND MANY OF THE STEAM RELATED FACILITIES CAME DOWN. THE LARGE MACHINE SHOP WAS TORN DOWN AS WELL AS A LARGE PORTION OF THE ROUNDHOUSE. ALL PHOTOS ARE AVAILABLE FOR PURCHASE. ORDERING INFORMATION IS LOCATED ON THE SP INDEX PAGE. THIS PAGE IS STILL UNDER CONSTRUCTION AND MANY MORE PHOTOS WILL BE ADDED.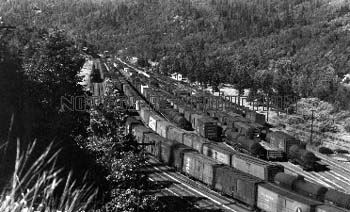 THIS VIEW LOOKS NORTH AND SHOWS THE LOWER YARD. ALL THE TRACKS ARE FULL AS TRAINS WAIT FOR POWER AND NEW CREWS.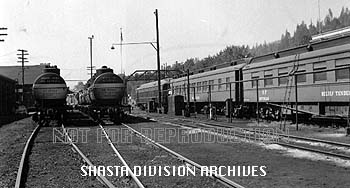 LOOKING SOUTH FROM THE FUELING TRACKS. THE TANK CARS HELD DIESEL FUEL FOR THE NEW DIESELS. A STRING OF RELIEF TENDERS MADE FROM OLD PASSENGER EQUIPMENTCAN BE SEEN ON THE RIGHT.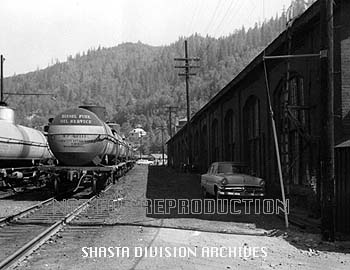 LOOKING NORTH FROM THE FUELING TRACKS. THE LARGE BUILDING ON THE RIGHT WAS THE MACHINE SHOP.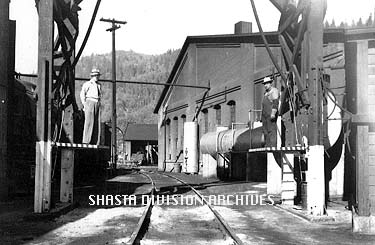 SOME OF THE OLD STEAM FACILITIES WERE USED INTO THE DIESEL ERA. HERE WORKERS ARE SHOWN STANDING ON PLATFORMS MOUNTED TO THE SANDING TOWER.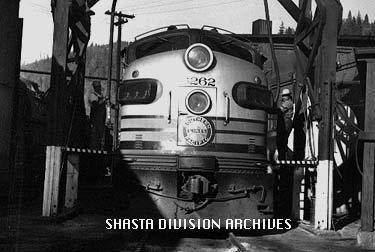 A SET OF F-UNITS LEAD BY 6262 IS SPOTTED UNDER THE SAND TOWER. THE MEN ARE POURING SAND INTO THE SANDING HATCHES LOCATED UNDER THE CAB WINDOWS. THE MALLET SHED IS LOCATED TO THE LEFT OF THE PHOTO WITH A CAB FORWARD WATCHING ITS REPLACEMENT GETTING ALL THE ATTENTION.
---
Return to Dunsmuir Historical Page