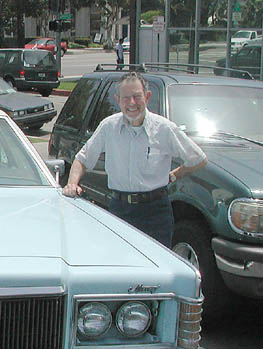 The John L. "Jack" Whitmeyer Collection
John L. "Jack" Whitmeyer was a longtime resident of Southern California and, like his father before him, he was interested in the railroad scene for many years. Jack was born in San Francisco, but lived in the Riverside-Colton-San Bernardino area in the 1940s and early 1950s. He was an early member of the Pacific Railroad Society, which formed in Southern California in the late 1930s. Jack joined Santa Fe's engineering department at San Bernardino in 1947 and eventually retired from that company in 1987. While at work he always brought his camera and, in addition to photographing the "steam" railroads, Jack was interested in traction and steam ships as well. In 2003, Jack donated his extensive black & white Santa Fe, SP and UP negative collections to the Santa Fe Railway Historical & Modeling Society, the Southern Pacific Historical & Technical Society and the Union Pacific Historical Society. Sadly, Jack passed away in Redondo Beach July 5, 2012. But today, through his generosity and far-sightedness, his work remains available for the use of historians and researchers.
Photographs from the Whitmeyer Collection are available as 8x10 glossy photographic prints at $15.00 each or $10.00 each if you are a member of the respective society. Larger sizes are available upon request. Printable order forms are available on each of the respective society negative lists.
---
---