CANTARA LOOP
A MILL WAS ESTABLISHED AT CANTARA IN 1892 AND LOGGING BEGAN IN THE SURROUNDING AREA. LOGS WERE BROUGHT DOWN THE HILLSIDE BY MEANS OF A CABLE TRAM. THE MILL REMAINED IN OPERATION UNTIL NEARLY 1920. REMAINS OF SOME OF THE STRUCTURES FOUNDATIONS CAN STILL BE FOUND IN THE THICK UNDERBRUSH.
THE CURRENT MAIN LINE STILL FOLLOWS THE ORIGINAL ROUTE WHICH WAS LAID OUT IN 1886. THE CURVE IS ONE OF THE SHARPEST ON THE UP. THIS IS THE LAST CROSSING OF THE SACRAMENTO RIVER AS THE LINE REVERSES ITSELF AND CLIMBS OUT OF THE CANYON ON A NARROW SHELF. AT SAWMILL CURVE,TWO MILES FROM CANTARA, THE LINE ONCE AGAIN HEADS NORTH. ALL PHOTOS ARE AVAILABLE FOR PURCHASE. ORDERING INFORMATION IS LOCATED ON THE SP INDEX PAGE.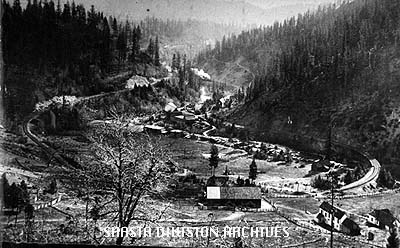 THIS 1913 VIEW SHOWS THE CANTARA LUMBER COMPANY IN OPERATION. SOME OF THE FENCES OF THE FARM IN THE FORGROUND ARE STILL STANDING TODAY.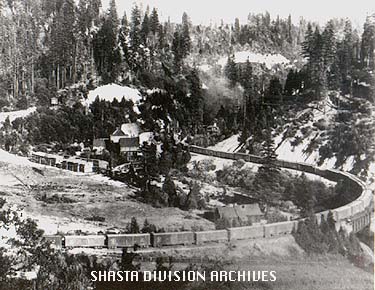 ANOTHER VIEW TAKEN AT ABOUT THE SAME TIME PERIOD SHOWS A FREIGHT ROUNDING THE LOOP.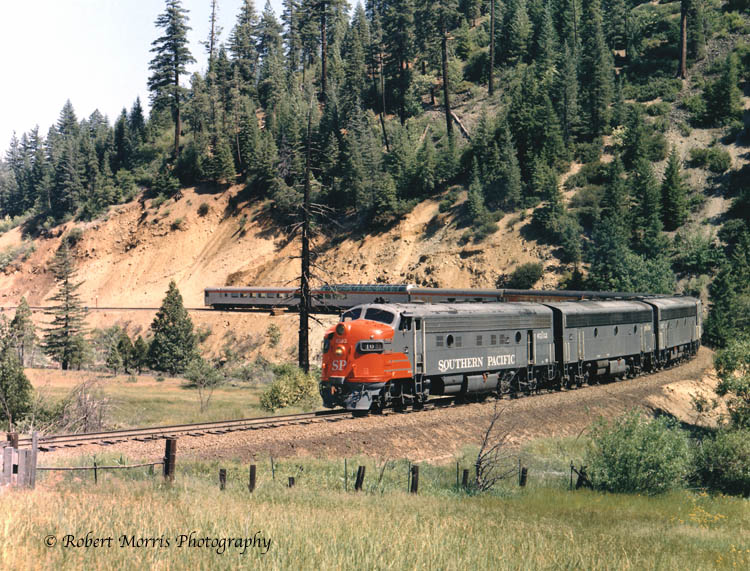 THE "SHASTA DAYLIGHT" ROUNDS CANTARA LOOP IN 1964. THE TALL TREE NEXT TO THE DOME CAR CAN BE SEEN IN THE EARLY VIEWS OF THE LOOP.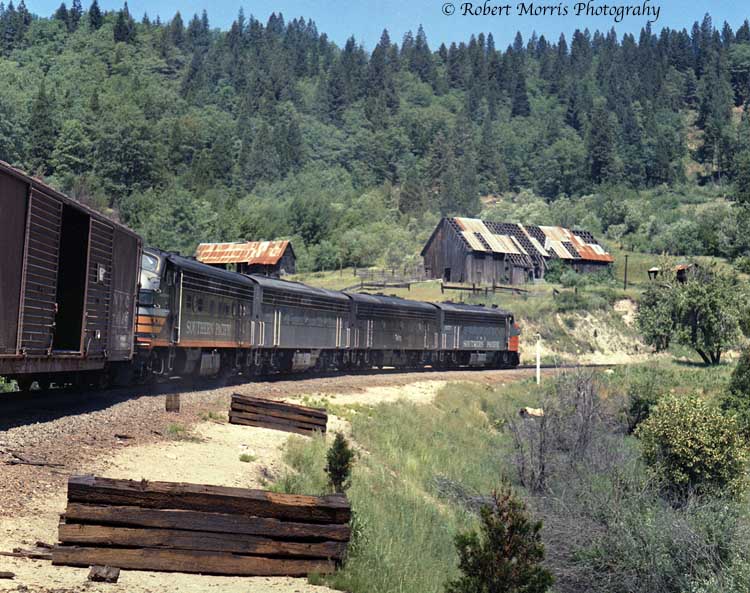 WHAT WAS LEFT OF THE OLD FARM AT CANTARA LOOP CAN BE SEEN ABOVE THE F-UNITS ON THIS EASTBOUND TRAIN IN 1964.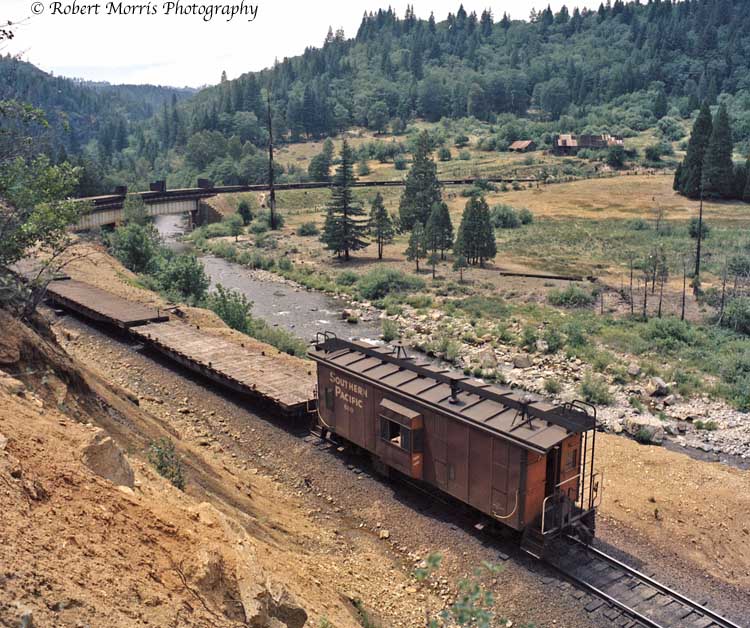 A TRAIN OF EMPTY FLATS FOLLOWED BY A BAY WINDOW CABOOSE ROUNDS THE LOOP IN 1975.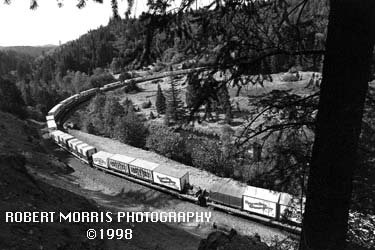 THE CIRCUS TRAIN HEADS NORTH AROUND CANTARA LOOP IN 1994.
---