BIG CANYON TRESTLE
THE FOLLOWING PHOTOS SHOW THE "BIG CANYON TRESTLE" WHICH WAS LOCATED NEAR THE PRESENT SITE OF THE MOTT-AZALEA CROSSOVERS. THE TRESTLE WAS TAKEN DOWN IN THE EARLY 1920'S BUT THE ORIGINAL BRIDGE FOUNDATIONS CAN STILL BE FOUND ON OLD STAGE ROAD. THE TRESTLE WAS 110 FEET HIGH AND NEARLY A QUARTER OF A MILE IN LENGTH. ALL PHOTOS ARE AVAILABLE FOR PURCHASE. ORDERING INFORMATION IS LOCATED ON THE SP INDEX PAGE.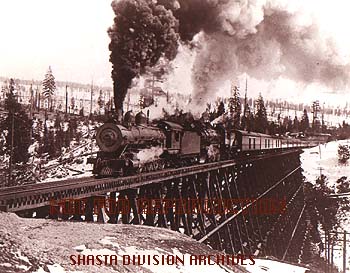 THE OREGON & PACIFIC EXPRESS CROSSING THE BIG CANYON TRESTLE.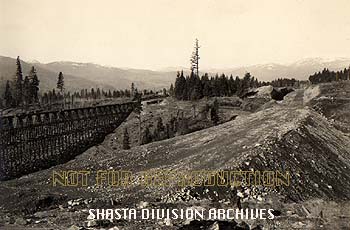 THE NEW GRADE WORK IN THE FOREGROUND IS THE PRESENT LOCATION OF THE MOTT-AZALEA CROSSOVERS. THE MAIN LINE AND AZALEA SIDING NOW OCCUPY THE LONG STRETCH OF RIGHT OF WAY.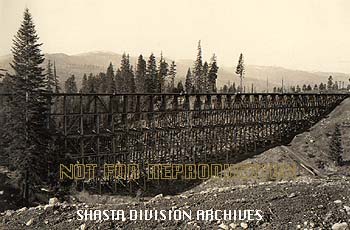 THIS VIEW IS LOOKING WESTWARD FROM THE CROSSOVERS. OLD STAGE ROAD CAN BE SEEN PASSING UNDER THE TRESTLE ON THE RIGHT HAND SIDE OF THE PHOTOGRAPH.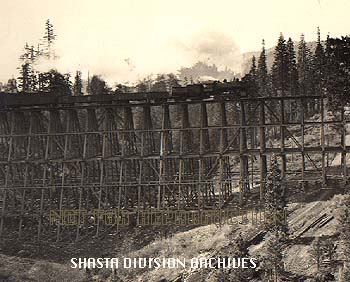 A FREIGHT POWERED BY A 2-8-0 PASSES OVER THE TRESTLE. THE RAILROAD FILLED IN MOST OF THE CANYON AND WHAT REMAINED WAS FILLED IN LATER YEARS FOR THE PRESENT INTERSTATE 5. THE FOREST HAS LONG SINCE COVERED UP WHAT WAS ONCE CALLED "THE GRANDEST IN THE WEST".
---
Return to Dunsmuir Historical Page