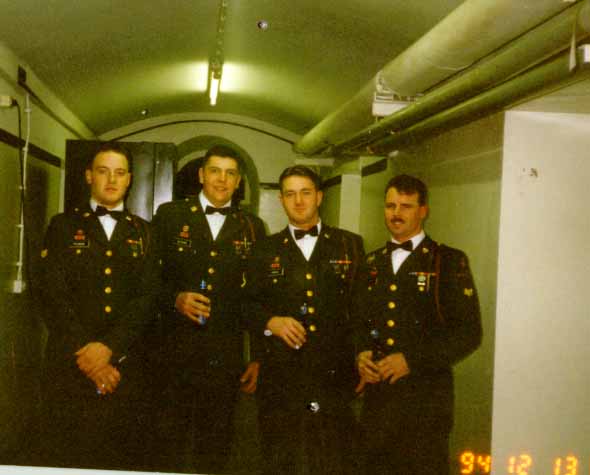 Will is shown here with other members of Charlie Company,
40th Engineer Battalion,(M) in dress uniform.

He was attached to the 1st Armored Division, and with them assigned
to take part in celebrations with the French, commemorating
the Liberation in World War II. For this he traveled to
southern France and visited
the Riviera.

It seemed Will took advantage of each leave, every soldier discount
and travel option, always trying to "make it fun." While serving his country,
he not only visited Kuwait, Yugoslavia and Bosnia, but he traveled
to the Riviera again, visited Paris, traveled in Germany, and
skied Bavaria where he found work after his discharge from active duty.
We used to say he was like Forrest Gump, shaking the hand of
the president at a luncheon for the Clintons visiting the troops,
being part of the historic Liberation Ceremonies, and in general
standing out in the crowd. At a USO show in Bosnia he even
performed his old high school cover of the
Georgia Satellites' "Keep Your hands to Yourself."

Will was promoted to the rank of Sergeant before going inactive
in November of 1996. He remained in the Reserve until
September of 1999 when he was honorably discharged.