| | | |
| --- | --- | --- |
| | SigAlert! | |
For nearly half a century, Southern Californians have learned to pause and listen whenever they hear a "Sigalert" traffic bulletin being broadcast over local radio stations. The California Highway Patrol now issues these messages, but they were originally transmitted by L.A.P.D., beginning in 1955.
As the city's love affair with the automobile blossomed, so did the number and severity of traffic accidents and tie-ups. Both as a public service and as a way to boost their ratings, Los Angeles radio stations began competing in early forms of traffic reporting. But there were snags. The L.A.P.D., which handled traffic on both surface streets and freeways within city limits, was receiving more and more calls inquiring about traffic conditions, clogging incoming phone lines. Over and over, officers would give out what information they had.
Meanwhile, in 1952, cowboy-actor-singer Gene Autry had purchased KMPC-AM 710 radio, along with partners Bob Reynolds and Loyd C. "Sig" Sigmon. Sigmon had joined KMPC in 1941 as a broadcast engineer, but soon found himself in the Army Signal Corps during World War II. His background led to his being assigned to General Eisenhower's staff, in charge of non-combat radio communications in the European theater.

Gene Autry & Loyd Sigmon
Hoping to boost KMPC's ratings, Sigmon, now an Executive Vice President at the station, approached the Los Angeles Police Department to try to arrange for them to call KMPC whenever significant traffic jams occurred. Chief William H. Parker, however, said that his officers were entirely too busy to be calling around to radio stations.
So Sigmon doffed his Executive-VP's hat, and went back to real circuits-and-wires-and-plugs engineering. He came up with a $600 shortwave receiver and tape-recording device, which would be activated when it received a special tone sent out by the police dispatcher. He presented the idea to Parker, and the chief was interested though - typically - skeptical. Parker finally gave Sig the go-ahead, but only on the condition that the receivers be made available to all interested radio stations. So KMPC lost any news "monopoly" they may have hoped for.
Initially, half a dozen stations installed the receivers. When the LAPD "Link" officer had a message to transmit, he would push a button to send out an "alert-tone" to turn the receivers on. The messages would be taped automatically, after which a red light would come on, sometimes accompanied by a buzzer, to alert the radio stations' engineers. Depending on the nature of the problem, the engineer could air the police broadcast immediately, even breaking into regular programming if necessary.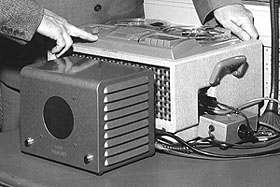 Sigmon's Prototype Receiver & Recorder
Sigmon's system allowed the alerts to be transmitted on the regular police dispatch frequency (1730 kilocycles), without the radio station personnel having to listen to all the routine police calls. Expenses for everyone were thus kept to a minimum. Representatives from Motorola, which supplied most of the city's radios for years, had pushed their own system, which would use a somewhat sophisticated (for the time) "2+2" tone. However Sigmon and others prevailed with simpler single-tone technology, adapting the considerably less expensive "Plectron" paging-type receivers to do the job.
According to the story perpetuated over the years in various sources, the first "Sigmon traffic alert" was broadcast over Labor Day weekend, on September 5, 1955 requesting any available doctors and nurses to respond to a train derailment outside L.A.'s Union Station . It had the unintended effect of CAUSING a traffic jam, as the message was sent out . Nobody realized how many doctors, nurses and sightseers would rush to the scene and tie things up even worse. While the train wreck may or may not have been the first use of the Sigalert, the actual date of this incident was several months later, on January 22, 1956, when the Santa Fe Railway's San Diegan Train No. 82 derailed on a sharp curve near Washington Blvd and the Los Angeles River, killing 30 people and injuring 122.
Initially, about one alert a day was issued by LAPD, but soon other nearby agencies were calling in messages they wanted broadcast. Not just traffic-related either. There were rabid dog reports, at least one message from a druggist who had made a potentially fatal error in filling a customer's prescription, gas leaks, and the impending Baldwin Hills Dam collapse in 1963.
The system had caught on quickly, and the positive publicity was not lost on Bill Parker. According to which version you want to believe, it may have been the Chief himself who gave it its name, when he mentioned to an aide, "We'll probably call the damn thing 'SigAlert.'"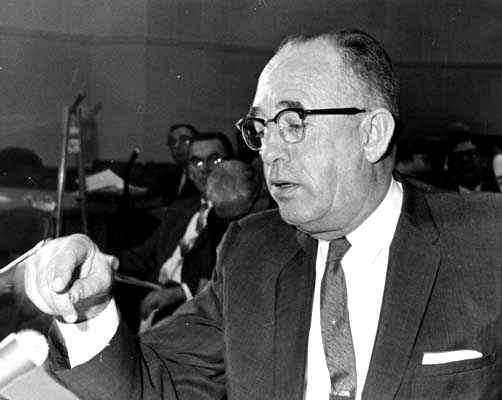 Chief Parker tells the L.A. City Council about the usefulness of SigAlerts in saving lives during the Baldwin Hills Dam Collapse, 1963
When L.A.P.D changed their dispatch frequencies to the VHF band in 1965, the SigAlert transmitters and receivers were changed as well. On October 1, 1969, the Los Angeles Police Department turned the freeway traffic duties over to the California Highway Patrol. Soon thereafter the CHP took over the SigAlert system, and eventually expanded its use statewide. Messages are generally broadcast on the "Blue" frequency - 42.34 MHz - but most radio stations now obtain the information in text form directly off the CHP's website (http://cad.chp.ca.gov) rather than rebroadcasting the dispatchers' voices.
And SigAlerts are restricted to traffic incidents these days. The official Highway Patrol definition of a SigAlert is "any unplanned event that causes the closing of one lane of traffic for 30 minutes or more, as opposed to a planned event like road construction, which is planned separately."
Loyd Sigmon never made much, if any, money on his invention, though he has received recognition and honors from local and state government agencies, the National Safety Council, and broadcasting and radio organizations. As recently as 1998, when the California Department of Transportation and the CHP opened their state-of-the-art Freeway Traffic Center in downtown Los Angeles, Sigmon attended as their special Guest of Honor.
He found it all a bit amusing, telling a Los Angeles Times reporter, "I ran a multimillion-dollar corporation, but it's the SigAlert that people remember me for."
---

The "Sig" in SigAlert


1909 - 2004

Loyd C. Sigmon was born in Stigler, Oklahoma in 1909 to a cattle-ranching family. He developed an early interest in radio, getting his first Amateur ("HAM") Radio license at age 14. He began his broadcasting career in 1932 at the Boston Short Wave and Television Laboratories. Nine years later he became an engineer for MacMillan Petroleum Company's flagship radio station, KMPC, in Los Angeles. He served on General Dwight D. Eisenhower's staff during World War II as a Signal Corps officer, and returned to Los Angeles after the war. He became an Executive Vice President with Gene Autry's Golden West Broadcasters, which owned as many as 8 radio and 2 television stations on the west coast.

Sigmon was proud of his long-time association with Autry, saying that, in all the years they worked together, "We never had a piece of paper between us. Just a handshake."

While he had not been active on the ham bands for some time, after being licensed for over 75 years Sigmon, W6LQ, continued to keep his Amateur Radio license current until 2003. No doubt having had enough of L.A. traffic, Sigmon moved back to his native Oklahoma in 2000 to be near his family.

He passed away on June 3, 2004, at Bartlesville, Oklahoma. Loyd "Sig" Sigmon was 95 years old.

---
Live WebCam - L.A. Freeways (when it's functioning)
Right-click on player for viewing options






---

Harry,

I am the son of Loyd Sigmon. Thanks for the Web page...Very nice work. You have really done your homework. I printed it off and read it to my dad. He confirms that all is "very" accurate and wanted me to convey to you what a good job you did. Thanks.

- D L Sigmon, March 2000

THANK YOU...

For the information and assistance they provided, I would like to thank Don Root, the late Gene Hughes, the Los Angeles Public Library staff and, especially, Loyd C. "Sig" Sigmon and the Sigmon Family.

Harry Marnell
E-mail:


To LAPD Communications History Page