From Above the Air...
Nevada County Narrow Gauge Railroad
Grass Valley, CA
NEW ! Seeking corrections to my preliminary map of the NCNGRR & NC Traction routes between Grass Valley and Nevada City. Map is available in three viewing formats. Click HERE to go THERE.
Among others, special thanks to Grover Cleveland, Tim O'Brien, John McCulloch and Steve Brune for corrections, photos and leads to information for this page. Source material includes maps by Herman Darr, Gerald Best's book"Nevada County Narrow Gauge," and USGS Images obtained from TerraServer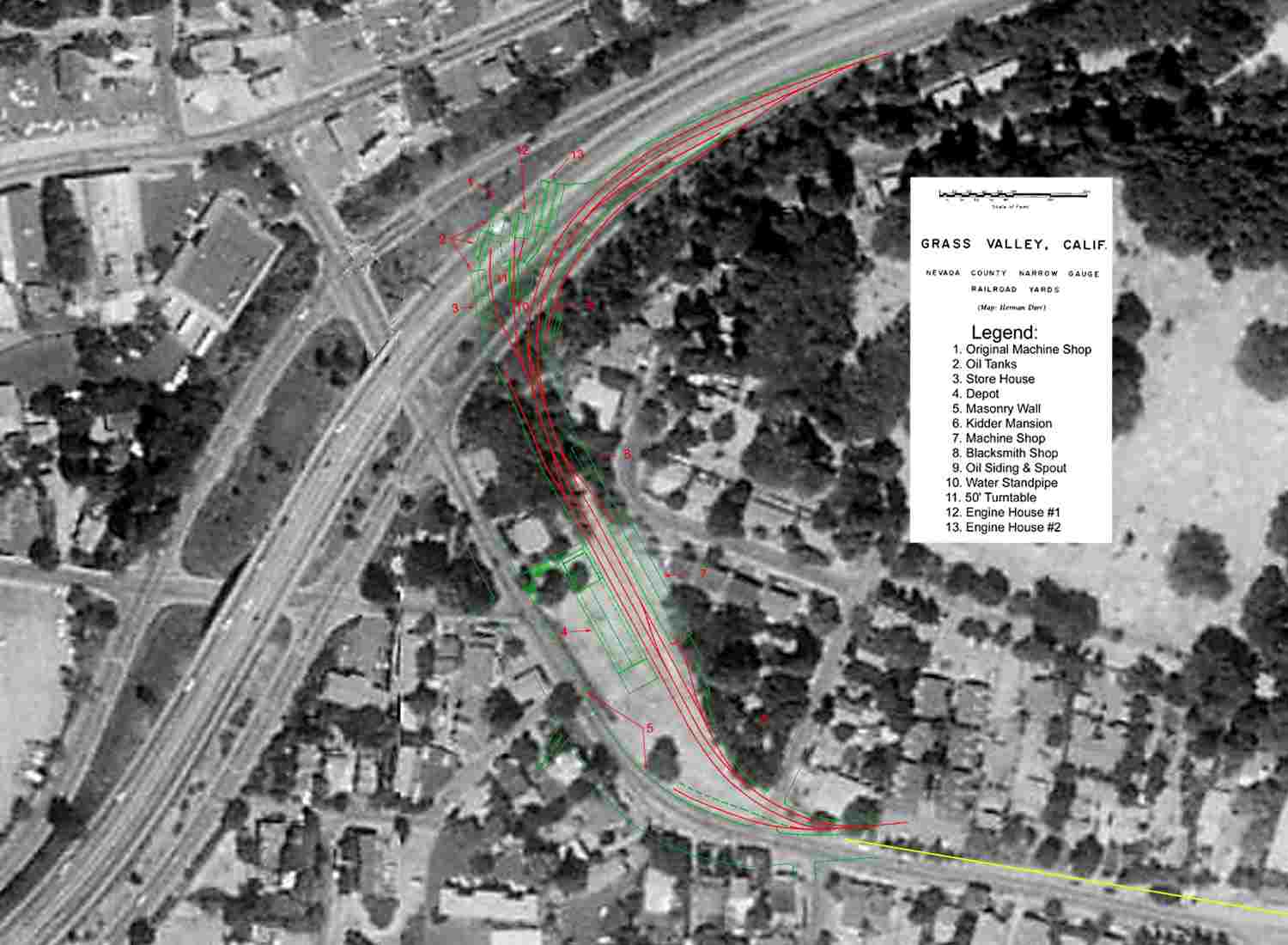 ---
Close-up of the Depot Area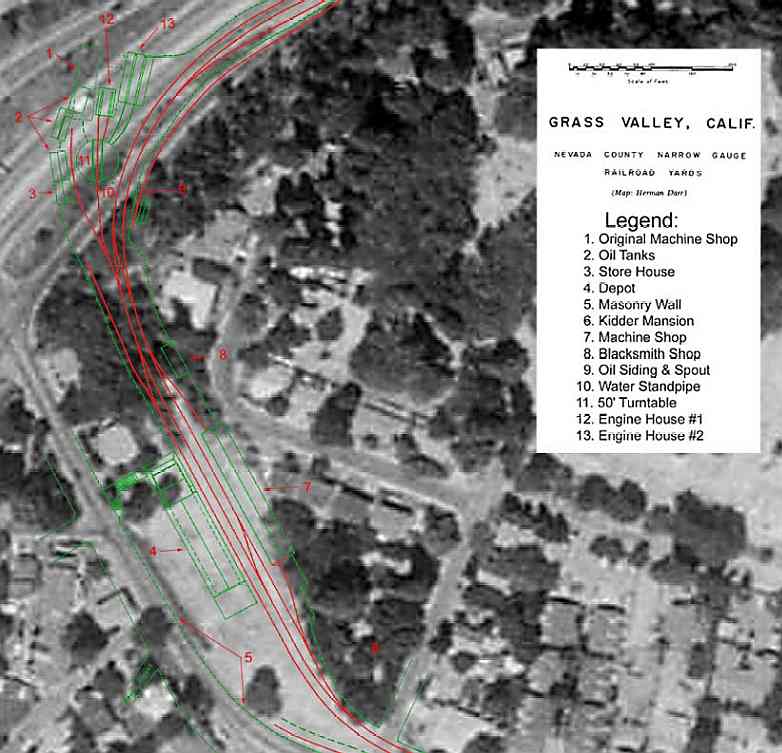 ---
New! "Sanborn Insurance" detailed map of depot buildings, c1912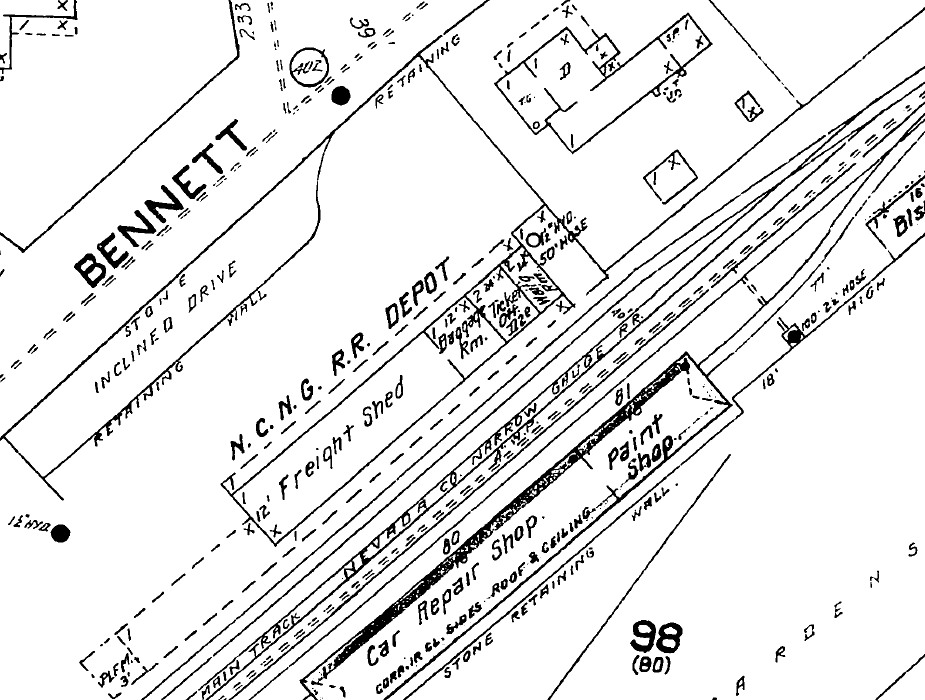 And the Roundhouse, same era..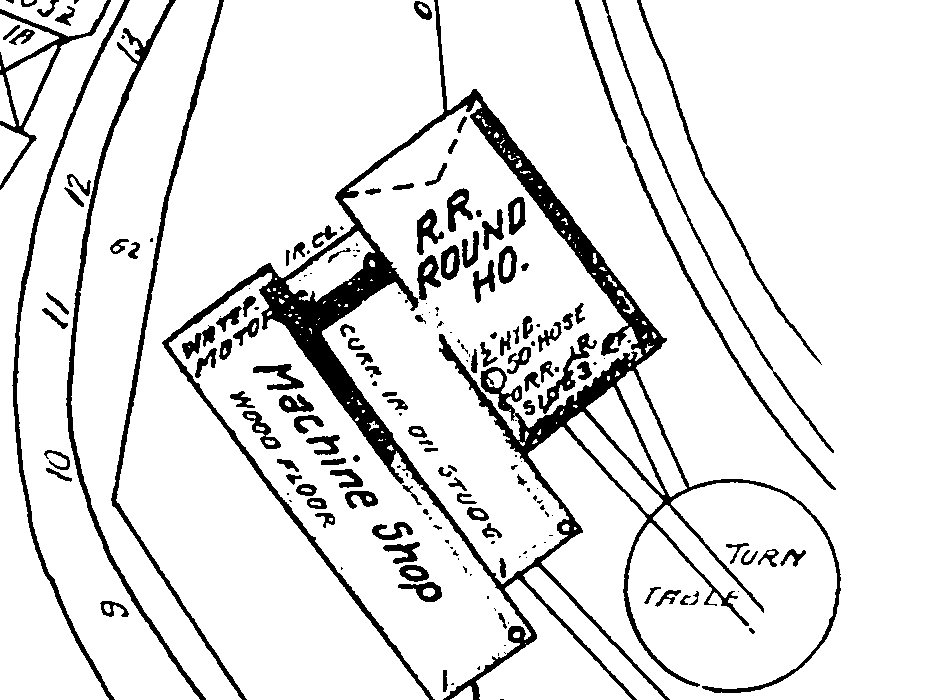 ---
Similar map of Nevada City depot HERE (jpg) or zoomable "pdf" HERE
Click on images for larger size
---
LINKS & PINS

Click to subscribe to the NCNGRR Email Discussion Group
To post a message to the group (if you're a subscriber): Click HERE. If that doesn't work, Click HERE
New Address: NEVADA COUNTY NARROW GAUGE RAILROAD &
TRANSPORTATION MUSEUM
NCNGRR Depot at Colfax
"Change Trains for the Overland Limited"
NEVADA COUNTY NARROW GAUGE PROJECT
AN On3 MODEL OF THE NEVADA COUNTY NARROW GAUGE RAILROAD
Some stills from - and further information about - the NCNGRR Video...it's great!
Narrow Gauge Trail Kicks Off
The Nevada County Land Trust
DEER CREEK SCHOOL'S PROJECT ON THE NCNG - Very Nicely Done!
Scott Kitts' Nevada County Narrow Gauge Published References
Northern Queen Inn & Trolley Junction Restaurant
Nevada County Traction Company
More Good Eats in a "Train" Setting: Rich & Barbara Hodge's
Railroad Cafe 111 W Main St Grass Valley (530) 274-2233
TO SOUTHERN CALIFORNIA RAIL SITE VIEWS
TO NORTHERN CALIFORNIA RAIL SITE VIEWS