June 19 - 20 - 21 - 22, 2003

Once again we've had a great response from all of you! You have overwhelmingly requested the weekend of June 19, 20, 21 and 22. We hope it works out for everyone.
I expect it will be quite warm here in the Las Vegas area. We have air conditioning in the house and a swimming pool out back so come prepared and dress comfortably.
You know by now that we did not request money up-front this time. We thought we'd try to do this one a little different - keeping it simple and keeping the cost down. We will know on Saturday what we spent and will ask for money at that time. If you need to send us a check after you get home, that's fine. If it doesn't work out, then we'll go back to collecting up front at the next reunion.
Some of you have responded that you won't be attending for various reasons. But we thought you might still be interested in knowing what we're planning, and perhaps some of you might be able to make it at the last minute...and that would be great...just drop us a note if you can, and let us know. If you wish to be removed from mail/email updates, please let us know.
Fritz has created a "Bulletin Board" for everyone to post any messages, ask/answer questions (like "family" tree information!), etc. It's at http://www.b2g5.com/boards/board.cgi?user=Fritz. Please drop by there and look around... and post your own messages!
You can also email us directly, with any questions, suggestions or comments (other than asking for a new date..ha! ha!), at marnells@yahoogroups.com

---
HERE'S THE SCHEDULE WE'VE PUT TOGETHER SO FAR
WE'LL UPDATE IT AS NEEDED, SO CHECK BACK


THURSDAY, JUNE 19TH
FOR THE EARLY ARRIVALS
6PM TO 9PM - IF YOU'RE IN TOWN EARLY, COME ON BY FOR SOME PIZZA. NO SET TIME, NO FORMAL PLANS...JUST STOP IN AND VISIT.
---
FRIDAY, JUNE 20TH
REUNION BEGINS
NOON TO 4PM - LUNCH WILL START AT NOON. SINCE PEOPLE ARE ARRIVING AT ALL TIMES, WE'RE SERVING SANDWICHES CONTINUOUSLY UNTIL 4PM. WE WILL ALSO BE HANDING OUT TICKETS FOR DOOR PRIZE(S) AS PEOPLE ARRIVE THROUGHOUT THE DAY.
4PM TO 6PM - BEER/WINE/SODAS/APPETIZERS ON THE PATIO.
6:00 PM - DINNER
8:30PM - DOOR PRIZE(S) TO BE GIVEN OUT
---
SATURDAY, JUNE 21
REUNION CONTINUES
8AM TO 10AM - PANCAKE BREAKFAST
10AM - "GOODIE BAGS" WILL BE DISTRIBUTED (INCLUDING FAMILY DIRECTORY, FAMILY TREE, PHOTOS FROM LAST REUNION AND OTHER STUFF)
10:30 AM TO NOON - FAMILY HISTORY PRESENTATION AND DISCUSSION LED BY FRITZ & MELANIE. THIS WILL INCLUDE NEW "FAMILY TREE" INFORMATION, AND PICTURES FROM THEIR RECENT TRIP TO ST. JOSEPH, MO AND THE HOME OF JOHN MARNELL AND NELLIE TOOHEY MARNELL...LOTS OF INTERESTING STUFF! YOU CAN MAKE TODAY EVEN MORE INTERESTING IF YOU'LL BRING ANY FAMILY PICTURES, DOCUMENTS OR STORIES TO SHARE.

If you have any info or questions for the family tree... ancestors/relatives/children's' names, dates, places...please email Fritz as soon as possible so we'll have the tree as complete as we can!

NOON TO 2PM - LUNCH
2PM TO 3PM - TIME TO SHARE FAMILY INFORMATION. PLEASE COME PREPARED - BRING US NAMES, ADDRESSES, IMPORTANT DATES, ETC., FOR YOUR PARENTS, GRANDPARENTS, BROTHERS, SISTERS, YOUR CHILDREN AND GRANDCHILDREN. WE WILL HAND OUT A PREPRINTED FORM FOR EACH OF YOU TO FILL OUT. THIS INFORMATION WILL GO INTO THE FAMILY TREE DATABASE. WE ARE USING THE FAMILY TREE MAKER PROGRAM. DON'T FORGET TO BRING YOUR PICTURES...THIS WAS A BIG HIT AT THE LAST REUNION.
3PM TO 3:30PM - DISCUSSION AND SUGGESTIONS FOR THE NEXT FAMILY REUNION.
3:30PM TO 4:30PM - DO YOU HAVE AN INTERESTING FAMILY STORY TO TELL? WE'LL TAKE THIS TIME TO SHARE SOME STORIES...COME PREPARED.
4:30PM TO 6:00PM - DINNER
WE'LL HAVE AN EARLY DINNER IN CASE SOME OF YOU WANT TO GO BACK TO TOWN AND CATCH A SHOW OR PLAY A FEW NICKELS.....AFTER DINNER WE CAN TALK ABOUT PLANS FOR SUNDAY.
---
SUNDAY, JUNE 22
FINAL DAY
JUST AS WE DID AT THE LAST REUNION, WE WILL LEAVE THIS DAY FOR YOU TO PLAN. I KNOW SOME OF YOU WENT TO CHURCH, THEN TO BREAKFAST IN SMALLER GROUPS AND IT SEEMED TO WORK OUT FINE. IF PEOPLE WANT TO MEET BACK AT THE HOUSE, THAT'S OKAY TOO. WE CAN TALK ABOUT IT ON SATURDAY AND SEE WHAT PEOPLE WANT TO DO.


LOCATION
NEIL AND KATE SMITH
1641 TURF DRIVE
HENDERSON, NV 89015
(702) 564-5684 - HOME
(702) 321-8531 - CELL
(702) 632-6746 - KATE'S WORK

LOCAL MAP
"S" = Starting Point, near the Strip and the Airport
"E" = Ending Point, Kate & Neil's House
Clicking on map, or on http://shorterlink.com/?1C0N7J should take you to turn-by-turn directions. If the link breaks, use www.mapsonus.com or www.mapquest.com and enter 1641 Turf Dr Henderson NV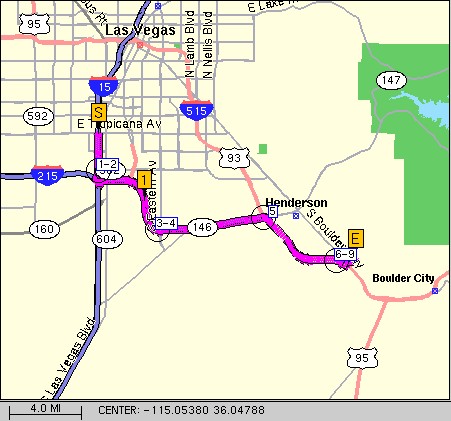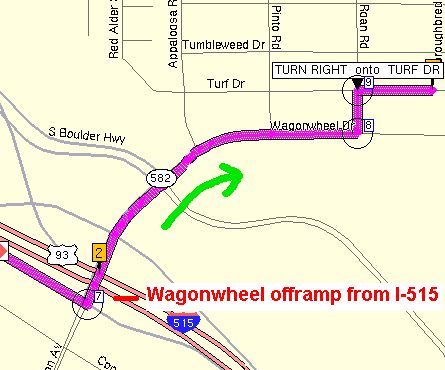 DON'T FORGET TO BRING YOUR FAMILY PICTURES !