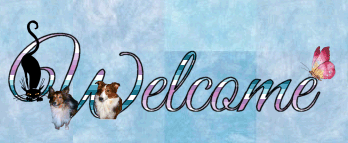 Hello There!
Thanks for stopping by. I hope you find something to interest you and if nothing else, I hope you leave with a smile, a thought or an idea. That's what this little corner of the internet means to me. If you do come across something not to your liking, I hope you will exercise your right to hit that little "X" in the upper right hand corner of your browser.
In order to view this website as created, please check at the bottom of the left column to see the fonts used. A web search of the name may yield up the font. If not contact me and I'll be happy to point you in the direction of it.
~~~~~~~
We make our home in Northern Calif., that's above Sacramento, by the way. Here we have five acres to our name, owned by many a four-legged fur ball, two of which are shown above. Those are our shelties, Cheyenne and Cherokee.
We also have three grown children, two of which are married. The youngest, 20, thinks women are nothing but trouble at the moment and has come back home to roost. He currently works for a general contractor.
My youngest brother, who owns a share of this house, lives with us also. He works at a popular pet store in town.
I am hoping to keep this thing regularly updated, but well, you know what they say about the best laid plans of mice and men. I'm still trying to figure out where I fit in that equation.
Enjoy~
-This website is best viewed using a 1024 x 768 monitor.
-All original works, graphic or word, are copyrighted by their creator.
-Any similarities to other works found on the web is purely coincidental unless otherwise stated.