Grace Community Church
1090 N Davis Ave
Weed, CA 96094
Phone: (530) 938-4571
Email: gracepc@snowcrest.net
Pastor: Rev. Dr. Jim Howe
Email: pastorhowe@gmail.com
Cell: (530) 925-2443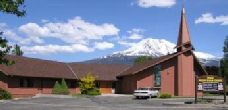 We are a biblically based church called to glorify God through Jesus Christ both locally and globally.
Sunday Worship Service 9:00 a.m.
Sunday School (Sep - May) 9:00 a.m.
Pastor Jim's Sermon Message
Click on the speaker to hear a recent message from Pastor Jim. For sermon archive, click HERE
Adult Bible Study 10:20 a.m.
Coffee Fellowship 10:00 a.m.

Jamie Fiorini was honored at a graduation celebration brunch.
For additional information about the Evangelical Presbyterian Church click here or go to www.epc.org
Presbyters, Elders, and Deacons Serving Jesus Christ
1Timothy 3:1-16