SnowCam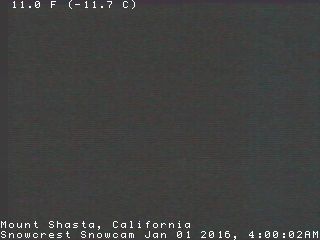 Click for high resolution image
This image is updated every 10 minutes. The temperature and wind are measured at the SnowCrest office in the city of Mt. Shasta at the 3500 foot level.
Click here to launch a self refreshing SnowCam window.

Mt Shasta Temperature over the last 24 hours


Temperature ---- Wind Chill Factor
More weather graphs are available here.
MPEG movies taken over the last ten minutes
These movies consist of 20 frames each taken 30 seconds apart and are combined into an Mpeg movie every 10 minutes starting at the top of the hour.
These movies are especially good when there are some light clouds in the sky. On days when it is entirely clear, watch for the trees in the foreground blowing in the wind.
Daily Mpeg Movies
These movies are generated once each day at 10:00pm. The movie shows the entire day starting at 5:00am and ending at 10:00pm. Each movie consists of 102 frames each taken 10 minutes apart. These files are about 150 to 200 kilobytes in size.
These movies are best on clear days with few clouds. If there are lots of clouds, then the movie is really too jumpy. You might be better off with the 10 minute movies or the Broadband Daily Movies.
Broadband users only -- high quality daily movies
These movies consist of frames taken every 30 seconds from 5:00am to 10:00pm. The files are about 3 megabytes in size. These movies are best when there are a few high clouds moving through the area.

The mpeg encoding takes a few minutes so you will not see "today's" movie until around 10:15 in the evening (Pacific Time Zone).

Refer to the SnowCam FAQ page for answers and technical information.