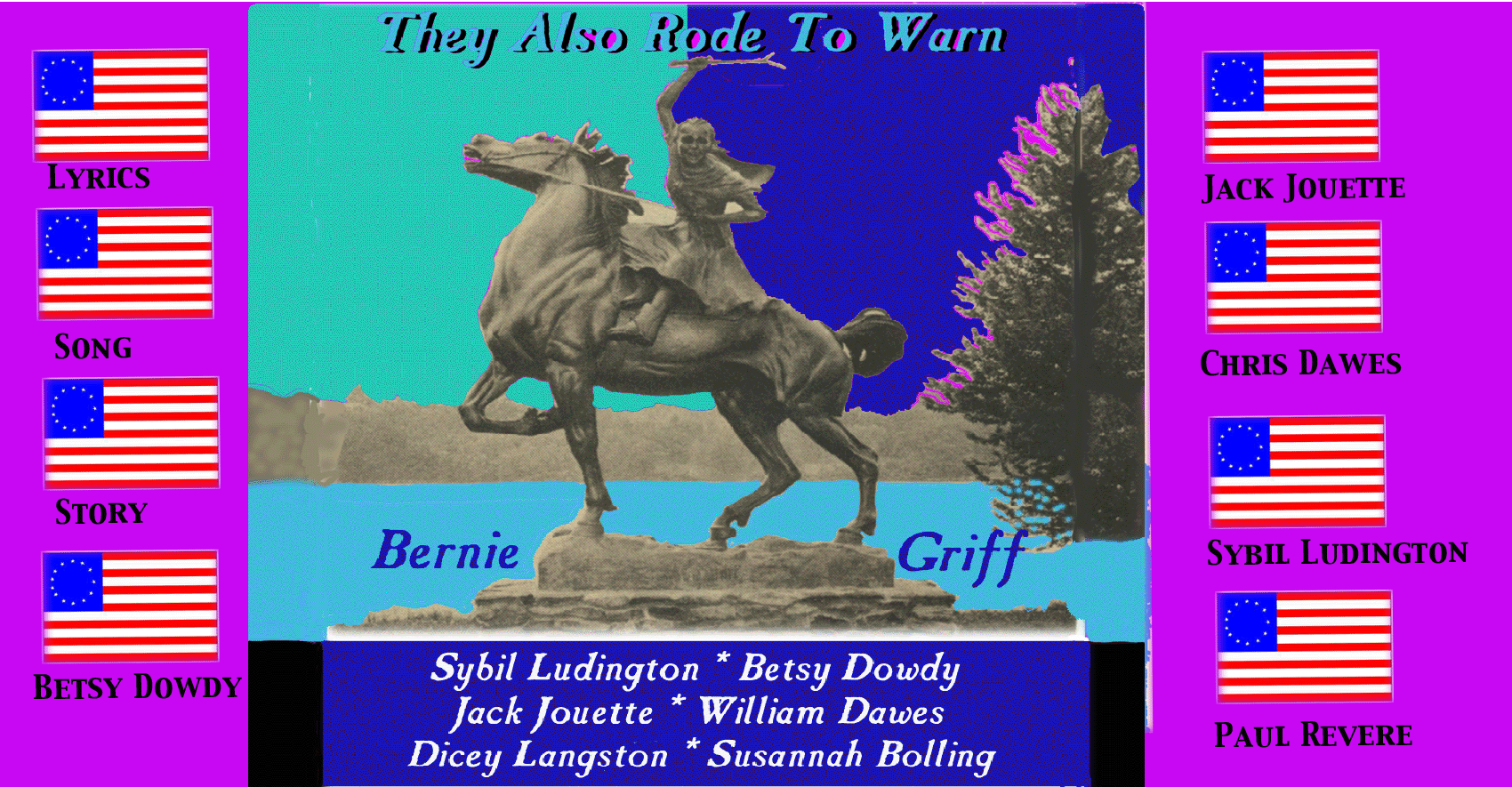 ANNOUNCING RELEASE OF CD: THEY ALSO RODE TO WARN - JULY 4, 2001!
This CD features 7 original songs of heroes and heroines of the American Revolutionary War (April 19, 1775- Oct. 19, 1781)
Song featuring Sybil Ludington, Betsy Dowdy, Jack Jouette, William Dawes, Dicey Langston, Susannah Bolling and a Ballad that is a panorama of the Revolutionary War - "They Also Rode to Warn(Fish & Tea Medley)". There is also a song booklet with an introduction and lyrics to all songs. See Order Page to order. Order Page
This page is being updated. Suze Altieri, Frank DiSalvo and I have been recording the last tracks at FiddleWest Studio of "THEY ALSO RODE TO WARN" and it's been exillerating! The 7 songs are almost done. The mixdown on They Also Rode to Warn/Medley, Jack Jouette Must Ride and Susannah Bolling Rides To Warn A General was done last night.
What remains are a remix of adding Frank's Bass Tracks to Jack Jouette Must Ride, Betsy Dowdy's Ride, The Midnight ride of William Dawes and Sybil Ludington's Night Ride.
Then I am sending the CDs and adding a short Songbooklet to the mix. I hope you are reading this Andy (that's Andrew Campbell of the Mahopac Library in Mahopac, New York). I should be done as soon as Frank can pull himself loose from his busy schedule of crafting guitars, guitar lessons and his Band - Swing City's schedule. So hold on everyone this project is almost down the road! Bernie Griff
(Continued:) The photo above I took years ago at Lake Gleneida, Carmel, New York. I wrote a song about Sybil in the early 60's, hoping to include her in a collection of songs of young heroes of the American Revolutionary War. I researched and wrote songs from findings in a trip from Vermont to North Carolina. It was most rewarding for there were people like Betsy Dowdy and Peter Francisco, Jack Jouette and William Dawes who also rode and fought for the ringing rebel bell of Freedom! After reading Nellie Wise Wechter's book - BETSY DOWDY'S RIDE and Gail E. Haley's book: JACK JOUETTE'S RIDE in addition to a lot of research at various historical societies including the one in Richmond, Virginia where I got to hold in my hand the sabre given to another young hero of the American Revolution - Peter Francisco - by one of General Nathaniel Greene's officers at the battle of Guilford Courthouse in North Carolina. I felt that in holding that sabre I had touched for a few minutes, some connection with the Revolutionary War. And when you stand in front of Sybil Ludington and her horse pictured above, you can't help but picture her riding back on that April 25th night in 1777, that expression on her face - so determined and her hand holding that stick in the air - so fiery and impassioned! I also want to thank Andrew for sending Vincent Dacquino's book: SYBIL LUDINGTON: A CALL TO ARMS. I am looking forward to reading it and getting another perspective on this wondedrful heroine's story. Thank you Vincent Dacquino as well. (to be continued) Bernie Griff