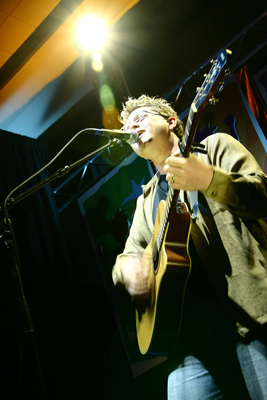 Hi -
I'm finally sitting down to write and fill you in on things happening in our ministry. Summer has been a bit slower on the road than usual for some reason this year, but it followed a busy Spring, and is serving as a launching pad into Autumn. We feel blessed with new opportunities to lead worship, perform, sing and teach...serving the body of Christ.
We've been doing a lot of songwriting lately, and hope to have the chance to record sometime next year. It costs a lot of money to record a new CD, and we're planning to begin saving for that as soon as we pay off debt the ministry has outstanding (mostly from the last recording.) Pam is still working hard on writing her book, and we would love to see that released next year as well.
In the next month or so, we are going to be rolling out a more organized approach and promotion for the teaching part of our ministry. We will continue to perform, sing and lead worship, but God has continued to bring opportunities for us to teach and train worship leaders, worship bands, choirs and media arts teams. The name, "CALLED TO WORSHIP - Workshops and Clinics." We've found that there are so many smaller churches, many with volunteer leadership, who simply cannot afford to send their team and leader to the major worship conferences. We intend to bring the conference to them and tailor the work to the needs of their church and community. We are already working with companies like Yamaha and Media Shout to help enhance our ability to serve as a resource to churches.
We would love it if you could remember to pray with us, and for us, as we approach the coming months of ministry. We have been able to be a part of some very cool things, and we've seen God working beyond our abilities. In making our ministry available to churches, through worshipping God and serving the poor, we also find times of very intense resistance. Where God is at work, satan is bound to attack. Your prayers are important to us, and we value your part in holding us up as we give our lives to this ministry.
May

you find

God

's

bless

ings as

you seek and serve Him alone!
In His grip -
P.S. - If you wouldn't mind, please take a minute and check out the sections below. You'll find a special offer for readers of this email, how to serve the poor through World Vision, and a couple other ways you can help us out.
---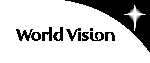 3,000 SPONSORS NEEDED
After being in Africa and seeing first-hand how HIV/AIDS is forever changing the lives of children and families, we have become very passionate about finding ways to help. At the end of our time in Africa, some people said to us "You have now been here and seen how great our need is. You've visited our villages and witnessed how deep the pain runs. WHAT ARE YOU GOING TO DO ABOUT IT?" We were stunned by the boldness of the question, and completely leveled by the weight of trying to answer. Our promise to the people in Africa was this, "We will go home and tell your story to as many people as we can." We are busy doing just that, and as a family we are sponsoring 4 children around the world.
Right now, World Vision has a goal to find sponsors for 3,000 needy children as soon as possible. Maybe you're finally ready to sponsor your first child. Maybe you're able to sponsor another child. We hope you'll at least consider it. I'm convinced that together, we can be a part of the solution, and that we are making a difference.
Click here or on the logo to sponsor a child.
---

SPIRIT WEST COAST BOOKING SURVEY
Spirit West Coast is holding a survey to see what artists you want them to book for both the Del Mar and Monterey festivals next year. I am a huge fan of SWC, and I think it's very cool that they want your input as to who they bring. (We would love to have you list Andy Allen as one of the artists you'd like to see back at SWC...but in a spirit of fairness, we do ask that you be completely honest in taking the survey.)
A couple of points about the survey:
1. You can list 10 names. Please list in order of your favorite because the listing is "weighted". Someone you put as #1 carries much more weight than your #10 choice.
2. This survey ends at 8 a.m. Sept. 27, so enter now.
3. Please only vote once and complete all fields of inquiry, especially the section on attending.

They

consider this survey seriously and trust you do, too. (To "stack" or "fudge" a survey is really not fair.)
---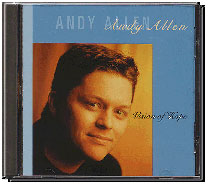 VISION OF HOPE - AVAILABLE AGAIN
Vision of Hope, Andy's 1st CD, was on backorder at the end of last year and into the beginning of 2005. We now have it back in stock for those of you who were wanting to pick it up. Click here to order Vision of Hope.
CD SPECIAL
We are also offering a special for readers of this email. GET ALL 4 OF OUR CDs FOR ONLY $35.00, with Free Shipping! That's a savings of $25.00. This special is only available through this emailing. You can click the BUY NOW button below to order with PayPal, or you can reply to this email and let us know you would like to place an order.
---

If you would like to make a donation to Andy Allen Ministries, you can do so in a couple different ways:

1 - You can send a check to...
Andy Allen Ministries, Inc.
975 East Avenue, Suite 172
Chico, CA 95926

2 - Or by debit/credit card online by clicking on the link below (PayPal).


---

Andy Allen Ministries
975 East Avenue, Suite 172
Chico, CA 95926
530/342-5811
530/896-0559 fax
andyallen@andyallen.com
www.andyallen.com
---