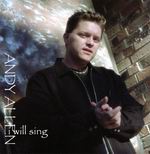 Andy Allen - I Will Sing
Purchase Individual Songs on iTunes...click here!!!

I Will Sing, the sophomore release from indie Christian artist Andy Allen, reflects the essence of this man's heart. Songs born out of a heart desperate to know and worship God. With 10 original songs and a powerfully arranged rendition of the timeless hymn 'It Is Well', this passionate collection is sure to connect with your spirit and draw your attention to Jesus.

Listen Now!!!